Film review: Le quattro volte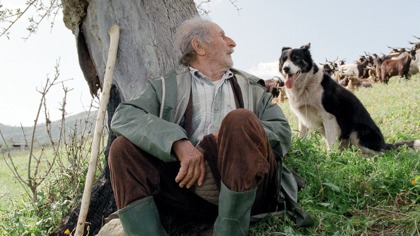 Goats and their herdsmen, fir trees, dust and the Pythagorean philosophy of reincarnation are considered in the round in Michelangelo Frammartino's remarkable portrait of rural Calabria. Nick Bradshaw is beguiled
Michelangelo Frammartino says that every director – a species prone to hubris issues – should film a goat, in which pursuit, "There's no question who's in control: not you." It's hard to believe, though, that many filmmakers could elicit – by whatever stroke of luck, skill or sheer dogged perseverance – a caprine portrait simultaneously as lucid and gnomic, not to mention comical and captivating, as Le quattro volte, surely the Au Hasard Balthazar of goat movies. Like Robert Bresson's masterly 1966 fable of a donkey's mute testament to human follies, Frammartino's film stands aside from teleological character drama, thanks both to its narrative relay structure – passing the baton of 'subject' from an old goatherd to one of his young charges, a seemingly indomitable hilltop fir and finally its cindered remains – and to a directing philosophy that favours the study of physical rituals over psychological declarations, and the identification of ineffable mysteries over the production of narrative conflict.
For habitués of modern 'slow' art cinema, this mise en scène should seem less idiosyncratic than did Bresson's mode in his time. Indeed, Frammartino's documentary-style description of rural Calabria assumes the condition of pure observation, in so far as the film indexes a landscape and way of life in which the director is thoroughly steeped (through both his family roots and the time he spent imbibing locations). At the same time, it's apparent that the film's scenes are staged for subtle narrative development, even before the eight-minute, single-shot pièce de résistance in which the goatherd's dog attempts to direct villagers to his master's sickbed but instead has to resort to dispatching a mass of goats into the emptied village. This amazing, casually surreal scene starts with Roman centurions pulling into the village in a red timber truck – they're dressed for an Easter Passion parade somewhere down the road – ends with the goats ascendant and ubiquitous, and in between sees the dog deploy a Heath Robinson-esque understanding of gravity to unleash the forces of creative destruction.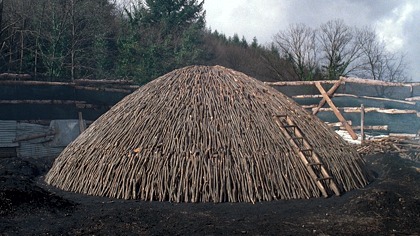 There's a similar flair for the slow-burn gag, combined with a pantheist sense of the rule of nature, in the scene setting up the goatherd's death some screen minutes before. Framed in close-up between sheaves of wheat in a field, he initially seems lost deep in thought, before an ant crawls across his face: roused, he pulls up his trousers and walks off, accidentally leaving on the ground behind him his packet of medicinal church dust, with which he treats his cough each night. (Not that the film embraces the goatherd's superstition about the medicine; it also notes that, when he discovers his loss that night, he goes scampering off in the cold in a futile bid to buy more holy soot.) The follow-up shot sees a woman's face staring out of the torn magazine paper, lost in time, as ants crawl – triumphant? – all over the spilt dust.
As it turns out, while the film's protagonist is a variable role, the ant seems to be a consistent antagonist: it also makes its way across the faces of the kid goat and the fir tree before they meet their maker. Man (the featured village is perched stunningly atop a vertiginous cliff), goat (which we see climbing tables, breeze blocks, road walls and mountaintops) and tree each takes its turn in the ascendant, making its bid for the high ground, but they finally join the ants and the dust, with which the film begins and ends. The primeval, fuming landscape of the local scarazzi – hemispherical furnaces of compacted straw and ash which cook wood to charcoal – lends Le quattro volte a wryly metaphorical beginning-and-end-of-the-world quality to go with its ethnographic point of interest.
The film's title ('the four times', 'turns' or 'phases') references local sage Pythagoras, whose upbeat ideas about the transmigration of the soul – which could occupy human, animal, vegetable or mineral form – offer one interpretation of the glue between the film's four sections. It's also reminiscent of James Benning's structuralist cinema (11x14, 13 Lakes, Ten Skies), as are the black-screen interludes between chapters and the feeling for a timescale above and probably beyond the human. Indeed, in its sense of species equality and asceticism, in its mathematical underpinnings, harmonies and holism, Le quattro volte could almost be a manifesto for the Pythagorean school. Not that there's anything forced about its theory; if you can separate yourself from the buzz of higher-pitch cinema, the film's beauty, wit and charm come as a breath of fresh air.
See also
The June issue: a quote from Michelangelo Frammartino's interview with Jonathan Romney in our June 2011 issue (May 2011)
Sweetgrass reviewed by Kieron Corless (May 2011)
It's a wrap: Nick Bradshaw on Frammartino's introduction to Le quattro volte at the London Film Festival (October 2010)
Side tracks: Geoff Andrew on Le quattro volte's premiere at Cannes (May 2010)
Maestros and mobsters: Nick Hasted on a new generation of Italian filmmakers emerging from the legacy of cinematic nostalgia and political corruption (May 2010)
Smoke gets in your eyes: Nick James finds James Benning's slow-gaze Ruhr a sight for sore eyes at Rotterdam (February 2010)
Robert Bresson: alias grace: Michael Brooke introduces the inspirational, singular films of Robert Bresson (November 2007)