London Film Festival 2011:
The best live-action shorts
Dylan Cave highlights ten titles in this year's festival line-up
The 55th BFI London Film Festival, as usual, peppers its line-up of feature films with an expert selection of new short films. This year's programmes include African shorts from Mali, Zambia and South Africa ('New African Cinema', 13-15 October), experimental work from Chick Strand, Robert Fenz and Phil Solomon (23-25 October) and 'Wonderful London' (17 October), a fascinating collection of restored London silent films from the mid 1920s.
It's in the dedicated shorts strands – Short Cuts & Animation – that the year's new international dramas and documentaries are placed together in thematically curated programmes. Here are ten of the best live-action shorts getting their UK premiere at the BFI Southbank over the next two weeks.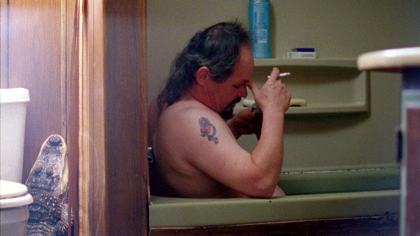 We're Leaving
Zachary Treitz, US, 2011
Rusty is forced out his home of 26 years and struggles to find alternative accommodation for his wife and Chopper, a pet alligator at risk of being turned into boots. One of this year's many shorts to explore small-town living, Treitz's film stands out through its blurring of fiction and reality. He shapes a fictionalised documentary where each actor seems to be playing eccentric versions of their real selves. We are never quite sure if Rusty really is being evicted or whether Chopper is really for the chop, only that life on the American poverty line is difficult.
Screening in 'Rural Life', 3.30pm, 13 October & 3.30pm, 16 October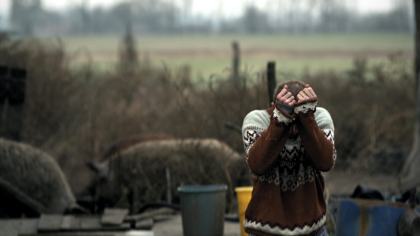 Csicska
(aka Beast)
Attila Till, Hungary, 2011
This Hungarian drama played in the Cannes Director's Fortnight this year, sand furrows similar territory to We're Leaving but with greater precision. A dark tale about a hard up farmer who keeps one of his farmhands as a slave, the film explores the way that splintered communities allow dreadful secrets to remain hidden. Szabolcs Thuróczy plays the farmer as a brute convinced he is upholding a primitive sense of propriety, but director Till exposes this excuse. It's only his family, through loyalty or plain fear, that endure his despicable acts with barely a complaint.
Screening in 'Rural Life', 3.30pm, 13 October & 3.30pm, 16 October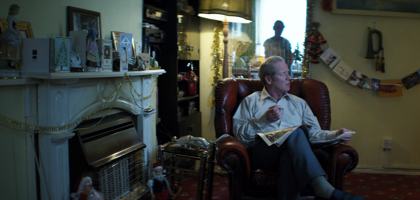 Long Distance Information
Douglas Hart, UK, 2011
At the heart of Beast is a fractured relationship between a teenager and her father. Long Distance Information, one of Film London's 2011 digital shorts, places the same theme at the heart of its story. Based around an awkward Christmas telephone call between a humourless father (a dour Peter Mullan) and his wayward son (Alan Tripney), the film neatly sketches the strained relationship of two clashing relatives. With deft storytelling, Hart manages to connect their begrudged pleasantries to a wider sense of the loneliness felt by many at Christmas, whether they're physically alone or among disconnected family.
Screening in 'The School of Life', 3.45pm, 14 October & 6.15pm, 17 October; and in 'London Calling', 9.00pm, 24 October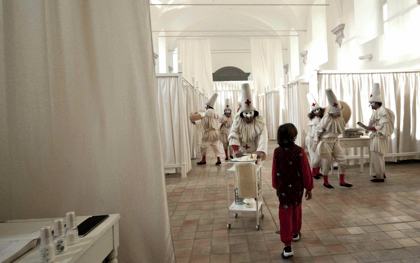 The Wholly Family
Terry Gilliam, Italy-UK, 2011
While on holiday in Naples, the antagonistic son of a wealthy family steals a Pulcinella doll despite warnings that it will bring bad luck. Terry Gilliam's short has raised internet ire over the fact that it's sponsored by Naples pasta company Garofalo. The sponsor's cash is clearly onscreen – this is the most handsome short in this year's programme – but Gilliam doesn't let commerce dictate his tone. With its menacing streets, dysfunctional families and creepy Pulcinellas, The Wholly Family retains the anarchic spirit one would expect from the ex-Python.
Screening in 'The School of Life', 3.45pm, 14 October & 6.15pm, 17 October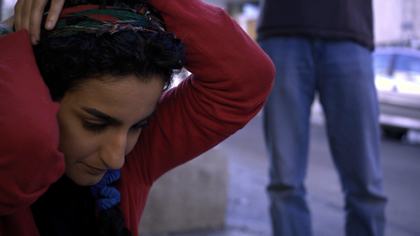 Dar Kouche Baad Miayad
(aka The Wind is Blowing on My Street)
Saba Riazi, Iran-US, 2010
Sara, a teenager living in Iran, steps outside her house to retrieve some mail when the front gate blows shut behind her. Locked outside without a headscarf, her seemingly innocuous incident suddenly places her at risk of serious punishment. An anonymous actress takes the part of Sara, a fact that corroborates the film's important, though lightly made point – that small moments can have dramatic consequences depending on your circumstances.
Screening in 'The Suburbs', 6.15pm, 18 October & 3.45pm, 19 October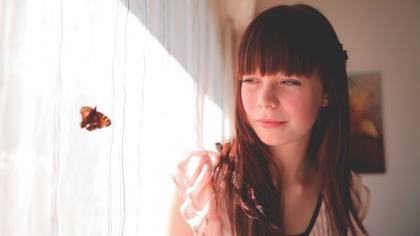 Ik Ben Een Meisje!
(aka I Am A Girl)
Susan Koenen, Netherlands, 2010
Despite being born a boy, 13-year-old Joppe decided to be a girl from a young age. Susan Koenen's frank documentary gives a non-sensationalised account of Joppe's challenges as she faces puberty and boys. Joppe can see the path that lies ahead of her with the absolute clarity shared by many pre-teens before hormones and adult experiences kicks in.
Screening in 'The Suburbs', 6.15pm, 18 October & 3.45pm, 19 October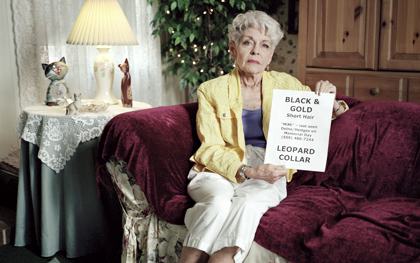 Missing
Ewan McNicol, US 2011
An American film from a Scottish director, Missing examines the Californian industry that has grown up around missing pets. McNichol allows the participants – from distraught pet owners to animal psychics – to tell their own stories. He sees through the practicalities of pet detection to reveal something about the lives of all concerned, sometimes painfully, sometimes moving but always a hoot.
Screening in 'The Suburbs', 6.15pm, 18 October & 3.45pm, 19 October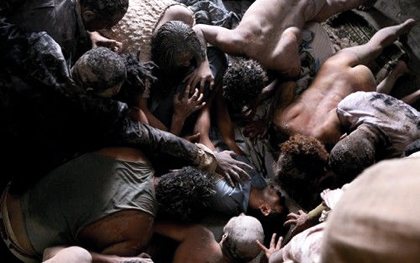 Ninjas
Dennison Ramalho, Brazil, 2010
A chilling Brazilian urban folktale that mixes the thriller and horror genres to harrowing effect, Ninjas tells the story of God-fearing Jailton, a policeman in search of salvation. Laced with nasty violence throughout, the solution that the film offers to the rookie cop will, without doubt, divide audiences, but few will deny Ramalho's eye for creating a vision of hell on earth.
Screening in 'Just Because You're Paranoid, it Doesn't Mean They're Not After You', 1.15pm, 21 October & 6.15pm, 24 October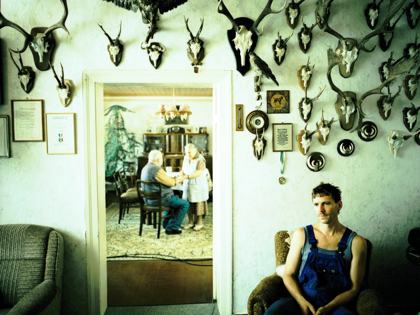 Gömböc
Ulrike Vahl, Germany, 2010
A 'Gömböc' is a 3D object that has only one stable and one unstable point of equilibrium, so that when it is pushed over it will, like a Weeble, rise again. The symbolism is apt in this tale of loser Ronny (Knut Berger) and his relationship with son Paul (played by The White Ribbon's Leonard Proxauf). Filmed with observational camera linked by discreet scenes of small town tussles and backwater boredom, the film creates a humourous and convincing look at the daily routines of a small German community.
Screening in 'Small Town', 6.15pm, 25 October & 3.30pm, 26 October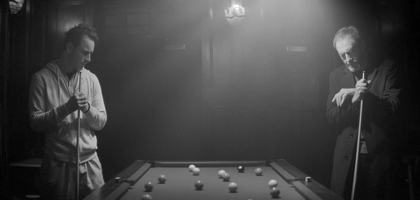 Pitch Black Heist
John Maclean, UK, 2010
Michael Fassbender and Liam Cunningham play two thieves meeting for their next job – cracking a safe protected by a light activated alarm. John Maclean's first short, Man on a Motorcycle, was shot on a mobile phone but the director has quickly advanced to anamorphic 35mm. As with the earlier film, medium and message are perfectly intertwined in this tale of precise execution and directional surprises.
Screening in 'Do the Right Thing', 6.30pm, 26 October & 1.15pm, 27 October
See also
London Film Festival: 30 recommendations (October 2011)
8th London Short Film Festival: Eight of the best reviewed by Dylan Cave (January 2011)
Live-action shorts at the London Film Festival reviewed by Dylan Cave (October 2010)
The short of it: Dylan Cave previews the 2010 London Short Film Festival (January 2010)
Bedlam in brief: Nick Bradshaw on the 2009 edition of Bristol's Encounters Festival (December 2009)
Eat my shorts: James Bell on the digital deluge of short films (May 2004)