Venice: waft breezily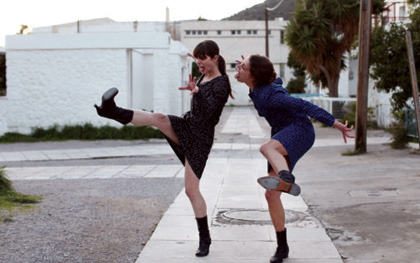 Athina Rachel Tsangari's Attenberg
---
Venice, Italy
September 2010
Sender: Nick James
---
This is a staggeringly good festival this year, probably the best here I've attended. At halfway through, Venice has consistently entertained, surprised and stimulated with a confident selection that wafts breezily across moods, modes and genres, being neither careless nor preachy.
It helps when, for instance, the leery froideur of Pablo Larraine's Post Mortem – a portrait of a hospital morgue worker at the time of Pinochet's military coup – can be offset in the same day as much by the hilarious super-cheesiness of Francois Ozon's 70s-set industrial farce Potiche as by Kelly Reichert's delicate old-timey Western Meek's Cutoff (whose title could even be partly a comic acknowledgement that its narrative resembles a John Ford Western with its last reel missing).
Even on Tuesday 7th, perhaps the quietest day so far, I've seen two highly innovative dramas too complicated to be explained in a postcard: Athina Rachel Tsangari's Attenberg, a tremendously resonant tale of an unworldly 'daddy's girl' preparing for her terminally ill father's death, and Marco Bellocchio's immensely complex family saga Sorelle Mai.
The most fun on offer has come from two Chinese CGI martial arts extravaganzas. Reign of Assassins, co-directed by Su Chao-Pin and John Woo, has the most texture to its endlessly engaging Spaghetti Western-ish yarn about a divided corpse whose two halves if reunited would grant the owner unlimited martial arts skills. But Tsui Hark's Detective Dee and the Mystery of Phantom Flame is the more breathtaking spectacle with its spontaneous combustion poison, liquid swords and cassandra-like reindeer.
I can't believe there's still four days of program to go. How will they keep up the momentum?
See also
Italian cinema: mobsters and maestros: Nick Hasted on a new generation of Italian film-makers finding their voices (May 2010)
Venice 2009, part two: Jonathan Romney picks his hits of the festival (online, September 2009)
Venice 2009, part one: Jonathan Romney gets excited by Herzog's new films on the Lido (online, September 2009)
Venice 2006: Jewels in the crown: Hollywood blockbusters mixed with more innovative indie film-making from Europe and the US. But a series of films from Asia and Africa commissioned in Vienna was Venice's strongest suit, says James Bell (November 2006)
---
Time to Leave (Ozon) reviewed by Ryan Gilbey (May 2006)
8 Women (Ozon) reviewed by Ginette Vincendeau (December 2002)
Windtalkers (Woo) reviewed by Andrew O'Hehir (September 2002)
Under the Sand (Ozon) reviewed by Ginette Vincendeau (April 2001)
Water Drops on Burning Rocks (Ozon) reviewed by Richard Falcon (November 2000)
Sitcom (Ozon) reviewed by Jonathan Romney (January 1999)