Rio: cool potatoes – and torpor in the favela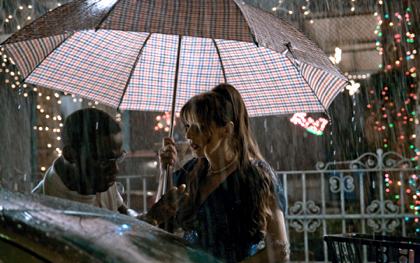 ---
Rio de Janeiro, Brazil
October 2011
Sender: Jonathan Romney
---
This year, Rio is big in Rio. The Fox/Blue Sky Studios animation, set in Rio de Janeiro, is everywhere in the city, its blue macaw hero selling everything from sweets to batteries, with an exhibition of the film's artwork on display at the National Museum of Fine Arts.
But it's not entirely a case of Hollywood selling the city back to itself; director Carlos Saldanha is himself a carioca (Rio native) and has gone out of his way to present a dream image of the city that will appeal to Brazilian as well as international tastes. In April, the film grossed $8.4 million in its opening weekend in Brazil, and I'm told by Sergio Sa Leitão, head of local film body RioFilme, that city mayor Eduardo Paes considers the film "as important for the city as the Olympics or the World Cup."
Overall, the cheerful birds and beasts of Saldanha's film offer a brighter, more upbeat vision of Brazil than recent, more adult Rio-set national exports such as City of God and the Elite Squad diptych. Inevitably, you find yourself going to the Festival do Rio hoping you're going to see the successors to these, the latest art-house batata frita (hot potato to you).
To be honest, among the homegrown offerings of this sprawling festival, I didn't quite find anything like that. Among the world premieres in competition, Tomorrow Never Again (Amanha Nunca Mais), by Tadeu Jungle, was a variation on a trusty formula: regular guy, harassed from all sides, races against time to keep everyone else happy. In this Sao Paolo-set story, the anaesthetist hero has to deliver a birthday cake, despite work pressures, road rage and a constant stream of crazy people to distract him. The frenetically edited film perhaps laid bare some tensions in Brazilian society, albeit unappealingly: the beleaguered black hero discovers that white people are crazy, white women especially crazy, and white Jewish women craziest of all.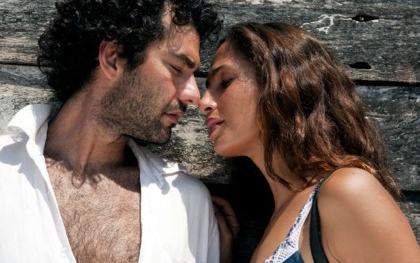 I'd Receive the Worst News From Your Beautiful Lips
More offbeat – and likelier to travel, if only because of its high sex content – is I'd Receive the Worst News From Your Beautiful Lips (Eu receberia as piores noticias dos seus lindos lábios) by Beto Brant (his thriller The Trespasser was released in the UK in 2002) and Renato Ciasca.
This Amazon-set melodrama follows the affair between a photographer and a preacher's wife (the hyper-glamorous Camila Pitanga), who in a previous life was a heroin-addicted prostitute (the red-light district scenes were shot one block from my Copacabana hotel). I'd Receive… is a sleekly torrid affair – 9½ Weeks in the Rainforest, if you like – but it's given a distinctive twist by its disconcerting flashback structure, eco themes and lysergically vivid camerawork.
Then there was Prime Time Soap (A Novela das 8), a brisk, intelligent debut by writer-director Odilon Rocha. The period is 1978, during the military dictatorship, when the country was in thrall to the disco-themed telenovela (soap opera) Dancin' Days. Rocha weaves a slightly threadbare story centred on a dim prostitute on the run after apparently killing a client, and her maid who in a former life was a leftist militant.
Through an ironic optic of pastiched telenovela style, Rocha juxtaposes kitsch comedy, a feelgood coming-out subplot, and darker material relating to police brutality. The result isn't as trenchant as Tony Manero, Pablo Larrain's take on disco and dictatorship in Chile – the tone is closer to Almodóvar or to François Ozon's Potiche – but Rocha certainly offers insights into the ways that a younger Brazilian generation is dealing with the contradictions and horrors of recent history. (The use of a familiar bouncy Spanish pop song also identifies Carlos Saura's Cria Cuervos as a key inspiration.) Among a chirpy cast, Claudia Ohana – Ruy Guerra's Erendira some 30 years ago – channels Dancin' Days lead Sonia Braga with diva-like aplomb, down to the giant sunglasses and bandanas.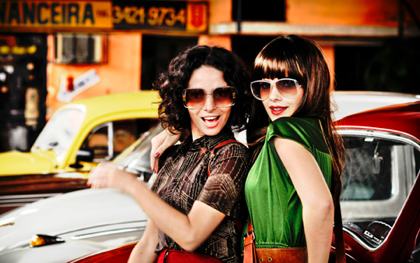 The festival's key event, however – certainly for a handful of visiting European journalists – was a visit to the newly-built Cine Carioca, in the until-recently notorious favela Complexo do Alemao. The favela was until nine months ago the most notorious in the city, under the control of the Red Command drug gang, and for many years had been a no-go area for police. Last November, however, the community was subject to an operation by the UPP (Police Pacification Unit). 'Pacification' sounds rather like a euphemism – suggesting the sort of hard-line action depicted in José Padilha's two controversial Elite Squad films about the armed BOPE police units – and indeed, the operation at Complexo do Alemao was a four-day process which involved police going in with tanks to drive out the traffickers (with at least 50 people killed, according to news reports, including several bystanders).
By all accounts, Complexo do Alemao is now a very different place, with residents feeling free to move around at night. Certainly, the mood around Cine Carioca – on the very edge of the favela – was relaxed, with children buzzing around to watch the inauguration of the festival's free season. The favela's 93-seater Cine Carioca is one of a planned chain owned by RioFilme, which is itself owned by the city. The cinema is staffed entirely by Complexo de Alemao residents, and generally shows a standard commercial bill of fare; with ticket prices pegged at less than half the Brazilian average, it has sold 65,000 tickets over the nine months since it opened (the favela has a population of c.70,000).
During the Rio Film Festival, Cine Carioca has had a series of free screenings – including the likes of Shark Night 3D. But for the opening night of this festival strand, the film of choice, bizarrely, is L'Apollonide (House of Tolerance), the torpid French fin de siècle brothel drama that sunk even hardened Cannes critics into a stupor. As I watched the local audience – including children as young as five – troop into the cinema with popcorn, I wondered how Bertrand Bonello's movie would go down in the favela. The next day Sergio Sa Leitao told me, "Nobody actually liked the film."
It's understandable that Cine Carioca's target audience would prefer racier stuff. In fact, Sa Leitao told me that while the cinema was being built, some months before the start of pacification, his company had been working with co-operation from the local gang leaders (who, allegedly, had no idea that the UPP operation was in the air). One of them, he told me, had a particular request for when the cinema opened: be sure to screen Elite Squad. 
See also
Antônio das Mortes reviewed by Michael Chanan (August 2010)
Britain's secret Brazilian: Nick James on Alberto Cavalcanti (August 2010)
Bird Watchers reviewed by Sophie Mayer (August 2009)
Tony Manero reviewed by Jonathan Romney (May 2009)
Amazonas Film Festival report: In the footsteps of Fitzcarraldo, James Bell heads deep into the Brazilian jungle (February 2009)
Linha de passe reviewed by Paul Julian Smith (October 2008)
Elite Squad: Jonathan Romney on the Berlinale Golden Bear winner (April 2008)
City of God reviewed by Paul Julian Smith (January 2003)
Central Station reviewed by Nina Caplan (March 1999)