Linha de passe
USA/UK/Brazil 2008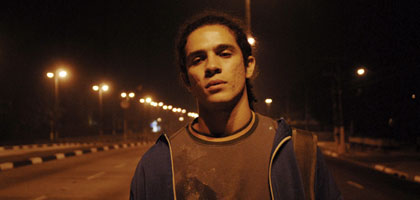 Reviewed by Paul Julian Smith
Synopsis
Our synopses give away the plot in full, including surprise twists.
São Paolo, Brazil, the present. Four half-brothers live in the impoverished outskirts of the city with their middle-aged mother, Cleuza, who is once more pregnant by an unknown father. Dario, who is turning 18, is trying out for a professional football team. Dínis, who has already fathered a child himself, is a motorcycle courier. Dinho, a petrol station attendant, is a member of a Pentecostal church. The youngest brother, Reginaldo, skips school to ride the city buses in search of his father, whom he's heard is a bus driver.
Dario is turned down for football teams, as he is getting too old and hogs the ball. Dínis parties, neglects his child, and, in search of easy money, drifts into crime. Dinho, repressed and unhappy, is wrongly accused of theft and beats up his boss. He takes refuge in the church. Reginaldo gets into trouble at school and haunts the bus garage. Cleuza is afraid that because of her pregnancy she will lose her job cleaning a rich woman's flat. She tries to cope with her sons' difficulties as best she can. Finally, Dario, although he cannot provide the bribe demanded by a scout, gets his big break in a professional match. Dínis, after a botched smash and grab, hijacks a car, but lets the driver go without harming him. Dinho takes part in a mass baptism in a local river. As Reginaldo steals a bus and drives it through the city, Cleuza goes into labour at home alone.
Review
Brazilian boys just can't seem to hold on to their fathers. Paolo Morelli's Rio-set City of Men featured a young dad who neglects his son while another youth searches for his missing father. Now Walter Salles and Daniela Thomas, who share credits for direction of Linha de passe, tell a similar tale, but this time set in São Paolo, Brazil's less picturesque land-locked megalopolis.
But if the plotline is familiar, the execution is arresting. In the stylish pre-credit sequence the directors flashback from the modest house where long-suffering mother Cleuza (played by Sandra Corveloni, who won best actress at Cannes) is about to give birth for the fifth time. They then crosscut between passionate fans in a huge football stadium, devout worshippers in a tiny inner city church, a daring motorcyclist weaving his way through terrifying traffic, and a small black boy absorbed in his thoughts on an urban bus. All of this is set to a typically expert soundtrack by Gustavo Santaolalla (Amores perros, Brokeback Mountain), which spans the spectrum from spacey electronic drones to fuzzy electric guitar. The dynamic camerawork from Mauro Pinheiro, Jr, often shot from speeding motorbikes, also does justice to the energetic and touching performances from a young, mostly inexperienced cast. The fact that the crew spent months getting to know the extras in their home settings has paid off, lending a rare sense of authenticity to the film.
As George Moura and Daniela Thomas's well-turned script develops, we slowly learn that these four vibrant settings are the keys to understanding four half-brothers, who rub along together with their mother in the overcrowded family home. While this is the kind of location familiar from a certain mode of miserabilist Latin American cinema (the sink always seems to be blocked up), Linha de passe isn't limited to the conventions of old style social realism. The family may be poor, but, in line with current socioeconomic trends in booming Brazil, they are by no means destitute. And while the authentic locations are sometimes grim or grimy (São Paolo seems wholly made up of unmade suburban streets, charmless freeways, and endless, faceless towers), Salles and Thomas take care to show that their characters make their own choices and have potential exits from their limited lives. Some sharp editing weaves together the various narrative threads: in one telling graphic match we cut from the waving arms of football fans to the raised hands of a congregation in church, each group worshipping in its own style.
One way out of poverty, then, is football, convincingly shown here as a kind of ecstatic communion for both parents and children alike. Another, of course, is religion, in this case not traditional Catholicism but charismatic Pentecostalism. Linha de passe shows guarded respect for both milieus. So, on the one hand, football is dehumanizing and corrupt: huge queues of would-be Pelés line up outside the grounds for try-outs and a talented youth like Dario won't make it unless he can afford to pay bribes. But on the other hand, sport offers moments of pure cathartic joy for players and spectators alike. The film is equally ambivalent about the promises of charismatic religion. There are no miracle cures here, however passionately they are prayed for. But the sympathetic priest truly cares for his flock. And rather than mocking Dinho, the clean cut 'Bible boy', Linha de passe takes him very seriously, showing just how hard it is to stick to your faith when the going gets tough.
Sexy Dínis proves less easy to like. Repeating the pattern of his own absent father, he sponges for money off his ex-girlfriend and ends up smashing windscreens to steal handbags. Yet when he carjacks a rich guy, he does him no harm and only pretends to be armed. It's something of a relief that the big guns and spectacular violence inspired by City of God are nowhere to be seen here. Likewise little Reginaldo is a gravely charming juvenile delinquent, skipping school only to search for his father and fighting only in self-defence against bullies. The tiny, deadly gangsters of City of God would have made short work of him.
Turning its back on the violence that is all too familiar in recent Brazilian films, Linha de passe also shrugs off sex. While Lower City would have us believe that cute young Brazilians do nothing but fuck and fight, Linha de passe shows that their relationships are as complicated as anyone else's. We never learn the truth behind mother Cleuza's broken affairs, although she lingers over snapshots: one, lovingly preserved, of a wedding; another, angrily torn in half, of the black father that little Reginaldo is so desperately seeking. Dario's fierce obsession with football leaves no time for romance, Dínis' promiscuity is hardly happy, and Dinho's high-minded chastity makes him lonely and vulnerable. But by the time the film reaches a carefully crafted climax, after a swift-moving 113 minutes, no one will have come to serious harm and everything is still to play for.
While Salles and Thomas clearly lament the social problems they document, especially the absence of fathers, crucially they grant their characters the freedom to live their own lives. Neither melodramatic nor nihilistic, Linha de passe could never be accused of being fashionable; and its modest aim is to show that we need not be victims of our environment. The film's title refers to the line of players down which the ball is passed when all are playing properly together. It could hardly be more appropriate for a film that confirms that the unflashy virtues of teamwork are as vital in cinema as they are in life.
Credits
Directed by

Walter Salles
Daniela Thomas

Produced by

Mauricio Andrade Ramos
Rebecca Yeldham

Screenplay

George Moura
Daniela Thomas

In collaboration with

Bráulio Mantovani

Director of Photography

Mauro Pinheiro Jr

Edited by

Gustavo Giani
Livia Serpa

Art Director

Valdy Lopes Jr

Music

Gustavo Santaolalla