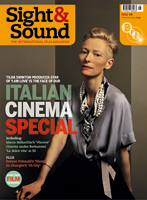 What is going on behind a very quiet person who has been told over the years, in a very soft way, to sleep forever? What happens when she wakes?"
— Luca Guardignino, director of I Am Love
Our May issue specialises in Italian cinema, but it's also a study of power, wealth, images, lies and the glass-box worlds of our rulers.
Luca Guardignino's "staggeringly confident" I Am Love may be a drama about a hyper-privileged, coldly imprisoned Milanese dynasty who "wouldn't be seen dead crossing the street late at night – they'd be chauffeured home," Jonathan Romney writes; nonetheless, it's a film that aspires to the emotional intensity of grand opera or tragic melodrama, with its own opulence "of depth, of the senses, that allows this initially glacial film to burgeon gradually into a radiant extended swoon." (Read too Catherine Wheatley's review for a more demurring take.)
Guardignino also tells us about great meals (I Am Love is a foodie's delight) being political acts of resistance, and how the film portrays the roaring pre-Crunch Noughties "like a documentary of a moment that doesn't exist any more". The film's producer-star, and our cover star, Tilda Swinton meanwhile talks with Nick James about movies, opera and Italy's "pond-life laws" that favour "certain films produced by certain companies headed by certain prime ministers."
Yet in the light of Gomorrah, Il Divo and this year's new films, as Nick Hasted reports in 'Maestros and mobsters', a new generation of film-makers may be emerging from the shadow of Italy's post-war masters to tell the story of the country's past 30 years, a story of bombs, occult political power and cultural devastation. PM Silvio Berlusconi himself may still be filmically almost untouchable – "already a movie, something that you cannot imagine," as director Saverio Costanzo puts it – but Hasted describes how this budding renaissance is already filled with "ghosts of a violent past".
Not the least of them being that of Benito Mussolini, the world's first "camera-friendly dictator" and object of Marco Bellocchio's Vincere, which tells the story of the rising tyrant's spurned lover Ida Dalser. Guido Bonsaver guides us through this powerful allegory of "the irrational and sensual trappings that made a nation fall in love with a megalomaniac."
As for those old movie maestros, it's the 50th anniversary of Fellini's self-reflexive cause célèbre La dolce vita, the film that brought us the term 'paparazzo'. Lee Marshall looks back at this "savagely wry Dance of the Dead, a debased version of Inferno in which Dante's serious pilgrim is replaced by an ethically compromised chronicler who doesn't so much observe and pity the damned as get into bed with them." (Fellini himself worried that he was too entwined in his film's subject, "like describing a fuck to someone while you're doing it.")
Leaving Italy behind, we light upon Roman Polanski's The Ghost – a supremely entertaining thriller at which, writes our reviewer Michael Brooke, "Hitchcock would have purred with pleasure." Philip Horne's feature essay unravels the eerie resonances between this film about a Tony Blair-like ex-prime minister in exile, hiring a ghost-writer to sex up his memoirs, and the life of its since-arrested director, and probes the film's vision of "the boredom and hollowness of power, the nasty aftertaste left in the mouth by the Faustian bargain made by the lords of this world… from their protective bubbles of power and wealth."
Nothing though could be more bubble-like than the world inhabited by three grown-up but artificially infantilised children whose parents raise them in bizarre seclusion in Dogtooth, a deadpan Buñuelian parable which won 2009's Un Certain Regard prize at Cannes. "This tale of extreme bad education could be read as a parable of the way that our rulers – and indeed the media – keep us under control by misleading us about the real nature of the world we inhabit," notes Jonathan Romney, who goes on to explore other screen fictions about distorted family relations, not to mention real-world parallels from Fritzl to the Wests. "The family's twisted little world comes to dramatise the inner workings of patriarchy, isolationism and tyranny on any scale," adds our reviewer Anton Bitel, for whom the film is "a true original, occupying its own private lot well off the mainstream grid."
Also in this issue: interviews with Life during Wartime's Todd Solondz and I Know You Know's Justin Kerrigan; Jafar Panahi and Iran's Green Movement; foreign funding and South African cinema; artists' movies brought before mainstream UK cinema audiences; box office returns for adaptations of foreign-language bestsellers; and Mr Busy's further thoughts on Sandra Bullock.
We've reviews of 42 new film releases, including film of the month 24 City, Jia Zhangke's semi-documentary portrait of workers leaving a Chinese arms factory, whose "blighted lives, dashed hopes and forlorn retirements", says Tony Rayns, stand it as "a microcosm of the communist state." And 23 new DVDs, including features on a second rediscovery from the Czech director of Marketa Lazarova, and Marco Ferreri's Dillinger is Dead. And our Books section spans Basil Dearden and Michael Relph, David Thomson on Psycho's lessons in murder and a conveniently timed history of Italian cinema.
See also
Subscribe now!
Save £9 on the cover price, get a free DVD and receive new issues hot off the press and direct to your door.
View our archive
Order back issues, or search our online database of reviews and features from the magazine