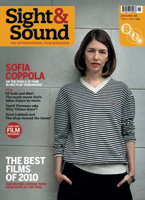 Our January issue considers the perils of fame in Sofia Coppola's latest film Somewhere, and the perils of entrepreneurial fortune in both The Social Network and Citizen Kane – the first of which tops our review of 2010, the second of which David Thomson considers as the front-runner for the next iteration of our Greatest Films of All Time poll, due in 2012.
We also explore the borderlines of French and Islamic culture in Of Gods and Men, the economic desperation underlying the evergreen romantic comedy of Ernst Lubitsch's The Shop Around the Corner, and the boundaries of cinema and gallery art in the work of New Zealand's trailblazing animator Len Lye.
Plus 36 new films reviewed – including Gareth Edwards' astonishingly assured sci-fi road-movie Monsters – and 20 new DVDs. On sale now – subscribe today!
See also
Subscribe now!
Save £9 on the cover price, get a free DVD and receive new issues hot off the press and direct to your door.
View our archive
Order back issues, or search our online database of reviews and features from the magazine