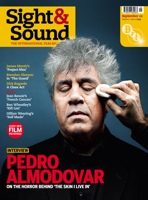 Sexed-up mad scientists, hell-bound blue-collar hitmen, a politically incorrect West Irish policeman, a 'Me Generation' lab monkey, modernity-threatened 1970s doppelgängers of 19th-century Suffolk farmers, a self-fantasising screen legend and the founder of the Moulin Rouge are the order of our September issue.
Our cover feature is The Skin I Live In, the latest unclassifiable "Almodrama" from Spain's super-stylist Pedro Almodóvar, which marks Antonio Banderas's "return to the fold" – and his ageing – as a well-to-do plastic surgeon with skeletons in his family closet, a human guinea-pig imprisoned in his mansion clinic and a yen for revenge on the abuser of his daughter.
The director talks to Maria Delgado about advances in artificial-skin science, directors who play God and how art offers "a balm that allows [a person] to carry on," while Kim Newman surveys the genre of mad science and surgical horror, and Paul Julian Smith essays Almodóvar's status as "a prophet without honour" in Spain, whose cinema "needs its greatest star now more than ever." Our reviewer Tony Rayns meanwhile looks askance at Almodóvar's latterday use of a "restrained, unassertive visual style to tell a more or less outrageous story."
"Over the past few years," notes Nick Hasted, "the UK has thrown up a few sporadically successful new genre directors." Yet Ben Wheatley – who put down a marker with last year's Down Terrace, shot for £6,000 – "stands out for being equally committed to genre and realism… He wants you to believe in his films, and hurt with his characters."
Wheatley's follow-up Kill List makes good on that promise; inspired by dreams from a childhood spent by the wood in Billericay, and shot in long takes with actor friends in permanent character, like a "giant home movie", the film is a post-Iraq hitman horror which, two-thirds of the way in, "drops off a cliff face, into scenes of English rustic ritual and nightmare, visceral horror." Wheatley agrees: "I feel bad putting out there, because I believe in the collective consciousness," he tells Hasted.
There's more English folk horror in David Gladwell's 1975 Requiem for a Village, re-released on BFI DVD this month. "An impressionist prose poem on the themes of time, nature and mortality, symbolised through the pending demolition of an English village and its surrounding countryside," writes Michael Bracewell, it's a film "in which economy and restraint, in terms of craft, become the agents of a near-hallucinogenic exploration of landscape and history." Bracewell charts both the displacement of old English ideals by the mono-environment of consumerism, and the film's distillation of influences from Oliver Goldsmith to the Neo-Romantic painters and current artists such as Clare Woods and Jeremy Deller.
"Trying to understand the links between man and his nearest relative is a centuries-old obsession," writes Nick Roddick. "Project Nim, however, is very much a product of the 1970s" – and suggests that while the Brits were busy steamrolling their villages, the Americans were shedding their 1960s free-love ideals along with their "bell-bottom trousers and proudly synthetic leisurewear" in an orgy of untheorised 'sexual contact'. James Marsh's documentary follow-up to Man on Wire – "a mixture of 18th-century Bildungsroman and 19th-century melodrama" made up of archive footage, talking heads and Marsh's trademark re-enactments – takes as its point of entry on this foreign country the fate of a chimpanzee called Nim, an anti-Tarzan rather callously raised by humans, and equally laxly studied.
To 1950s France, and thence to the popular music halls of the 1980s belle epoque: in 'Paris by Night', David Thompson recounts the background to Jean Renoir's glorious homecoming after a decade and a half in filmmaking exile with the now restored and re-released French Cancan. A homage to both the trade of showbiz and spectacle (and indeed to all artistic creativity) and the Montmartre demi-monde of his painter father Auguste, the film's classical showcase of the expressivity and exuberance of show-dancing remains irresistible, says Thompson, even if Renoir's "casual, hedonistic view of the opposite sex" may divide spectators.
"What [Joseph Losey's 1963] The Servant revealed most tellingly was that the middle-aged Dirk Bogarde was now built to play sleaze as well as superiority," writes Nick James in 'A Class Act', the latest in our occasional series on the cinema's greatest actors. James starts with the 'official version' of Bogarde's story – an adored matinee idol who went on to become a highly regarded master performer in European arthouse films – cultivated by the actor-diarist himself, but also reveals Bogarde's "slipperiness of sexual character" and a reluctance to be pigeonholed which "annoyed the hell out of" his collaborators as much as it proved half his charm.
"We're not good at banking. We're shite at property… But one of the things we are good at is culture. So let's look after that and help it grow," Irish producer Ed Guiney tells Trevor Johnston in 'Green Screen', a special report on how Irish filmmakers are dealing with an imbalance of talent to fundraising abilities.
Johnston also talks to John Michael McDonagh about his comic Connemara odd-cop movie The Guard. The film stars Brendan Gleeson as a garda agent provocateur and Don Cheadle as an FBI straight man, and is "exactly the sort of thing that Irish cinema does best." As McDonagh tells Johnston, "My process was really about imagining what [police-procedural movies and TV shows like CSI] would do in each scene – and then doing the exact opposite."
Elsewhere in the September issue we talk to Self Made's Gillian Wearing, gore meister Herschell Gordon Lewis and The Salt of Life's Gianni Di Gregorio, celebrate the arrival of John Smith's wry film and video essays on DVD, remember the unfulfilled promise of Station Six Sahara's director Seth Holt, depict Wong Kar-Wai's forthcoming martial arts extravaganza the Grandmasters, crunch the numbers on The Tree of Life and the last year's UK film landscape and muse on film endings and Amazon.co.uk algorithms.
We review 35 new cinema releases – including Steve Hoop Dreams James's new Chicago gang-warfare doc The Interrupters, our Film of the Month – and 20 DVD releases, including Louis Malle's Zazie dans le metro and Black Moon, two masterworks from the great Japanese documentary maker Tsuchimoto Noriaki and a revelatory box-set tribute to TV comedy pioneer Ernie Kovacs.
And our expanded Books section delves into a Raoul Walsh biography, Dave Kehr's collected film criticism, 'culturally English filmmaking since the 1990s' and a new monograph on Claude Lanzmann's Shoah.
---
Subscribe today, save £9 on the cover price, get a free DVD and receive new issues hot off the press and direct to your door!
See also
Silicone and sentiment: Paul Julian Smith on Almodóvar's All About My Mother (September 1999)
Listen to Britain: Philip Hoare on the vanishing world evoked by a new DVD collection of films documenting British folk culture (August 2011)
Man on Wire reviewed by Catherine Wheatley (August 2008)
The River reviewed by Bryony Dixon (November 2004)
In search of poshlust times: Nick James on the films of Joseph Losey and Harold Pinter (June 2009)
His & Hers reviewed by Samuel Wigley (April 2011)
Trastevere story: Gianni Di Gregorio talks to Tom Dawson about Mid-August Lunch (August 2009)
Of process and puns: John Smith talks to Nick Bradshaw about his largest ever UK retrospective (May 2010)