Harry Fowler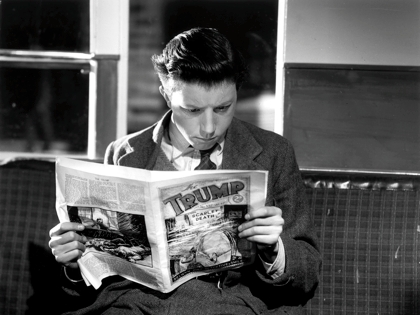 Chirpy cockney character actor, from Hue and Cry to MBE
10 December 1926–4 January 2012
An accurate impression of the parts often offered to Harry Fowler can be gleaned by their very names or lack of them, from 'Head Spiv' to 'Barrow Boy'. In an 1990s interview given to Brian MacFarlane for his history of British cinema Sixty Voices, Fowler displayed a sense of resignation at the limited horizons of working class characters in post-war films: "Most of my roles throughout my working life, certainly up until the 60s, had me as the obligatory Cockney, just as you had the obligatory negro in American films. My idol was Jimmy Cagney, but there were no Jimmy Cagney pictures made here, so I had no aspirations regarding roles."
Fowler's career as an actor began in 1941 when he was invited onto radio by the BBC producer Lionel Gamlin to talk about the vicissitudes of being a teenage paperboy in wartime London. This led to a successful screen test at Elstree Studios for the 1941 propaganda short Those Kids From Town – Fowler always looked at least five years younger than his real age. A succession of cockney-juvenile parts ensued, notably his resourceful and heroic evacuee in Ealing's Went The Day Well? (1942), until his RAF call-up. He was given special leave in 1946 to play the central role of a London teenager who realises a criminal gang is using his favourite comic as a method of passing on messages in Hue and Cry, the first of the great Ealing comedies. Fowler acquitted himself with verve and aplomb even opposite such veteran scene-stealers as Alistair Sim, and the sight of him leading his gang of juveniles in pursuit of master criminal Jack Warner is one of the most indelible in British cinema.
It was on the set of Hue and Cry that Warner advised his young co-star that a good character actor was rarely out of work. British films of this period had a vast demand for 'chirpy cockney' roles and so Fowler seemed to spend much of the 1950s lurking on bomb-sites, selling goods that had mysteriously leapt from the back of a lorry, and all the while keeping a nervous look-out for the arrival of a police Wolseley.
Occasionally prestige films would offer him a chance to display his acting range, from his vulnerable delinquent in the 1951 social work drama I Believe in You, or essaying a particularly fine Sam Weller in the 1952 adaptation of The Pickwick Papers, but even in the merest of cameos or the most meagrely budgeted B-film Fowler always managed to infuse life into the most unpromising stereotype. In 1955's Stock Car, his verbal timing and gift for slapstick humour in the part of an inept spiv steals the picture. Ten years later his cameo as a door-to-door salesman in Life at the Top displayed comedy, pathos and anger in less than two minutes of screen time. That same year Fowler even faced the wrath of Bette Davis's eponymous The Nanny.
By 1959, Fowler's screen persona was used in two highly popular ITV sit-coms: as Corporal 'Flogger' Hoskins in The Army Game, followed by 'Harry the Yo-Yo' (so named because he was always in and out of prison) in the 1963 parish comedy Our Man at St. Marks.
He was awarded the MBE in 1970, by which time most of his career was spent in support roles on television, in which capacity he was still working as recently as 2004. His finest latter-day role was as the embodiment of Vivian Stanshall's Buller Bullethead in 1980's Sir Henry at Rawlinson's End – a wide-boy who was, as always, underplayed to perfection.
Andrew Roberts
See also
A conviction in comedy: Gary Mills on Leonard Rossiter (November 2010)
Britain's secret Brazilian: Nick James on Alberto Cavalcanti (August 2010)
Funny peculiar: Michael Brooke on Alastair Sim (July 2005)
The Limey reviewed by Philip Strick (January 2000)