Luis García Berlanga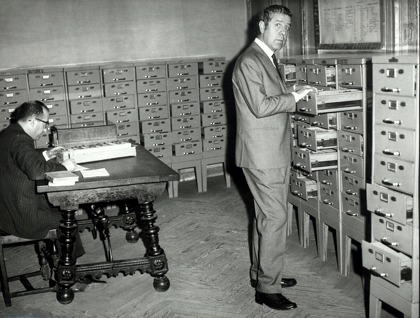 Writer-director
12 July 1921–13 November 2010
---
"We always speak about Billy Wilder. If Berlanga had made films in another language, the whole world would be paying tribute to him," declared Pedro Almodóvar. A giant of Spanish cinema to stand comparison with Luis Buñuel, Luis García Berlanga had a satirical wit that does indeed have a universal appeal. Working variously as director, producer, writer and actor between 1948 and 2002, he constantly ridiculed those in power – whether the corruption of politicians and the church or the hypocrisy of the wealthy – endearing himself to the Spanish public in the process.
His skilful deployment of ambiguity meant that Berlanga, a staunch atheist, managed to sidestep the draconian censorship of Franco's theocratic regime, never more so than in Esa pareja feliz (That Happy Couple, 1953) and Bienvenido Mister Marshall! (Welcome Mister Marshall!, 1953), both made in collaboration with Juan Antonio Bardem (uncle of actor Javier). The latter is a sly parody of Franco's promotion of Spain as a giant flamenco tablao and bullfighting ring, in the hope of being included in the – ultimately elusive – Marshall Plan. In Los jueves, milagro (Miracles on Thursdays, 1957), actual miracles are 'produced' for tourists.
Co-founder of the Spanish Cinematheque and Film Academy, Berlanga also helped set up the short-lived production company UNINCI, which was closed down in 1962 after co-producing Buñuel's Palme d'Or winner Viridiana, a film scandal that rocked the Franco regime. The previous year, Berlanga had finished Plácido, an irreverent critique of the false piety of the Catholic bourgeoisie, for which he received an Oscar nomination, and in which he skilfully deployed his trademark use of the sequence shot to expose the protagonist's ultimate isolation in the midst of a tumult of secondary characters.
But it was Berlanga's masterpiece The Executioner (El verdugo) – a cornerstone of Spanish film history, and one of the most powerful, blackly comic statements against the death penalty ever made – that caused the biggest international uproar, when Franco's government (having just carried out a number of high-profile public executions) tried to stop the film from screening at the 1963 year's Venice Film Festival, where it nonetheless carried off the Critics' Award.
Berlanga's bleak vision of the world and his dark, sardonic humour owe more to Quixotesque surreal and absurd strains in Spanish literature than to the neorealists with whom he is often grouped. As in his films, in person he was irreverent, iconoclastic and mordant. But above all Berlanga was the eternal pessimist, who ended his brutally honest autobiography – entitled Welcome Mister Fuck Up: Chaotic Memories – with the statement: "I'm afraid I've failed completely."
Mar Diestro-Dópido
See also
Betsy Blair obituary (March 2010)
The Exterminating Angel and Simon of the Desert reviewed by Tim Lucas (April 2009)
The Orphanage reviewed by Maria Delgado (April 2008)