Mexico and martinis
DVD Review: The Exterminating Angel and Simon of the Desert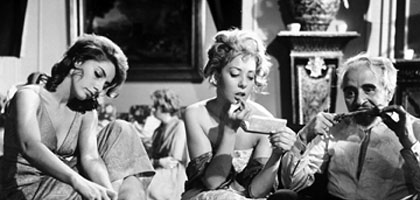 Two new Buñuel releases shed light on the maestro's Mexican sojourn. Tim Lucas on surrealism's sly old devil.
The Exterminating Angel
Luis Buñuel; Mexico 1962; Criterion Collection; 93 minutes; Aspect Ratio 1.33:1; Features: trailer, 'The Last Script: Remembering Luis Buñuel' documentary, new interviews with actress Silvia Pinal and film-maker Arturo Ripstein, booklet featuring essay by Marsha Kinder and 1970s interview with Buñuel
Simon of the Desert
Luis Buñuel; Mexico 1965; Criterion Collection; 45 minutes; Aspect Ratio 1.33:1; Features: 'A Mexican Buñuel' documentary, new interview with actress Silvia Pinal, new subtitles, booklet featuring new essay by critic Michael Wood and 1970s interview with Buñuel
These two Criterion Collection releases, following the earlier Viridiana, complete the company's issue of Luis Buñuel's three Mexican films starring actress Silvia Pinal, produced by her husband Gustavo Alatriste. The Exterminating Angel, reportedly inspired by Théodore Géricault's 1819 painting The Raft of the Medusa, makes literal the concept of a party no one wants to leave and represents Buñuel's first full-on return to surrealism after 1930's L'Age d'or. Made under the title 'The Castaways of Providence Street', it amusingly charts the eroding decorum of a high-society gathering (itself a surrealist notion in terms of Mexico) which, supernaturally unable to leave the premises, deteriorates into short tempers, fights, urination in flowerpots, trysts in closets, sweat and grime, and the (offscreen) slaughter of animals.
Though only 45 minutes in length, Simon of the Desert, made a few years later, features an early Christian ascetic (Claudio Brook) who has spent six years, six weeks and six days living on lettuce and water atop a high stone column, where his life of pure worship attracts the doubt of churchmen, the mockery of peasants, and eventually the temptations of Satan. Wonderfully played by Pinal, Satan appears to the holy man as a lamb-coddling Jesus Christ, a bare-breasted temptress, and - well before Mario Bava's Kill, Baby... Kill! or Fellini's Toby Dammit - as a little blonde girl. In a finale that anticipates Bava's Lisa and the Devil, Satan takes Simon by jet to a 20th-century discotheque.
Simon, new to DVD, is the better looking of the two transfers. Criterion's Exterminating Angel improves on the no-frills UK release from Arrow Film Distributors, with more flattering contrast levels and improved standard framing, but the original elements lack vibrancy and detail. Although reportedly mastered from 35mm and subjected to extensive digital repair, both films feature at least an instance or two of noticeable scratching and unreel with the faint acceleration common to PAL/NTSC conversions. Nevertheless, they offer what is far and away the best extant quality available for these coveted titles.
The supplements included with both movies are exceptional. A two-disc set, Angel is accompanied by Gaizka Urresti and Javier Espada's appropriately captivating documentary, The Last Script: Remembering Luis Buñuel (2008), in which the film-maker's son, director Juan Luis Buñuel, and screenwriter Jean-Claude Carrière travel the globe to visit spots important to Buñuel's life and career, and to reminisce about him with great warmth. Silvia Pinal and Angela Molina (That Obscure Object of Desire) briefly join them, as do Buñuel's other son Rafael and the son of cameraman Gabriel Figueroa. Our hosts visit such meccas as the theatre where Un chien andalou premiered, Churubusco Azteca Studios, the big house where Angel was filmed (with Carrière lingering outside till Buñuel proves his ability to enter and freely exit the premises), and the Toledo church with the cardinal's tomb seen in Tristana. Their sojourn is accompanied by many wonderful stories and details, not the least of which concerns the maestro's personal recipe for one of his life's staples, the dry martini. Though letterboxed, the film is presented without anamorphic enhancement. The set is rounded out with a trailer and illuminating interviews with Pinal (who cleverly credits Angel with originating reality TV) and the impressively cultured and well-spoken Arturo Ripstein, an uncredited assistant on the production.
The extras on the single-disc Simon extend to Emilio Maillé's 56-minute documentary A Mexican Buñuel (1997), which isn't nearly the equal of the other (no mention of The Criminal Life of Archibaldo de la Cruz?) but wonderfully includes the heretofore lost, alternative, upbeat ending Buñuel was forced to shoot on the last day of filming Los Olvidados. Silvia Pinal's Simon interview confesses that her producer husband made his fortune as the head of a furniture factory, and she offers a most amusing explanation of why the film is so short: Buñuel always said that it ran out of funding, but here Pinal takes the blame, explaining that she had become enamoured of the 1963 Mastroianni/Loren anthology Yesterday, Today and Tomorrow, and had proposed to her husband and Buñuel that they collaborate on an omnibus of their own. Buñuel agreed, but suggested they find two other important directors to helm the other segments. His first choices, sly devil, were Fellini and Jules Dassin, who both loved the idea but preferred to work with their wives, Giulietta Masina and Melina Mercouri - as he must have known they would. Obviously amused, Buñuel suggested to Pinal that he drop out, so that her husband could direct her segment. Intending the project to be her showcase, and offended by Buñuel's lack of support, Pinal pulled the plug on the movie. The story not only has the ring of truth, it has the ring of Buñuel.