Michael Gough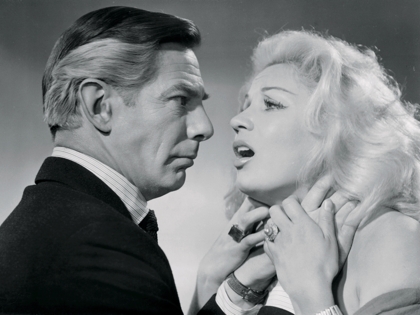 Horrors of the Black Museum, courtesy Getty Images
Character actor known for his diverse roles in horror and Derek Jarman films, and as Alfred the butler in four Batman movies
23 November 1916–17 March 2011
---
On 18 November 1947, L'Ecran français reported on the casting of director Marc Allégret's first British film, the Gainsborough-style bodice-ripper Blanche Fury. The director "scoured all the theatres of London, searched all the agencies and unearthed a minor obscure actor, Michael Gough, who had never appeared in a film". This unknown figure, added the journal, "now looks set to become one of England's finest players".
If, as it turned out, Michael Gough hardly attained the stellar heights intimated by L'Ecran français, in a career lasting over 50 years he rarely turned in a less than stylish performance, despite some fairly abysmal films. In the heyday of Hammer he played (as he put it) "a poor man's Peter Cushing", lending his deep, deceptively gentle voice and air of avuncular charm to several of the horror studio's more relishably garish excursions, including Dracula (1958), The Phantom of the Opera (1962) and Dr. Terror's House of Horrors (1964). In Dr Who in 1966 he also played one of the Doctor's most memorable opponents: the Celesital Toymaker, a laconic mandarin with a taste for luring his guests into lethal parlour games.
Gough liked to describe some of his Hammer outings as "GTMAR films" – Get The Money And Run. It was these, though, that landed him his most famous role: as Alfred Pennyworth, Bruce Wayne's butler, in Tim Burton's Batman films. According to Gough, when Burton, a lifelong Hammer fan, was casting the role he saw Gough collecting a Tony Award (for the New York production of Ayckbourn's Bedroom Farce) and exclaimed "That's the guy who's in all those terrible movies! He's our Alfred!" Gough provided exactly the element of poised British scepticism needed to balance Burton's wilder flights of fantasy. Gough stayed with the franchise when Joel Schumacher took over direction, becoming the only participant to walk away with dignity from the car-crash that was Batman & Robin (1997).
With his feline features, shaggy eyebrows and long upper lip, Gough could play amiable, sinister or – most effectively – sinisterly amiable. Dreamy, slightly detached Englishmen suited him (he was Anthony Eden and David Livingstone for television) as did observer roles, characters standing at an oblique angle to the action, quizzically taking it all in and sometimes stirring it a little: mill-owner Michael Corland in The Man in the White Suit (1951), Julie Christie's father in The Go-Between (1971), Lord Delamere in Out of Africa (1985), Cardinal del Monte in Derek Jarman's Caravaggio (1986) – the first of several roles for Jarman.
Serious Hollywood attention didn't come until Gough was well into his seventies. "I love the Hollywood experience," he remarked. "They give you your per diem and that pays for a house." His first two stints as Alfred Pennyworth were followed by a role as social arbiter Henry van der Luyden in Scorsese's The Age of Innocence (1993). After his final live-action role, again for Burton, as a crooked notary in Sleepy Hollow (1999), he signed off with a voice part as the Dodo in Alice in Wonderland (2010). The lack of starring roles in his career never troubled him. "I'm a featured support player, and that's what I'm happy being," he observed. "You don't have the responsibility of a star, you're not as expensive as a star, and you get lovely parts.
Philip Kemp
See also
The lost leader: Colin MacCabe on Derek Jarman (January 2007)
The cage of reason: Kim Newman on Tim Burton's Sleepy Hollow (January 2000)