Alice in Wonderland
USA 2010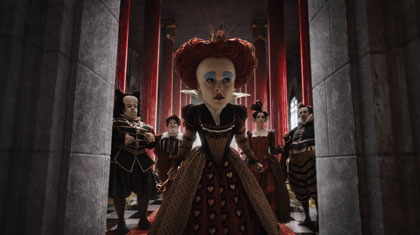 After the fall: Tim Burton's post-lapsarian vision of a grown-up Alice forsakes its own imaginative strengths for a hokey and over-determined narrative, says Lisa Mullen
Lewis Carroll's enigmatic fable about identity and meaning has fascinated generations of film makers, who have seized on it not only as a potential showcase for the magic of special effects, but as a deeply cinematic interrogation of alternative ways of seeing. Walt Disney himself was obsessed with it from his earliest days as a would-be director, when he worked on an unfinished short called Alice's Wonderland (later tweaked as Alice in Slumberland, 1926). The 1951 animated feature, which he personally oversaw, was the fruit of decades of planning, though it opened to mixed reviews; its episodic structure made the most of Carroll's absurdist situations, but lacked the linear storyline that mid-century audiences had come to expect.
Perhaps this is why Tim Burton's version is so strictly corseted by narrative - an odd priority in a film which firmly reworks the story into a statement about free will. Burton's Alice, winningly played by the Australian Mia Wasikowska, is no longer a child dreaming on a sunny riverbank, but a rebellious teenager on the run from adulthood and marriage. The white rabbit she follows down the hole is a messenger from her childhood, which was haunted by recurring dreams about Carroll's Wonderland. But unlike the story's traditional wafting descent into a psychedelic theme park, her new fall is a headlong crash into a world of smoking ruins, where she doesn't quite fit any more, despite her efforts to shrink and grow to order.
This post-lapsarian landscape is presided over by the despotic Red Queen (Helena Bonham-Carter) and Alice, no longer an innocent wanderer, must find a new way to become the hero of her own story. It's an ingenious solution to the problem of over-familiarity. But somewhere between this dystopian re-imagining and the finished product, a process of Disneyfication seems to have taken place which has coated the film in a suffocating glaze and stamped it with a hokey and predictable message about the entrepreneurial spirit of the plucky outsider.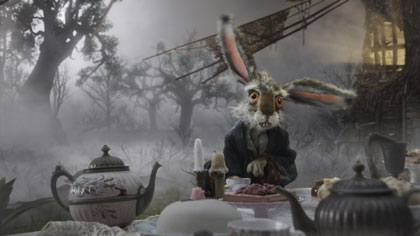 This tension between dark insight and a love of happy endings has been a feature of Burton's work, and has given films from Edward Scissorhands to Charlie and the Chocolate Factory their twitchy charm. Here, though, the imposition of a fairytale quest structure turns the surrealist wanderings (and wonderings) of a free-associating dreamer into a brusque crash-zoom, as Alice hurtles towards her appointment on the good-versus-evil battlefield. So many original ideas zip past: the Red Queen's ugly, distorted head - which her simpering courtiers try to copy with prosthetic disfigurements of their own - and her obsession with beheading people; the magical Oraculum which depicts Alice's immutable future; the disturbingly uncompromising White Queen, whose goodness comes laced with a narcotic kick. A voice cast of beloved English character actors - Imelda Staunton, Barbara Windsor, Stephen Fry, Timothy Spall - struggle to make themselves felt beside the central two-hander between Wasikowska and Johnny Depp's sentimental Mad Hatter, while the limitless possibilities of digital 3D are perversely underplayed in a dreamscape that seems to beg for the bells-and-whistles treatment.
The result works perfectly as a child-friendly fantasy - indeed, my nine-year-old daughter gave it a glowing nine out of ten - but it's a frustrating experience for fans of Burton and of Alice, who might have hoped for something extravagantly surreal and majestically eccentric. At the end of the film, Alice finally agrees to suspend her disbelief and embrace six impossible things before breakfast. But only six. Can we demand a recount?
This review will appear in the May 2010 issue of Sight & Sound magazine
See also
Go ask Alice: Kim Newman compares the worlds of Tim Burton and Lewis Carroll, and Mark Sinker charts the history of films and illustrations that have brought Alice in Wonderland to life, in the April 2010 issue of Sight & Sound
Tideland reviewed by Mark Sinker (September 2006)
So many moustaches: Nick James on the wonders of Edwardian actuality-makers Mitchell & Kenyon (January 2005)
Gods and monsters: Andrew Osmond reviews Hayao Miyazaki's Spirited Away (Film of the Month, September 2003)