Yekaterina Golubeva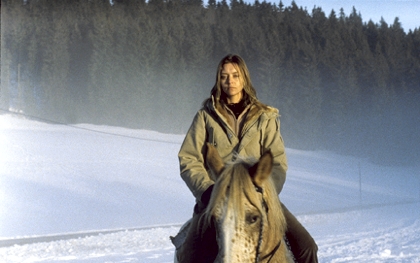 Actress in in Pola X, Twentynine Palms and two films for Claire Denis
9 October 1966–14 August 2011
---
My first sight of Yekaterina Golubeva was in Claire Denis' J'ai pas sommeil (I Can't Sleep, 1994). The film opens with the bracing image of her driving her beat-up car into Paris, cigarette held at a neat downward angle from her mouth, holding a stare of concentrated insolence. She played a young Lithuanian girl barely able to speak French who's drawn to the city by the promise of work from a theatre director who had once seduced her.
In fact her story is almost a sideline to that of a series of murders of old ladies committed by a gang of gay men, all based on a real incident. But Golubeva's defiant attitude and arresting looks (she wears overlarge men's jackets with great style) created a thrilling screen presence. Particularly memorable were scenes in which she uncontrollably laughs out loud in a porno cinema, and in the midst of heavy traffic determinedly bashes the car in front being driven by the unresponsive director. Her resilience carries her through, but then as her eccentric aunt tells her, "When you don't know how to do anything, beauty can be a real help."
Golubeva (who usually appeared on credits as Katerina or Katia) was in fact born in St Petersburg when it was still Leningrad, and had come to attention through the films made by her husband, the Lithuanian Sharunas Bartas. First appearing in Three Days (1991), she plays one of a quartet of lost youths trying to find their way in the broken down city of Kalingrad. Bartas belongs to the minimalist, not to say miserabilist, school of filmmaking of whom the high priest is Béla Tarr. But his reliance on long takes allows the audience an intimate view of Golubeva's extraordinary looks, her doe eyes and fleshy lips placing her somewhere between a Baltic Nastassja Kinski and a Balthus model. Seeing this film, maverick French filmmaker Leos Carax declared himself in love, switched muses from Juliette Binoche and cast Golubeva in the central female role in his ambitious and extravagant Hermann Melville adaptation, (1999).
Pola X dealt with a young author (Guillaume Depardieu) who abandons his exquisite country-chateau lifestyle to follow a mysterious, dowdily dressed young woman who claims to be his forgotten half-sister (Golubeva) into a forbidding Paris for a life in the gutter. Golubeva's heavy accent and poverty-row attire are used to underline her presence as a symbol of suffering and the ravages of war, following in line the way she appeared in Bartas's films. She also took part in a very explicit sex scene, played out in semi-darkness.
Her fearless attitude to self-exposure was again evident in Bruno Dumont's misfire of a road movie Twenty Nine Palms (2005), in which she played one half of an ill-matched couple driving through the Californian desert on a journey into appalling violence. Dumont has said he cast Golubeva because she was so much the character, who in his eyes was a wildly temperamental young woman with a slight grasp of French and even less of English, and whose mood swings made her the girlfriend from hell. While gallantly performing scenes of highly vocal sex, nevertheless she seemed perhaps to be revealing how unhappy she was as a foreign actress playing out the fantasies of very singular French male directors.
Claire Denis cast Golubeva again in The Intruder (2005), as the mysterious woman who facilitates the black-market heart transplant of the film's central character. Once more she was smoking cigarettes meaningfully and remaining apart from everyone else, but at least Denis allowed her to express humour and illuminated her beauty in a gentler fashion.
However, her fate was usually to be asked to perform roles that played more on her tortured, mournful side. From what little is known publicly of Golubeva's private life, her move to Paris was never fully resolved. She had three children (the last of whom is being raised by Carax), and her death, which is rumoured to have been by her own hand, came only at the age of 44. But like a latter-day Louise Brooks, her iconic image will forever remain alive with us on the screen.
David Thompson
See also
Pola X reviewed by Gavin Smith (June 2000)
Desire is violence: Claire Denis talks to Chris Darke (July 2000)