The best web video of 2011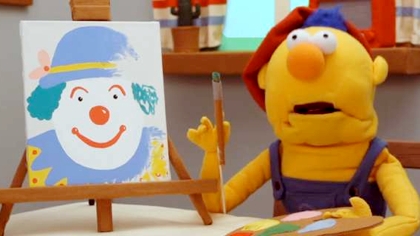 This Is It's Don't Hug Me I'm Scared
13 critics and curators on their favourite videos new online in 2011
---
---
Laura Allsop
Critic, UK
Khaled Hafez, 2011
For Arabic artists working in film and video, the last year has been both a blessing and a curse; a blessing because of the proliferation of video content across the Internet but a curse because of the pressure they must feel to create works in response to the situation. Hafez's Video Diaries on the one hand romanticices the revolution in Egypt but on the other shows how difficult it can be to weave a narrative through the mess of events.
Ben Rivers, 2008
I love Rivers' work and this piece has such a beautiful and eerie feel to it: the images reminding me of the photography in Lars Von Trier's Antichrist, though grainier. Like Antichrist, it's set in a wild, forested landscape that is seemingly unpopulated, bar the Scot who narrates the film and muses on the origin of the species and its end.
Raed Yassin, 2008
I like the way this piece mines from Egypt's fertile cinema bank to give a sense of the long shadow Hosni Mubarak cast over the country's recent history, in a manner not dissimilar to way Maha Maamoun does in the film Domestic Tourism II, excerpts of which she uploaded to her Vimeo account last year and which splices together scenes from Egyptian films featuring the Pyramids.
Kalup Linzy, 2011
This is a music video from the performance and video artist Kalup Linzy, and though it features the ubiquitous James Franco, it's an intriguing melding of the artist's paint works, which are animated in this piece, and his 80s drag routine.
Animate Projects
Gary Thomas (Director) and Abigail Addison (Assistant Director)
Last year saw a rise in viral videos being passed globally around Twitter and Facebook like a bag of Maltesers, and flashy online competitions on the search for new and cheap talent. Whilst Animate focused on art in the digital sphere in our 2011 programme, we searched out many delightful new works that similarly explored ideas around the digital and the analogue. Here are a few of our favourites:
David O'Reilly
You may have caught The External World at a film festival last year as it did the rounds that new films do. As increasingly more filmmakers are choosing to do, O'Reilly also posted the whole film online for free (though he added the option of purchasing an HD version for the reasonable price of $3.50). Hand-crafted for Generation Z, it's a multi-episodic work, heavily loaded with global cultural references, that pushes the boundaries of taste and the possibilities of 3D animation.
This Is It Collective
A nostalgic analogue delight: what seems like an episode of a cheery children's television show soon descends in to madness. This skillful group of jesters mess about with costumes, puppets and animation to craft an outstanding film with a very catchy song. Just shows that an online hit can be anti-digital. Get away from that computer and get creative!
David Wilson
A lovely contemporary take on a festive favourite. The hugely talented David Wilson, taking a break from making adverts for Nokia and videos for The Maccabees, uploaded a short video for every advent calendar day. Each mini-movie is accompanied by a track from a bunch of hip musical collaborators including Spiritualized, Action Beat and Bo Ningen.
Charlie Tweed
By appropriating footage from the internet and adding a computer-generated narrative composed of lines from software testing handbooks, Tweed creates a work that questions social control systems. Whilst the neutral voiceover lends an air of authority, Tweed disrupts the action by disclosing the digital effects being used in the film. Chilling stuff.
Allison Schulnick
Claymation is a much-maligned animation technique. Thankfully contemporary artists like Natalie Djurberg and Allison Schulnik are reviving the craft in style. Mound is a delightful, dark fairytale with a superbly kitsch soundtrack. Schulnik breathes life into an assortment of nightmarish pastel characters in this celebration of the handmade.
Nick Bradshaw
Sight & Sound
Sarah Wickens
Wickens' delightful animated film dances a pas de deux with that basest of all animating materials, natural sunlight, moulded into life as the protagonist of film such that it sets about remoulding the landscape of a bedroom over the span of a day. (A friend points out the film's kinship with Jane Aaron's 1985 Traveling Light.)
Max Hattler
Max Hattler's previous, also dazzling animations (eg Collision) have been flatter, screen-born works. This spatially disorienting stop-motion film is a deep-focus, continually shifting kaleidoscope of abstract (but clearly tangible) shapes in the Oskar Fischinger tradition, set across multiple planes reflecting and receding to the sky. It's hypnotic, bewildering and beautiful.
Katerina Cizek
The latest interactive documentary in Cizek and collaborators' ongoing Highrise project (an exploration of "vertical living in the global suburbs") for the National Film Board of Canada) uses the latest web technologies – HTML5, Google's WebGL and Mozilla's popcorn.js (engage with it in Firefox or Google Chrome) – to render state-of-the-art web representations of highrise living through which you roam and browse.
Some of the inputs (live weather feeds, Flickr photos and Wikipedia information) strike me as only semi-compelling additions to the storytelling. What's really impressive is seeing the residents' ideas for the transformation of their spaces rendered visible as they speak. It's the world as it is and could be in a single continuous frame – and what's that if not art?
David O'Reilly
Fêted in 2009 for his Please Say Something, digi whiz-kid O'Reilly returns with a sarky urban epic that's something like Magnolia remade by a computer assimilated Don Hertzfeldt. It's obviously wickedly funny, though part of me is revulsed by its worldview. It also makes interesting satiric counter-programming with One Millionth Tower.
Dylan Cave
BFI National Archive
Adam Curtis
Adam Curtis's blog has been praised in previous S&S online polls, but it was his post on Rupert Murdoch that recently stood out for me. The fascinating BBC archive footage offered a provocative background from which to view the drama that played out in summer 2011.
Matthijs Vlot
Matthijs Vlot splices together dialogue clips from different movies so that they recite the first verse and chorus from Lionel Ritchie's 1980s ballad Hello. It's completely arbitrary but the editing is sublime.
James W Griffiths
Another editing triumph, Splitscreen: A Love Story reinterprets the match cut as it traces two lonely hearts zooming across separate continents to rendezvous in London. It was shot on a mobile phone.
Birkbeck, UCL, BFI, IWM & British Empire and Commonwealth Museum, 2010
At the end of 2010 I contributed three essays to colonialfilm.org, a website that catalogues over 6,000 films about the British Empire. The website offers an extensive platform for analysis of a large body of colonial film that has rarely been seen. Although the content can be difficult, many of the films are accompanied with detailed essays that give context to the often outmoded point of view.
DJ Mark 45 King
45 King made the famous heavyweight breakbeat The 900 Number in the 1980s before going on to produce both Jay-Z's Hard Knock Life and Eminem's Stan.  On Making the Beat he interviews his DJ and producer friends from hip hop's golden era. It's the loosest, most unstructured interviewing I've seen in years but captures the simplest pleasures of hip hop, as seen in this episode when he and Biz Markie vibe to one of 45 King's vast catalogue of beats, dropping rhymes here and there.
Ben Cook
LUX
Despite the huge amount of online film there are still few really good platforms for artists' moving on the web beyond the mighty ubuweb.com, but here are a few of the most recent and best:
Amazing comprehensive online collection of Polish artists' film and video, just launched as part of the new MOMA Warsaw which launched with 400 titles online/
A great new site which reveals and makes available the, until now, fairly hidden history of artists' moving image in New Zealand.
Culture site from broadcaster Arte which gives online space to cultural partners in France and Germany to curate works from their collections and events (NBK's and Arsenal's spaces are especially recommended). A little difficult to navigate but lots of historical and contemporary treasures including Bill Viola, Nam June Paik, Phil Collins and Hito Steyerl.
Over-busy portal site for Channel 4's new late-night short experimental strand Random Acts; a bit hit and miss but plenty of gems including new work by Emily Wardill, Ed Atkins, Ursula Mayer, Hilary Lloyd and David Shrigley.
Well-curated collection of short films from North Africa and the Middle East collected over the course of the last three years by the Goethe Institutes in the region.
Mark Cosgrove
Head of Programme, Watershed Bristol
For me 2011 online has been a year of discovering and being inspired by the past.
1971
1983
Bruce Bacon, 1967
In 2011 Watershed marked the centenary of media theorist Marshall McLuhan. Curator Simon Poulter uncovered this remarkable film – very hip, jazzy and defiantly 60s-avant-garde cool – of McLuhan in conversation. It's brilliant that the web makes such encounters available to contemporary audiences.
RSA Animate
I thought this this fantastic 'live' illustration of Ken Robinson's inspirational speech was all hugely unique until I came across this:
Saul Bass, 1968
The Ferroni Brigade
aka Christoph Huber & Olaf Möller
Critics, Austria / Germany
Bloomberg.com
One of the most lamentable absences in contemporary cinema is that of James Glickenhaus, the David Cronenberg of 80s grindhouse exploitation. Imagine the Ferroni Brigade's joyful surprise when this venerable auteur showed up unexpectedly on the web in this timely video.
His witty discussion of the current economic crisis and the changing times of the virtual market not only reminds one why he receded from filmmaking (due to a lack of gritty hands-on challenges) as in the priceless a propos dismantling of the Potemkin Village idea discussed. It also shows that in his second career – he returned to the family company as a high-range investment professional (and collects race cars, even (re)designing his own Ferrari) — he is just as committed and no-nonsense as ever. An antidote to the bromides of mainstream economic debate.
Romuald Karmakar
Full disclosure: Romuald Karmakar's exquisite still life is dedicated to a member of the Brigade, and has its heraldic animal in the lead (though we also rejoice at the sight of its brethren, donkey or not). In its minimalist clarity and beauty it is also a short, but still gives full expression to the genius of Germany's Finest True Independent. One of the best shorts of 2011.
Nichols & May
We haven't given up the hope that goddess Elaine May may return with a whopping directorial comeback, but in the meantime we find solace (thanks to comrade Knepperges from Cologne) in studying her acting genius in some early classic comedy skits with standup partner Mike Nichols. We've chosen this barbed-hook split-screen sketch, directed by the great Arthur Penn, but encourage you to explore further in the sidebar.
Morten Traavik
In memory of the great cinephile Kim Jong Il: a song for the future.
Ian Francis
Critic and curator (7 Inch Cinema, Flatpack Festival)
After just a few months online videos can seem like ancient manuscripts, and as fleeting pleasures they don't respond well to being corralled into a top five. Nonetheless, here are a few that stick out from last year.
This Is It Collective
This Is It make wonderful props and puppets. Their last short manages to nail both patronising kids TV and people who manhandle the word 'creativity'.
Natalie Bettelheim & Sharon Michaeli
Along with Belly by Julia Pott, which hasn't made it onto the web yet, this was the best student film I saw last year.
Adam Curtis
Curtis continues to spin webs of unexpected connections on his blog, illustrated by the fruits of a tireless hunt through the BBC archive's darker recesses. I particularly love the snapshot of Black Country Hells Angels here.
Allison Schulnik
The morphing plasticine creepiness of Bruce Bickford, but with an added delicacy that perfectly complements the Scott Walker song.
Pure, ridiculous adrenaline. Watch out dog! Other memorable non-fiction last year included the Derby PhD students who sent their camera into space, and the combination of riot reportage and home furnishing adverts streamed on Sangat TV during the summer.
Philip Ilson
Curator, London Short Film Festival
There's still an element in the short film community who will not put their work online as, rightly or wrongly, it excludes them from a number of major international film festivals. But I'd like to pick out a couple of short documentaries I've come across, one of which I was unable to screen as the filmmaker already had the film on his website, so it's good to get a chance to highlight it here.
Music videos are rarely shown at film festivals for various reasons; the premiere policy would obviously exclude them as they're made for on-line (one of the few places left to actually show music vids), or they fit into a programme of music videos rather than inserted into other selections. I've chosen two here.
Susan Koenen Netherlands 2011
A documentary filmed like fiction, so you're initially not sure whether or not you're actually watching a true-life story. We follow 13-year old Joppe, born a boy but wanting to be a girl. The unexpected innocence of the story is highlighted by the dreamy summer days and the idyllic lifestyle of the teenagers on their summer break. A stylish film with a powerful message.
Trevor Anderson, Canada 2010
This ultra-short, low-budget, one-man-band vignette about a suicide bridge in Edmonton, Canada perfectly encapsulates the personal documentary, with beautiful strong landscape images and a calming voiceover giving us some historical facts alongside personal memories. Bittersweet, funny and moving in equal measure, with a shocking little denouement.
Adam Lieber, 2007
This one-minute music video may be a few years old, but it hasn't been surpassed in its simplicity and disturbance factor. The hardcore sounds of Trencher are beautifully played against the innocence of the video's headbanging little girl – who may or may not be possessed by a demon.
Ian Pons Jewel, 2011
This is quite trashy, but fun-trashy, as it brings back into music video the narrative introduction before the music kicks in, just like in Thriller. But Tinie Tempah ain't Michael Jackson, and this urban comedy about drug abuse, which also takes the piss out of the police, is a little unhinged, a little bit offensive and very funny.
Jessica Manstetten
Oberhausen International Short Film Festival
Saam Farahmand for Mark Ronson feat. Boy George
Boy George at a long-past birthday party, singing a song about the value of true friendship. Diane Kruger at her best.
Clemens Kogler for Ritornell
A handmade philosophical excursion through pop history – with two record players, two cameras, a video mixer and a pile of records.
Chris Cunningham for Gil Scott-Heron
Minimal and atmospherically unique, Cunningham does musician and poet Gil Scott-Heron the honour. Just in time.
John Hillcoat for Grinderman
Apocalyptic avengers in a crazy universe. Great fun.
Daniel Franke for Ryoji Ikeda
The aesthetic principle of the video clip – the fusion of image and sound – is taken to a supreme level of perfection.
Sophie Mayer
Critic, UK
Film critics may be one of the only social groups yet to have had their Shit [People] Say internet-video moment in the sun.
The original YouTube post of Shit Girls Say: Episode 1 posted 12 Dec 2011, has had 12 million hits to date. It began as a pilot for an internet TV show called Shit Girls Say, by comedians Kyle Humphrey and Graydon Sheppard, who took the 'Women Are From Venus' variety of one-liners they had been tweeting as @shitgirlssay and dragged up to act them out on screen, along with guest star Juliette Lewis.
Swiftly lolz'd by thousands of viewers and equally called out for its rank misogyny (first by Kelsey Wallace in Bitch magazine), the video's simple format – a catalogue of short statements, performed across a variety of locations, each with a hint of knowing camp – made it optimally open for parody. So while the blogosphere alternately raved and ranted, however articulately, it was the YouTube vlogosphere that produced the most effective criticism and funniest retorts. The meme stands as the moment when internet video developed critical power within its own form.
As Thea Lim in the Guardian points out about the meme, subsequent videos such as Shit White Girls Say to Black Girls (one of the more insightful, sophisticated and polished iterations of the meme, by talented comedian Chesca Leigh; 7 million views to date) depend for their humour on being or feeling included by/in the community producing the film, but have divided opinion by replicating or reinforcing prejudice. Leigh, wearing a blonde wig, starts the video saying, "Not to sound racist, but…" What's "so true" for one viewer (the most frequent comment when films are posted on social networking sites) is insulting or reductive, not just uncomfortably true, to another.
Other films, such as the fabulous Shit Poly People Say and Shit (Young, White, Class-privileged, City-based) 'Radical Queers' Say to Each Other, are – as the title of the latter suggests – self-deprecating, joke's-on-us critiques of marginal communities, at once affectionate and aware, showing that the internet can be used as a forum for unison and celebration, as well as the inevitable shit-stirring.
Henry K. Miller
Academic, UK
Rebecca Black
There's a priceless moment in Paul Kelly's documentary Lawrence of Belgravia when it dawns on Lawrence that his interviewers, a pair of French online journalists, do what they do for free. "I knew the internet was rubbish," says the former Felt and Denim frontman. Ark Music Factory's earworm is probably the most successful piece of (more or less) user-generated content in the seven-odd year history of Web 2.0, conceivably the best-known piece of music that could not have become so without the internet. "You're welcome" – the internet.
Adam Curtis
Curtis's long blog post dips into the archive to illuminate, among other things, the close, even familial ties between modern conservatism and the ideology of Web 2.0 – their shared mission described (with absolutely no irony at all) by Spectator editor Fraser Nelson as "flattening hierarchies and empowering the people".
Curtis traces a lineage that ends, for now, with Steve Hilton's spell in Downing Street, via clips of Are You Being Served? and the story of Radio Caroline, back to the Institute of Economic Affairs, the original think tank.
Sony Pictures
David Fincher wisely kept the movie's one insurmountable weakness – Stieg Larsson's source material, plot, characters, etc. – out of this seemingly simple teaser, nicely sent up by the Muppets and paid homage to by one of Community's dozens of fans.
The Lonely Island
Facing stiff competition in the fake rap game from Turquoise Jeep, The Lonely Island came back strong with this infantile and extremely crude anti-brag joint.
Everything Is Terible
By 2011 there were apparently 20 supercuts being uploaded every day, though apparently no-one has got round to "that went well". This one is a tribute (maybe) to my favourite line in Bridesmaids.
Brad Stevens
Critic, UK
Despite the remarkable selection of world cinema that continues to be released on DVD, the real revolution in film viewing has been created by online communities of file-sharers who are subtitling and making available foreign-language films which distributors presumably see as having no commercial value. Sadly, North America seems determined to follow up its war on drugs and war on terror with a war on the internet: the recent closure of Megaupload has inevitably resulted in the loss of many rarities, though most of them continue to be available elsewhere, at least for now.
For me, the highlights of 2011 were as follows:
On purge bébé
Jean Renoir, 1931
One of Renoir's rarest films has finally been fan-subtitled in English. Now if only somebody would perform the same service for Chotard et Cie (1933).
Tabi Yakusha (Travelling Actors)
Naruse Mikio, 1940
This is perhaps my favourite of the several Naruse films that appeared online with English fan-subtitles last year. A companion piece to Five Men in the Circus (1935), this marvellous comedy deflates masculine presumption without ever asking us to take an attitude of complacent superiority to its protagonists, and might make for a good double-bill with Elaine May's Ishtar (1987).
Michael Powell, 1931
BFI Southbank's screening of Michael Powell's rarely seen The Queen's Guards (1961) was among the highlights of recent weeks. The appearance on YouTube of Rynox, Powell's earliest surviving quota quickie, was equally welcome.
Abel Ferrara, 2011
This Abel Ferrara-directed video for the Italian group 99 Posse demonstrates Ferrara's ability to express his unique vision in the most unpromising of formats.
René Vautier, 1950
Nicole Brenez's presentation of three documentaries by René Vautier at INIVA was another 2011 highlight. Thankfully, my favourite of these films – a radical intervention in the travelogue genre – can also be seen on YouTube with English subtitles.
See also
Winners and rejects: Dylan Cave on the winners and refusés at the London Short Film Festival (January 2012)
9th London Short Film Festival: 9 of the best selected by Dylan Cave (January 2012)
Circumnavigating the world (and some time travel): Nick Bradshaw and Dylan Cave on the highlights of Bristol's Encounters short film festival (December 2011)
Playing pirates: David Knight proposes an alternative music-video playlist for the kids (August 2011)
The best online videos of 2010 (February 2011)
The best online videos of 2009 (January 2010)