The Shape of Things
USA/France 2003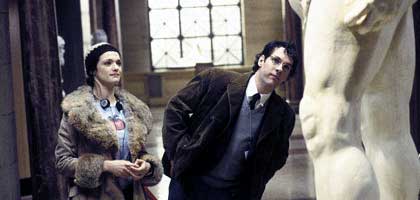 Reviewed by David Jays
Synopsis
Our synopses give away the plot in full, including surprise twists.
Evelyn (Rachel Weisz) and Adam (Paul Rudd) are college students in California. They meet when Adam, working as a museum security guard, tries to stop art student Evelyn from defacing a sculpture. Chubby, gauche Adam is surprised when she agrees to go on a date. They begin a relationship, and under Evelyn's guidance, Adam loses weight, gains in style and confidence, and has a nose-job. The gradual transformation startles his friends Jenny (Gretchen Mol) and Philip (Frederick Weller), who are engaged to be married. Adam and Jenny, previously too shy to act on their feelings, kiss; in response Evelyn kisses Philip. She also asks Adam to prove his love by severing contact with his friends, and he reluctantly agrees.
They all meet again at the public presentation of Evelyn's thesis project. Her project was the transformation and manipulation of Adam, an experiment in human will. Jenny and Philip, who have broken off their engagement, leave in disgust. Adam, humiliated, hears Evelyn catalogue his increasingly extreme decisions, which culminated in a recent marriage proposal. Evelyn, claiming that her project illustrates our obsession with surface, maintains its artistic validity.
Review
"Please, just refer to me as 'It'," says Adam at the end of this film. "Or 'Untitled'." We have seen him, a student at an unnamed US college, shuck his gawky unease, his greasy hair, shapeless brown corduroy and hamster cheeks and become a handsome, assured but compromised figure. What he doesn't realise is that this radical transformation is the subject of an artwork by Evelyn, whom he thought was his girlfriend. What he did for love, she did for art; she documents his cosmetic and ethical choices (having cosmetic surgery, dumping his friends), and displays his klutzy old clothes and videos of them having sex.
After flawed excursions into comedy and costume drama (Nurse Betty, Possession), Neil LaBute revisits his distinctive earlier territory. In the Company of Men (1997) and Your Friends & Neighbors (1998) inhabited a vindictive world where heterosexuality played out in corrosive rituals. Although The Shape of Things has been described as a gender-reversed take on Company (where two embittered men seduce and dump a female colleague), what makes this film more interesting is the opacity of Evelyn's motives for much of the film and her uncompromisingly abstract vindication. We learn nothing about her past - even the scars on her wrists, which she previously claimed as badges of experience "like rings on a tree", were merely "another project". She admits to only one genuine remark, whispered during an early scene - but we couldn't hear it so it lies beyond the finished project.
Rachel Weisz's brilliantly layered performance as Evelyn - barbed, vehement and oddly sorrowful - keeps all options open. She retains a breathless ingenuity even when everything is revealed - having displayed Adam's transformation, the camera homes in on Evelyn's inscrutable expression, challenging us to prise at her artistic integrity. The opening scene shows her infuriated by a fig leaf added to a statue: she is a fiery despoiler of faux-innocence. At the same time, she is monstrously indifferent to anything beyond her project - when Adam, taken aback by her apparent jealousy when he kisses another woman, mentions Desdemona's strawberry handkerchief, she merely turns away, saying coldly "I don't know that reference." Although LaBute's work has often been accused of a forensic impulse (he, like Evelyn, might be producing an exercise in Applied Theory), he also suggests that Evelyn's work may, like her Mao badges and Che Guevara screenprint, be mere retro radicalism on a placid smalltown campus.
LaBute's Mormon upbringing has been much discussed, and allegorical underpinnings are clear here. He previously traced the scorched trail of free will in his triptych Bash (filmed in 2000), in which a character (played by Paul Rudd, who takes the role of Adam here, justified queer-bashing as a defence of Eden. This new film's Adam and Eve test out temptation through juicy little choices that barely register as transgression. No wonder Evelyn's initials spell 'EAT', which Adam has tattooed by his crotch. The Pygmalion myth also shadows the story, and Adam recalls that he helped Evelyn find a tape of The Picture of Dorian Gray - another cautionary tale of authenticity stifled by self-fashioning.
The film is based on LaBute's own 2001 stage play. With its original stage cast and minimal changes - moving the action from the midwest to rural California - the work emerges far more keenly than it did in a London stage premiere compromised by hype. It retains a heightened, hermetic austerity - just four characters displayed in vivid semi-theatrical settings (Evelyn's remorseless scarlet-and-white installation; the deceptively airy white-and-apple-green reception at the cosmetic surgery). LaBute, borrowing video-art procedures, frequently separates his speakers - the bifurcated dialogues resemble a split-screen installation, and reinforce the abstracted isolation.
Elaborate prosthetic and costume changes make Adam's transformation far more dramatic on screen - with the added irony that as he becomes increasingly svelte and smart, he increasingly 'becomes' the appealing and familiar Paul Rudd. He also stops biting his nails after years of his fingers looking "like raw meat", though Evelyn's acts of remote butchery prove equally devastating. His former roommate Philip thinks he looks like a battered wife after his nose-job, and his friendship with Philip and perky Jenny, and the couple's engagement, are casualties of Evelyn's artwork.
Evelyn presents her work in a meticulously staged final episode. Adam is horribly visible in a sky-blue shirt, cringeing as the audience follows his makeover from first vegetarian meal to recent marriage proposal. Evelyn, backed by blood-red curtains, describes her "human sculpture", created with "two very pliable materials of choice - the human flesh and the human will", using "manipulation as my palette knife". She claims that Adam's dubious moral choices reflect our obsession with surface - with "the shape of things". Weisz looks directly into the camera as she insists, "Only indifference is suspect." The Shape of Things makes indifference difficult, and suggests that LaBute's future lies not in broadening his territory, but delving deeper. As Evelyn remarks of Adam's progress, "You've gotten cuter and stronger and more confident - and craftier."
Credits
Director

Neil LaBute

Producers

Neil LaBute
Gail Mutrux
Philip Steuer
Rachel Weisz

Screenplay

Neil LaBute
Based on his stage play

Director of Photography

James L. Carter

Editor

Joel Plotch

Art Direction

Lynette Meyer

Music Supervisor

Nick Angel