Human Traffic
UK/Ireland 1999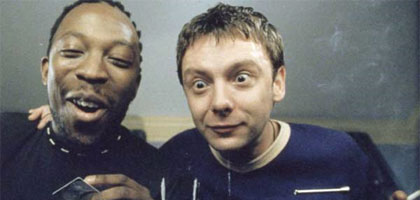 Reviewed by Xan Brooks
Synopsis
Our synopses give away the plot in full, including surprise twists.
One wild weekend in present-day Cardiff. Jip is a shop worker in his twenties, embarrassed by his prostitute mother and insecure after failing to perform sexually during several one-night stands. Lulu is a uninhibited club minx, and Moff a laid-back dope dealer on income support who deals from his home, despite the fact that his father is a policeman. Koop works in a record shop and is obsessively jealous of his long-term girlfriend Nina.
On Friday night, the five friends, together with Nina's younger brother Lee, drop the drug ecstasy and set off for the Cardiff club scene. When Moff fails to get a ticket into top club The Asylum for Lulu, Jip gives her his and blags his way in by pretending to be a journalist from Mixmag magazine.
Inside, Jip confides his sexual worries to Lulu. The gang move on to a party at a country home, and become progressively more stoned on various drugs. Returning to Lulu's house, Jip and Lulu have sex. Nina and Koop make peace, while across town Moff masturbates in his bedroom and is discovered by his mum. On Sunday, Jip takes flowers to his own mother. That evening, he and Lulu wander hand in hand through Cardiff's city centre as bona fide boyfriend and girlfriend.
Review
On the face of it, the cinematic appeal of clubland is easy to see. It's loud, it's visual. Its dramatic landscape is a cauldron of surface emotions. The scene serves up a ready-made menu of free-loving youngsters, and is liberally garnished with an energetic contemporary soundtrack - sex and drugs and drum 'n' bass.
But first impressions can be deceptive. Film-makers who try to fit the essence of club culture into a dramatic straitjacket are liable to find it sliding through their fingers, because club culture - like art, like music, like film itself - is an autonomous and organic mode of expression. The disciplines are mutually exclusive. Bernardo Bertolucci may have described his recent film Besieged as "a piece of chamber music," but it remained, basically, a film about a concert pianist. Likewise, while Human Traffic may arrive billed as "a blinding rave movie" (by Heat magazine), it is, rather, a film about ravers. Its formal attempts to duplicate the rave experience are far and away the picture's weakest aspects.
Human Traffic labours hard to look like a film under the influence. Edited in an amphetamine rush, its fly-on-the-wall dramatics are interspersed with Day-Glo fantasy sequences. The dialogue apes the kind of bumper-sticker soundbites you find in the "House Nation" vox pops inside Mixmag magazine (a publication to which the film shrewdly cosies up). Its lead characters often deliver their lines to camera, presumably in an attempt to break the division between screen and viewer, to usher us all into the filmic party. Meanwhile, spasmodic attempts are made to hook Human Traffic's microcosmic shenanigans into a wider raison d'être (cue a cameo from former drug dealer-turned-cult hero Howard Marks, newsreel footage of Direct Action protesters, plus an impromptu rendition of an "alternative national anthem" that must rank as one of the most excruciating scenes I've seen all year). Stylistically, Human Traffic is hardly radical. For much of its run, Justin Kerrigan's debut views like a cross between The Monkees and those snazzy commercials that building societies use to target young investors.
Kerrigan is more effective when keeping to the subtler, more human parts of his canvas. His portraits of the interrelationships between his five principles, for instance, are often beautifully done. Kerrigan has cited Richard Linklater as a major influence and in its best moments Human Traffic manages to match the airy rhythms of films like Dazed and Confused and Before Sunrise. These characters are wasted but likable; the performances (from the male trio of John Simm, Shaun Parkes and Danny Dyer in particular) are consistently charming. You have a sense that beneath all the bullshit, the strutting, the jockeying for position, they all genuinely love each other. Their self-conscious back-chat frames real and deep-seated emotions.
Good acting gives Human Traffic its soul. If Kerrigan had given his players more room to breathe, one suspects, he might have produced something truly special. As it stands, Human Traffic unrolls as a frustrating hodge-podge: its spine of authenticity overladen with so many ham-fisted gimmicks and gestures at cool that it irritates as much as it allures. In the end its reach exceeds its grasp. As a film about clubbers, Human Traffic rings sweet and true. As an essay on club culture in general, it feels half-cut: pure narcotic padded out with talcum powder.
Credits
Producers

Allan Niblo
Emer McCourt

Screenplay

Justin Kerrigan

Director of Photography

David Bennett

Editor

Patrick Moore

Production Designer

David Buckingham

Music

Roberto Mello
Matthew Herbert

©Fruit Salad Films Ltd

Production Companies

Metrodome/Irish Screen presents a Fruit Salad Films production of a Justin Kerrigan film

Executive Producer

Renata S. Aly

Co-executive Producers

Michael Wearing
Nigel Warren-Green
Kevin Menton

Associate Producers

Arthur Baker
Rupert Preston

Irish Screen Head of Production

David McLoughlin

Production Co-ordinators

Andrea Cornwall
Marcus Collier

Production Managers

Jonathan Rawlinson
Additional:
Stella Nwimo

Location Managers

Peter Vidler
Frank Coles
Additional:
Andy Collie

Post-production Supervisors:

Maria Walker
Jackie Vance
Co-ordinator:
Claire Mason

Production Consultant

Andy Ordonez

Development

Anna Wilson

Assistant Directors

Emma Pounds
Hywel Watkins
Charlie Watson
Marcus Collier
Mathew Penry Davey
Tivian Zvekan
Martin Scanlan
Pick-ups:
Marcus Collier

Script Supervisor

Laura Gwynn

Casting

Directors:
Sue Jones
Gary Howe
Additional:
Jason Camilleri

Steadicam

Paul Edwards

Additional Editing

Stuart Gazzard

Editbox Editor

Clayton Lonie Jr

Art Director

Sue Ayton

Storyboard Artists

Nick Kilroy
Deena Mathews

Costume Designer

Claire Anderson

Costume Supervisor

Anne McManus

Make-up/Hair Design

Tony Lilley

Hair/Make-up Artists

Hannah Coles
Kerry September

Music Supervisor

Pete Tong

Music Co-ordinator

Roberto Mello

Music Editor

Kenny Clark

Music Consultant

Arthur Baker

Soundtrack

"Build It Up, Tear It Down" by Normal Cook, performed by Fatboy Slim; "My Last Request" by D. Douglas, M. Hamilton, performed by Grim; "Kill the Pain" by M. Philippou, M. Fiennes, performed by Universal; "Nightmare" by Alberto Bertapelle, performed by Brainbug; "Stalker" by G. King; performed by Aphrodite; "You Gonna Get Yours" by C. Ridenhour, Hank Shocklee, performed by Public Enemy; "Scared" by Hadfield, Ryan-Carter, performed by Lucid; "Flowerz" by Armand Van Helden,Roland Clark, performed by Armand Van Helden; "It Ain't Gonna Be Me", "Desolate 1" by/performed by C.J. Bolland; "Atlanta" by/performed by Pete Heller; "Push It", "DarkAir" "Mantra (Forever)" by Ian Bland, Rob Tissera, performed by Quake; "Out of the Blue" by Perry Corsten, performed by System F; "Orgive" by Erik Satie, arranged/performed by William Orbit; "Last Night a DJ Saved My Life" by Cleveland, performed by Indeep; "Dirt" by Richard Fearless, Steve Hellier, J. McDonald, performed by Death in Vegas; "Cookies" by G. Lee, performed by Jacknife Lee; "Diving Faces" by T. Menguaer, J. Herborth, performed by Liquid Child; "Kosmic Pop", "My Fellow Boppers" by F. Stalings Jnr, performed by Felix De Housekat; "Getting Blunted" by/performed by Mulder; "All Day" by Tyrrell, R. Martin, performed by Interfearence; "Kittens" by Emerson, Smith, Hyde, performed by Underworld; "Juice" by Shur, Molton, performed by Itaal Shur; "The Age of Love" by Bruno Sanchioni, Giuseppe Cherchia, performed by The Age of Love; "College of Dreams" by/performed by John Beltran; "Love Is a Many Splendored Thing" by Sammy Fain, Paul Francis Webster, performed by Mantovani; "Shine On" by S. Lewis, M. Mangini, S. Faber, A. Curtesa, performed by Degrees of Motion; "King Tito's Gloves" by Damon Baxter, performed by Deadly Avenger; "Café Del Mar" by Paul M., performed by Energy 52; "The Masterplan" by Diana Brown, Romeo, Barrie K. Sharpe, Lever, Percy, performed by Diane Brown, Barrie K. Sharpe; "Belfast" by Paul Hartnoll, Phillip Hartnoll, performed by Orbital; "Black Shaolin" by Carl Cox, Top Cat, performed by Top Cat; "Anastasia" by Olivier Abbeloos, Patrick de Meyer, performed by T99; "Scene 30" by Richard Warren, performed by Echoboy; "Bad Boy" by Ruffnek Trilogy, performed by RNT; "Mood Club" by O. Lunny, performed by First Born; "5.55" by Daniel Newman, performed by Durango; "Come Together" by Bobby Gillespie, Andrew Innes, Robert Young, performed by Primal Scream; "BucketWipe" by Bailiff, performed by Position Normal; "Puffin' Da 'Erb" performed by Mad Doctor X; "Congratulations", "Never Believe"

Sound Recordist

Martyn Stevens

Re-recording Mixers

Craig Irving
Nick Le Mesurier

Supervising Sound Editor

Glenn Freemantle

Sound Editor

Tom Sayers

Dialogue Editors

Keith Marriner
Gillian Dodders

ADR

Recordist:
Sandy Buckanan

Foley

Editor:
Miriam Ludbrook

Cast

John Simm

Jip

Lorraine Pilkington

Lulu

Shaun Parkes

Koop

Danny Dyer

Moff

Nicola Reynolds

Nina

Dean Davies

Lee

Peter Albert

Lulu's Uncle Eric

Jan Anderson

Karen Benson

Terence Beesley

Moff's father

Sarah Blackburn

Jip's ex 2

Anne Bowen

Moff's grandmother

Neil Bowens

Asylum doorman

Peter Bramhill

Matt

Jo Brand

Mrs Reality

Stephanie Brooks

Fleur

Richard Coyle

Andy

Carl Cox

Pablo Hassan

Nicola Davey

Jip's ex 3

Roger Evans

Inca

Bradley Freegard

Tyler

Helen Griffin

Jip's mother

Emma Hall

Trixi

Elizabeth Harper

Jip's ex 1

Carol Harrison

Moff's mother

Jennifer Hill

Jip's secretary

Tyrone Johnson

hip hop junkie

Justin Kerrigan

Ziggy Marlon

Nicola Heywood-Thomas

TV interviewer

Nick Kilroy

Herbie

Andrew Lincoln

Felix

Howard Marks

himself

Robert Marrable

Casey

Louis Marriot

Cardiff bad boy

Danny Midwinter

Tyrone

Millsy in Nottingham

Millsy from Roath

Robbie Newby

Karen Benson's boyfriend

Ninjah

Tom Tom's MC

Cadfen Roberts

Jip's mother's client

Mad Doctor X

Koop's workmate

Phillip Rosch

Jip's manager

Jason Samuels

bad boy

Mark Seaman

Jeremy Faxman

Lynne Seymour

Connie

Patrick Taggart

Luke

Giles Thomas

Martin

Menna Trussler

Lulu's Auntie Violet

Larrington Walker

Koop's father

Anna Wilson

Boomshanka

Eilian Wyn

doctor

Tim Hamilton

breakdancer/bodypopper

Alicia Ferraboschi

Sherena Flash
Marat Khairoullu
Adam Pudney
Mark Seymore
Algernon Williams
Colin Williams
Frank Wilson
bodypoppers

Certificate

tbc

Distributor

Metrodome Distribution Ltd

tbc feet

tbc minutes

Dolby digital SR

In Colour