L'Homme du train
France/UK/Germany/Japan 2002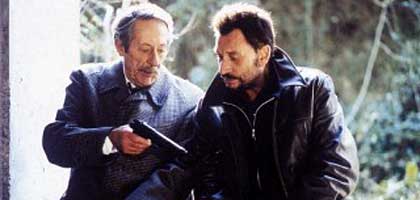 Reviewed by Ginette Vincendeau
Synopsis
Our synopses give away the plot in full, including surprise twists.
A small town in the French Alps, the present. The mysterious-looking Milan (Johnny Hallyday) arrives by train. At a chemist's he meets Manesquier (Jean Rochefort), a single, retired teacher who invites him to stay in his huge house as the local hotel is closed. During the day Milan meets accomplices with whom he plans a robbery of the local bank; in the evenings a friendship blossoms between the two men. Milan shows Manesquier how to fire a gun; Manesquier tries on Milan's leather jacket and in return gives him a pair of carpet slippers. They discuss music and poetry.
Manesquier is on edge at the prospect of the heart by-pass operation he is to undergo the following Saturday; Milan is increasingly nervous about the bank hold-up scheduled for the same morning. Manesquier has an emotional meeting with his sister. Later he changes his hairstyle to imitate Milan. When Manesquier fails to turn up for a private lesson he gives a local boy each week, Milan stands in for him. The two men have supper with Viviane (Isabelle Petit-Jacques), Manesquier's long-standing mistress, who is suspicious of Milan. On Saturday morning Manesquier's heart stops during the operation while Milan is apparently fatally shot by police who have ambushed the bank. In an ambiguous ending, they both appear to revive and fantasise about exchanging lives: Manesquier gives Milan the keys to his house and gets on the train.
Review
Few films have a simpler storyline than L'Homme du train. A timid retired teacher in a sleepy provincial town meets an ageing but still-glamorous gangster about to rob the local bank. Despite being chalk and cheese, the two men warm to each other and fantasise about each other's lives. The teacher, Manesquier, dies during a heart by-pass operation while the robber, Milan, is shot dead by police during the hold-up, yet a fantasy ending allows them to swap identities.
With his twentieth film, it's clear Patrice Leconte isn't interested in telling a complex story. Nor does he care about plausibility: Manesquier, for instance, has a hearty breakfast the morning of his operation and Milan's moronic accomplices spout aphorisms and discuss painting rather than planning the heist. Similarly there's scant attention to background realism: the small mountain town in which the film is set is barely sketched out, reduced to ghostly empty streets at night and a derelict industrial building where the gangsters meet, all bathed in drab blue light. Only Manesquier's sitting room, with its antique furniture, paintings and warm lighting, has any visual texture. Basically L'Homme du train is only interested in filming two ageing actors exchange views on ageing. In such a film, then, performance is everything.
Manesquier is played by the lugubrious-looking Jean Rochefort, a favourite of Leconte, having featured in Le Mari de la coiffeuse (1990) and Ridicule (1996). In L'Homme du train Rochefort is evidently enjoying himself, giving a characteristically sardonic performance as the retired provincial teacher who shuffles along in his deceased mother's huge old house.
Milan is played by Johnny Hallyday, a household name in France, though for British viewers it's more likely his involvement will be a cause for mirth or anger. When the announcement was made of the Film Council's investment in this film, UK newspapers reported "outrage" at British taxpayers' money being spent on a "has-been" French pop star. For the record, Hallyday, who regularly sells out huge concerts, is anything but a has-been. After a spate of youthful vehicles such as D'où viens-tu Johnny? (1963), however, his track record as a film actor is more uncertain. Viewers outside France may know him for his later roles in Godard's Détective (1984) or Costa-Gavras' Conseil de famille (1985). A startlingly (and to some suspiciously) youthful 59-year old, Hallyday has undoubted physical presence the physique, the astonishing blue eyes, the rich voice and he does possess an ageing-rock-icon kind of sex appeal. The film capitalises on these aspects of his image while also nicely poking fun at them a picture of the youthful Johnny in Nevada, for instance, turns out to have been taken in a theme park near Paris.
The contrast between old-fogeyish Manesquier and dangerous 'man with no name' Milan, between loquacious, actorly Rochefort and silent 'natural' Hallyday, is initially droll, although it wears thin after a while. The scenes in which Milan and Manesquier swap items of clothing the bank robber donning carpet slippers (charentaises, an object of derision in France) while the teacher tries out Milan's leather jacket are neither as funny nor as charming as intended. Perhaps the contrast doesn't work because under the apparent differences, the sad teacher and gritty gangster share the same values of embattled masculinity. The two men's solitude is justified by a world-weary misanthropy in which other men are, like Manesquier's brother-in-law, "big jerks", while women are better kept at bay whether because, like Manesquier's patient mistress Viviane, they eventually turn into Mother, or like Milan's reported multiple conquests "they become tiresome in the end." The brief scene with Viviane undermines her point of view: her assessment that Milan means trouble for Manesquier is blatantly contradicted by the rest of the film, which celebrates the two men's friendship. Their philosophy, propounded in heart-to-hearts on the terrace, looking at the stars, has the nostalgic glow of (older) boys having fun away from life's constraints.
At the beginning of his career Leconte made classic popular comedies such as Les Spécialistes (1985), and his comic talent shines through the more serious tone of his later movies. In L'Homme du train there are two comic gems, one involving a baker and one a barber (the latter a nod to Le Mari de la coiffeuse), in which sharp observation and quick timing produce wonderfully funny moments. Unfortunately they also serve to underline the ponderousness of the rest of the film.
In recent years Leconte has become embroiled in controversies with the French critical establishment over its supposed bias against French cinema. In many ways L'Homme du train slow moving, bitter-sweet and dialogue-led is a very 'French' film. Leconte's aim was to be "as simple as possible without being boring". L'Homme du train does not altogether avoid that fate, despite Leconte's solid approach to his craft and excellent performances from Rochefort and Hallyday. Johnny's shoulders are wide, but not quite strong enough to carry the whole film.
Credits
Director

Patrice Leconte

Producer

Philippe Carcassonne

Scenario/Dialogues

Claude Klotz

Director of Photography

Jean-Marie Dreujou

Editor

Jolle Hache

Art Director

Ivan Maussion

Music

Pascale Estève