Fatal Attraction
Film of the Month: Heaven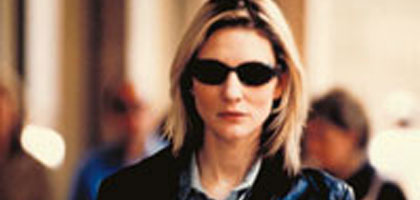 Tom Tykwer's lovers-on-the-run tale Heaven resists the fatalistic impulse of its Kieslowski script. By Nick Roddick
The first thing to be said about Heaven is that, with so many other powerful voices contributing to its creation, it remains unmistakably a Tom Tykwer film. (These voices include those of Krzysztof Kieslowski, from whose posthumous screenplay, written with regular collaborator Krzysztof Piesiewicz, the film is taken; established directors Anthony Minghella and Sydney Pollack, who are producer and executive producer respectively; and last but not least Miramax's Harvey Weinstein, who seems to have seen Minghella and Pollack as a way of controlling the single-minded young German director.) Charting the love-on-the-run affair between Turin-based English teacher Philippa (Cate Blanchett), who is arrested after her assassination attempt on a drug dealer leaves four innocent people dead, and Filippo (Giovanni Ribisi), the caribiniere assigned as her translator, the film is drenched in the fatalistic romanticism of every Tykwer project since (at least) Wintersleepers (Winterschläfer, 1997).
The heroine, as in Tykwer's debut feature Deadly Maria (Die tödliche Maria, 1993), is a killer with whom we are intended to feel sympathy - though here, with Blanchett's nervy, intense performance, that's not much of a stretch. The film reproduces, through hypnotic overhead shots of Turin, the sense of the city as a grid containing and constraining its characters that pervades Run Lola Run (Lola rennt, 1998). And there are whole chunks of The Princess + the Warrior (Der Krieger und die Kaiserin, 2000). These range from visual echoes - Philippa, coming round after fainting at the news of the four deaths, sees Filippo looking down on her just as Sissi saw Bodo - through to themes such as the fight to the countryside and the final death-defying escape. In the latter instance, though, there is a clear implication, thanks to a hypnotic prologue in which Filippo trains on a helicopter simulator, that the escape is into the freedom of death rather than the inevitable incarceration of life - a version of romanticism patented by Tykwer's 19th-century compatriots. Filippo's unseen instructor informs him that, in a helicopter, you can't just keep going up. "How high can I go?" queries Filippo - a question not answered until the film's final shot.
Increasingly Lola (the film for which he is best known outside Germany) seems, with its hip-hop rhythms and hip sense of humour, to be a diversion in Tykwer's work: Heaven confirms a style and approach the director has been honing since Wintersleepers. Here, the result is purer than in The Princess + the Warrior, and Heaven is a film that demands - sometimes, it has to be said, a little too insistently - to be taken seriously. It is a ferociously difficult undertaking - something Fritz Lang almost got right in You Only Live Once (1937). And Heaven has thematic similarities to Lang's film: the doomed killer seeking to be understood; the intrusion, like a lost dream, of ordinary everyday life ("It's as though nothing had happened," says Philippa as the achingly beautiful Montepulciano comes into view); the escape into death.
When Tykwer fully hits his stride, the effect is stunning - as in the opening bomb-placing sequence, which manages to be evenly paced and nail-biting at the same time; Filippo's scenes with his little brother; Philippa's encounter with her childhood friend. When he stumbles - the escape in the milk truck; the cops eavesdropping on the escape plans and allowing them to go ahead so as to have an excuse for eliminating Philippa - the result is discomforting, like turbulence on a smooth flight.
Virtually indistinguishable from Tykwer's achievement is the visual style he has evolved with cinematographer Frank Griebe, which is as much a part of his films as Raoul Coutard was of early Godard. Here Griebe's work is at least as gorgeous as it was in Wintersleepers and The Princess + the Warrior, with the wistful, muted colours of the Tuscan landscape a precise, painterly equivalent of their function in the story (a glimpse of Heaven on earth).
As a director, Tykwer's most striking characteristic has been his ability - not to say his determination - to blend the technical prowess of mainstream narrative cinema (supercharged action scenes, fluidly mobile camerawork, precise framing) with arthouse concerns. Here, working for the first time with two non-German actors (Ribisi, an Italian-American, already has a burgeoning career on the US indie scene, with occasional Hollywood crossovers such as Saving Private Ryan and Gone in Sixty Seconds), much of Tykwer's energy seems to have gone into honing the narrative tensions of the bombing and escape in the hope that Heaven would work with mainstream audiences as a straightforward thriller. (A scene in a basement washroom where Philippa suddenly has to hide from two cleaning women is particularly effective.) But the overall pace the director's other concerns demand makes this unlikely.
Delivering the 'Cinema Militans' lecture at last year's Dutch Film Days in Utrecht, Tykwer argued that recent developments in image technology were not, as many suggested, going to "change the face of cinema for ever": they were simply new tools available to the cinematic storyteller. Very much of the post-music video generation, Tykwer has taken that easy familiarity with film-making in the digital age down quite different paths to those favoured by such approximate contemporaries as Luc Besson and Léos Carax. Indeed, his ability to harness all the tricks of cinema to a highly personal vision is what continues to drive his career forward towards the great film that, the seductive beauties and teasing thematic riddles of Heaven notwithstanding, he has yet to make.
The main problem here lies not with the fact that Tykwer is working in a language other than his own (English and Italian alternate throughout) or is operating under the watchful eye of no less than 13 producers. It lies paradoxically with the element that caused Miramax to offer him the film and Tykwer to accept: Kieslowski's script. The first part of what was intended to be a trilogy (the others being, predictably enough, 'Purgatory' and 'Hell'), Heaven is the first film Tykwer has shot from a screenplay other than his own (although Wintersleepers was adapted from a novel). And, for all his insistence that, from almost the first page, Kieslowski's script felt as though it was something he had written himself, the finished film suggests otherwise.
Certainly Kieslowski and Tykwer share a similar approach to film-making, combining a meticulous attention to detail with a rigorous narrative simplicity. But it is in their attitude to fate that the two differ most significantly. For Kieslowski, the accretion of circumstance and coincidence that governs our lives is something to be accepted and embraced: freedom comes from learning to live with your destiny. For Tykwer, fate - the coincidence that causes Sissi and Bodo to meet in The Princess + the Warrior or Philippa's bomb to be unexpectedly removed by an office cleaner in Heaven - is something to be fought against and transcended.
Watching Heaven, one can sometimes sense Kieslowski's worldview hovering like a skeleton behind the flesh of Tykwer's film (Philippa saying she "no longer believes" is one such moment). And, in the end, it saps the singlemindedness and energy which made both Lola and The Princess + the Warrior more consistent, if less intriguing, films.