Lawless Heart
UK/USA 2001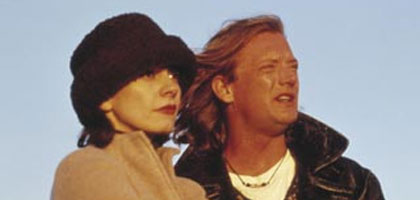 Reviewed by John Mount
Synopsis
Our synopses give away the plot in full, including surprise twists.
Long-term traveller Tim (Douglas Henshall), returns home to a small Essex coastal town and attends the funeral of his cousin Stuart (David Coffey). Dan (Bill Nighy), the husband of Stuart's sister Judy (Ellie Haddington), reveals that Stuart was gay and introduces his grieving lover Nick (Tom Hollander). Dan strikes up a conversation with an attractive Frenchwoman Corinne (Clémentine Célarié), who presumes he is single. Unnerved, Dan slinks back to Judy's side. Judy has inherited Stuart's money and restaurant business, but she tells Dan that she intends to give the money to Nick. Dan, revealing both his homophobia and financial worries, objects. Days later Dan uses a party given by Tim as an alibi to accept a dinner invitation from Corinne, but he loses his nerve and ends up giving a lift to Michelle, one of Tim's drunken party guests, who mistakes him for a minicab driver, and gives him a blow job.
The opening funeral scene is revisited. Nick takes in Tim temporarily but regrets this when Tim throws a party and a couple have sex in his bedroom; the woman, Charlie (Sukie Smith), passes out. Some days later he sees her at the supermarket and a friendship grows between them. Judy is piqued to find Nick has a female friend and decides to keep Stuart's money. Nick throws Tim out. Charlie lends a hand waitressing at the restaurant, which is becoming increasingly chaotic. Next day Nick has sex with Charlie in a beach hut and immediately regrets it.
Tim's story then picks up from the funeral. Tim falls for Leah (Josephine Butler), a local shopkeeper, and invites her to a fictitious party at Nick's. When the invitation is accepted he enlists the help of his adopted brother David (Stuart Laing) to organise the party. Leah spots David at the party and makes a hasty departure. It transpires that they had an affair which ended David's marriage. Tim is unaware of the couple's history and invites David out tenpin bowling with them. When Leah is injured it is to David that she first turns. The penny finally drops for Tim, and during dinner at Stuart's restaurant he aborts his plan to propose to Leah. After Nick kicks him out, Tim moves back in with his parents and shortly afterwards comes to blows with David only to telephone him later to tell him not to miss his chance of happiness with Leah. An old friend of Tim's arrives from Prague to offer him a share in a new bar business. Tim knows about Dan's encounter with Michelle and blackmails a loan out of him. When Judy decides to give Stuart's money to Nick after all, Tim tries to convince Nick to lend him the money. Tim fixes Stuart's projector and Stuart's loved ones watch his home movies.
Review
If Alan Ayckbourn were to appropriate the structure of Quentin Tarantino's Pulp Fiction, the result might bear a passing resemblance to this, Neil Hunter and Tom Hunsinger's second feature film (the first was the micro-budgeted Boyfriends). That's meant as a compliment. The film hinges on a superb opening scene at a funeral reception. Beautifully understated and delightfully unclear, it pitches the audience straight into the lives of three mourners, Nick, Tim and Dan. The film-makers then depict the post-funeral events from the perspective of each of these three to create a rich picture of the effects of sudden death on a man's nearest and dearest.
If the rest of the film never quite manages to match the acutely observed humour of Bill Nighy's portrayal of married middle-aged farmer Dan's faltering flirtation with an attractive Frenchwoman, it nevertheless draws a consistently witty and heartfelt portrait of contemporary British lives. There are no remarkable insights into death or mourning, no startling denouements, but the film brims with emotional intelligence. Perhaps the directors' smartest decision was to start the story at the point at which most disease-of-the-week television movies end: after a death.
Each of the characters is treated even-handedly: their weaknesses and contradictions are simply shown and, as the plot loops back on itself, filling in missing details and revealing different perspectives, their experiences become all the more resonant. The directors display a confident knowledge of the emotional and geographical topography of the story, and the combination of good, believable dialogue and a well-chosen cast leads to exemplary ensemble acting throughout. Director of Photography Sean Bobbitt (who worked on the similarly engaging Wonderland) parallels the shifts in the storyline with distinctive camera styles to portray the viewpoints of each of the three main characters. Tracking shots give way to static shots and finally to juddering handheld camerawork as the narrative advances, but Bobbitt uses the strategy with restraint.
As a consequence Lawless Heart's meticulously interwoven narrative has a layered coherence. The structure and content work for rather than against each other. Occasionally it all feels too tightly conceived: the use of the female characters as catalysts to propel the emotional fortunes of the three main males is perhaps one structural troika too many. That said, Ellie Haddington and Sukie Smith in particular do a lot with their roles as Judy and Charlie.
For the most part the film conveys a lyrical sense of shifts in time and fortune amid memorable Essex coastal locations. Many scenes reverberate with small moments of recognition and unforced gestures, remarks or actions. One hopes for a little more asymmetry in the directors' next film but, for the time being, here is a modest and optimistic answer to all who have of late bemoaned the lack of small, intelligent British films.
Credits
Directors

Neil Hunter
Tom Hunsinger

Producer

Martin Pope

Screenplay

Neil Hunter
Tom Hunsinger

Director of Photography

Sean Bobbitt

Editor

Scott Thomas

Production Designer

Lynne Whiteread

Music

Adrian Johnston