Behind the Sun
Brazil/Switzerland/France 2001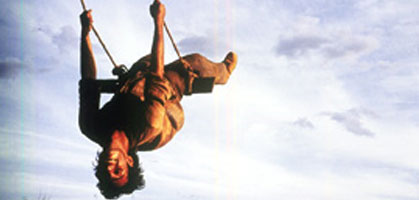 Reviewed by Leslie Felperin
Synopsis
Our synopses give away the plot in full, including surprise twists.
1910. In a dusty dry corner of northern Brazil called Stream-of-Souls, the impoverished Breves family - a father (José Dumont), a mother (Rita Assemany), a 20-year-old son named Tonho (Rodrigo Santoro) and a nameless son of about 12 known just as 'the kid' (Ravi Ramos Lacerda) - makes raw sugar. A dispute over land with their affluent neighbours the Ferreiras has created a blood feud; eldest son Inácio Breves (Caio Junqueira) was killed some weeks ago. Since a new moon has come and the blood on Inácio's shirt has turned yellow, Tonho hunts down and kills the Ferreira who slew his brother. As per ritual agreement, a temporary truce is declared: after the next new moon, once the blood on the latest victim's shirt has changed colour, a Ferreira will come to kill Tonho. He wears a black armband to signify his doom.
Two itinerant circus performers, Salustiano (Luiz Carlos Vasconcelos) and Clara (Flavia Marco Antonio), pass by the Breves homestead asking directions. Clara gives the illiterate kid a book. He spins a story for himself based on its pictures of mermaids and his own fantasies of escape. At night, Tonho and the kid sneak off to town to see the circus. They visit the performers and Salustiano names the kid Pacu. On their return, the boys' father beats Tonho. Longing to see a little of the world before he dies, Tonho runs away and travels to yet another town with Clara and Salustiano. Love grows between Tonho and Clara, but he returns home to await his death.
One stormy night, Clara shows up at the Breves farm. She and Tonho have sex, and he promises to meet her by the ocean later. Despite the fact that the shirt's blood has not yet yellowed, a Ferreira arrives to kill Tonho. Pacu dons Tonho's hat and armband and sets off down the road. The myopic assassin mistakes Pacu for Tonho and shoots him dead. Tonho sets off for the coast despite his father's protests that he should avenge his brother's death. Some time later, Tonho arrives at the shore.
Review
It would be easy to dismiss Behind the Sun, the tale of a Brazilian blood feud as seen through the eyes of a young boy, as yet another elegantly made, but slightly sentimental Miramax foreign-language acquisition. Like Amélie and Life Is Beautiful, Walter Salles' follow-up to his Oscar-nominated Central Station tastes of digestible exoticism, sugared with whimsy and spiced with tragedy. Constructed with a certain literary exactitude, it's reminiscent of the kind of magical-realist novels in translation (bring on the circus acts!) one finds in the world's better class of airport bookshops. Indeed, Behind the Sun was adapted from Albanian author Ismail Kadaré's novel Broken April (the film title in Portuguese is Abril despedaçado) by Salles, Sérgio Machado and Karim Aïnouz. That the story has been so easily transposed from the novel's 30s Balkans setting to the Brazilian sugar-cane badlands of 1910, where similar blood feuds were rife, testifies to its classical simplicity.
What elevates Behind the Sun is the arresting assurance of its direction. Salles and his cinematographer Walter Carvalho (who also worked on Central Station) hew exquisite chiaroscuro compositions from candle-lit interiors, balancing them with pitiless sun-bleached landscapes. (When asked what happened to the stream in his homestead's name, Stream-of-Souls, the young boy Pacu explains it's dried up; decimated by the feud, even the souls are now down to a trickle.) Pacu's brother Tonho's hunt of his prey through the crackling bush, a blur of snapping twigs and panting breath, ought to go down as one of the all-time great cinematic chase sequences. Meanwhile, the symbol of blindness and repetitive motifs suggesting the cycle of violence - swings, yoked oxen walking in circles - are deftly deployed, formalist devices that could seem lumbering or too literary in the hands of another director. Instead, Salles employs them with a frontal transparency that recalls fairy tales and folk drama.
As in Salles' last international hit, the cast here is made up of a mixture of professionals and non-professionals. The resulting quality is more varied, hardly a surprise since Behind the Sun depends more on its ensemble than the two-handed road movie that was Central Station did. For instance, circus-performer Flavia Marco Antonio is as stiff as the love interest as Solveig Dommartin was in a similar part in Wim Wenders' Wings of Desire. Young Ravi Ramos Lacerda, originally a street-theatre performer, ladles the pathos of Pacu's situation on a little more thickly than did total newcomer Vinícius de Oliveira as the urchin of Central Station. But with his slightly cross-eyed beauty and gentle, effete Keanu Reeves-like mein, Rodrigo Santoro, who plays Tonho, could be the next international Latin pin-up in the tradition of Antonio Banderas or Javier Bardem. If he can act in English, I suspect Harvey Weinstein has already given him a contract with Miramax.
Credits
Director

Walter Salles

Producer

Arthur Cohn

Screenplay

Walter Salles
Sérgio Machado
Karim Aïnouz

Inspired by the novel Broken April by

Ismail Kadaré

Director of Photography

Walter Carvalho

Editor

Isabelle Rathéry

Production Designer

Cássio Amarante

Music

Antônio Pinto