Asoka
India 2001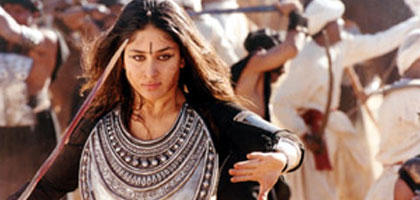 Reviewed by Rachel Dwyer
Synopsis
Our synopses give away the plot in full, including surprise twists.
Third century BC, India. When the founder of the Mauryan dynasty of Magadha, Emperor Chandragupta (Umesh Mehra), becomes a Jain monk, his son Bindusara (Gerson Da Cunha) succeeds him. Bindusara's son Susima (Ajit) wants to be king, but his other son Asoka (Shah Rukh Khan), regent of Ujjain, stakes his claim to the throne by retrieving Chandragupta's ceremoniously discarded sword. Persuaded of the dangers of staying in Magadha, Asoka goes into exile in Kalinga. He meets Princess Kaurwaki (Kareena Kapoor), who is also in exile along with her brother Prince Arya (Suraj Balaje) after the assassination of her parents and is living in forestland under the protection of Kalingan general Bheema. Kaurwaki and Asoka, who is using his horse's name Pavan, fall in love and marry.
Before the marriage is consummated, Asoka is recalled to Magadha by his mother, who claims to be gravely ill. It turns out to be a ploy to lure Asoka back; Bindusara sends Asoka to Ujjain to quell a rebellion. He returns briefly to Kalinga where Bheema misleads him into thinking that Kaurwaki is dead. Asoka is nursed through illness by Devi (Hrishita Bhatt), a young Buddhist, whom he later marries. Kaurwaki sights Asoka; but she can't locate him because she thinks he is called Pavan. On Bindusara's death, Asoka becomes emperor and begins a reign of cruelty, massacring his brothers. Now pregnant, Devi returns to Vidisha because she can't bear her husband's behaviour. Asoka invades Kalinga where he massacres almost the entire population. News of the birth of his twins does little to calm him. When Kaurwaki, now a warrior princess, berates him and Arya is killed, Asoka finally realises the error of his ways; he embraces Buddhism.
Review
One of the greatest figures in Indian history, Asoka was the third of the Mauryan emperors of Magadha and is believed by popular tradition to have become a Buddhist after instigating massacres in Kalinga (East India) in 266 BC. For the rest of his reign, Asoka committed himself to the principles of non-violence, setting forth his ideas on governance by having edicts carved on rocks and pillars from South India to Afghanistan - the first extant writing we have from India. It was partly through the decipherment of Asoka's pronouncements that western scholars 'discovered' the Buddhist history of India and much of the country's linguistic heritage.
Occupying a central place in India's national discourse (the lion capital that topped so many of the columns erected during the emperor's rule, for instance, is now the state seal of the Indian Republic), Asoka is an ideal figure for rousing historical cinema, a genre whose box-office popularity was confirmed recently by the success of Lagaan. Director Santosh Sivan depicts the life of Asoka before his conversion, drawing mostly on legends and Buddhist sources. In doing so, he emphasises spectacle and melodramatic richness over historical accuracy (for instance, the portrayal of Princess Kaurwaki as Asoka's first wife is based on legends that were popular in Orissa, although historical sources describe her as his second chief queen). Asoka also recalls Gladiator in its sense of epic sweep, as well as more devout historical films from the 50s such as Ben-Hur (where Jesus had a cameo in Ben-Hur, here Buddha has the briefest of walk-on roles). Other influences include Akira Kurosawa - especially in the equestrian motifs and obsession with flags during the battle scenes - and the martial-arts choreography of Hong Kong cinema.
But Sivan, best known outside India for The Terrorist, leaves his own mark on the film, with his trademark use of defamiliarising extreme close-ups, strange camera angles and rapidly cut sequences alongside more languid moments (notably scenes that showcase his obsession with filming water). The overall beauty of the shots and the exquisite locations are generally enough to stop viewers nitpicking about such anachronisms as the appearance of stitched cloth or images of the Buddha (both unknown until the 1st century AD). The script is well paced, the language highly Sanskritised (so it sounds archaic), and there are some good jokes and visual puns throughout, such as the storehouses in Kalinga being full of watermelons (kalinga in Hindi). The songs unfortunately aren't memorable and seem redundant.
The casting is exemplary. Bollywood heart-throb Shah Rukh Khan is excellent in the title role, as is his fellow pin-up Kareena Kapoor (the fourth generation of Indian film's first family) as Kaurwaki. The supporting cast is strong, with the South Indian star Ajit suitably decadent as Asoka's brother, and former communist MP Subhashini giving a natural performance as Asoka's mother. A comic interlude, however, with three of India's well-known comic actors (Johnny Lever, Raghuvir Yadav, Suresh Menon) seems an afterthought.
This enthralling film deserves to realise Indian producers' longstanding dream of reaching an international audience. A little more background on Buddhism would have been welcome - but then again Gladiator didn't offer a great deal of historical illumination about Marcus Aurelius, and that didn't harm its performance at the box office.
Credits
Director

Santosh Sivan

Screenplay

Saket Chaudhary
Santosh Sivan

Dialogue

Abbas Tyrewala

Director of Photography

Santosh Sivan

Editor

Sreekar Prasad

Art Director

Sabu Cyril

Background Score

Sandeep Chowta

Music

Anu Malik

Lyrics

Gulzar
San sanana:
Anand Bakshi