Rushmore
USA 1998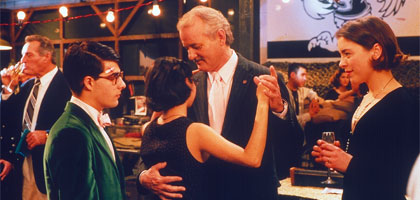 Reviewed by Richard Kelly
Synopsis
Our synopses give away the plot in full, including surprise twists.
Fifteen-year-old Max Fischer is one of the worst students at Rushmore, a prestigious private school. His extracurricular activities lead headmaster Doctor Guggenheim to threaten him with expulsion. Max befriends unhappy industrialist Herman Blume, the school's principal benefactor, then becomes besotted with widowed first-grade teacher Rosemary Cross.
After the premiere of his new play, Max dines with Blume and Rosemary, drunkenly insults her date, and unsuccessfully declares his love. Funded by Blume, Max attempts to build an aquarium in Rosemary's honour on the school's baseball diamond and is consequently expelled.
He enrols at neighbouring Grover Cleveland High, persuades Rosemary to tutor him privately, and ignores the overtures of fellow student Margaret Yang. Blume and Rosemary fall in love. Max's friend Dirk alerts him, and Max informs Blume's wife, who sues for divorce. Max and Blume engage in tit-for-tat hostilities until Max is arrested. Guggenheim has a stroke and, visiting him, Max learns that Rosemary has dumped Blume. Max initiates a truce and convinces Blume to build the aquarium. Rosemary is unconvinced, so Max arranges for her reunion with Blume at the premiere of his new play Heaven and Hell. At the party afterwards, Max and Margaret become an item.
Review
Texan director Wes Anderson and his writing partner Owen Wilson are two of the best things to happen to American film this decade. They first kicked up dust with Bottle Rocket (1996), a low-budget gem which still awaits a UK release. Like Bottle Rocket, Rushmore has three utterly distinctive strengths: a protagonist possessed of unsettling self-assurance, a lovely way with romance, and an inspired soundtrack of offbeat rock and pop.
Bottle Rocket is propelled by Dignan (played by Owen Wilson), an irrepressible borderline psychopath consumed by the pipedream of organising his shiftless pals into a crew of thieves. Rushmore's mettlesome Max Fischer is cut from some of the same cloth: he's "no cynic, no quitter". In Bottle Rocket, love blooms winningly between big, amiable Anthony (played by Wilson's brother Luke) and a lithe Paraguayan motel maid called Inez (Lumi Cavazos). The heart of Rushmore, meanwhile, is the beautifully tentative affair between melancholy Blume and luminous Miss Cross; the courtship of Max and daffy Korean ingénue Margaret Yang is an added treat.
Both films create a plausible yet off-kilter universe; evidently a shared dramatic sensibility is at work. The perks and pitfalls of precocity seem to obsess Anderson and Wilson: their recurrent scene is that of an adult in serious discussion with a preternaturally alert child. In Bottle Rocket, twentysomething Anthony is lectured by his grave prepubescent sister ("What's going to happen to you, Anthony?"). Here, Blume's infidelity earns him a stiff rebuke ("You're a married man, Blume") from Max's chapel partner Dirk, who looks all of 11.
Of course, Max Fischer is himself a compendium of prodigious tendencies, and gives the film a breakneck energy in its first half. But just as we suspect Anderson and Wilson might be overly enamoured of Max, he comes awfully unstuck, and Miss Cross is forced to rebuff him in smarting fashion ("What do you really think is going to happen between us? Do you think we're going to have sex?"). Max's subsequent blue period is the only point where the picture isn't wholly tight, but Bill Murray's Blume is always there for ballast, his wounded mid-life winces seeming to issue from a deep well. "Hey, are you okay?", Max asks him, beginning to sense how real love and real loss might bite. "Oh," Blume murmurs, "I'm a little bit lonely these days." The finale sees Rushmore's slender reality yielding once more to Max's fantasy; but clearly for these young film-makers, that's the point, as underlined in the chorus of the Faces' joyous 'Ooh La-La' which closes the show ("I wish that I knew what I know now / when I was younger").
The cast are all terrific. Jason Schwartzman rises to the challenge of Max with unnerving excellence; Olivia Williams is exquisite as Miss Cross; Murray, for whom Anderson and Wilson wrote the role of Blume, is sublime. Further down the list, Anderson shows every sign of building a repertory company: there are pitch-perfect turns from Deepak Pallana, Kumar Pallana and Andrew Wilson (yes, another brother). Director of photography Robert Yeoman (Rampage, Drugstore Cowboy) has also carried on from Bottle Rocket, as have editor David Moritz, designer David Wasco and costumer Karen Patch: these too look to be fruitful collaborations.
Rushmore is made to be treasured: it feels like an immediate American classic. As a director of wry, wistful, deceptively simple, sharp-edged comedy, Anderson has quickly ascended to the kind of plateau Elaine May reached after her knockout one-two of A New Leaf (1970) and The Heartbreak Kid (1972). Of course, May only directed twice more in the subsequent three decades, proving too smart for her own good. Here's hoping Anderson, Wilson and their happy band know where they're headed next.
Credits
Producers

Barry Mendel
Paul Schiff

Screenplay

Wes Anderson
Owen Wilson

Director of Photography

Robert Yeoman

Editor

David Moritz

Production Designer

David Wasco

Music/Orchestrations

Mark Mothersbaugh

©Touchstone Pictures

Production Companies

Touchstone Pictures presents an American Empirical Pictures/Barry Mendel production

Executive Producers

Wes Anderson
Owen Wilson

Co-producer

John Cameron

Production Supervisor

Christine Fransen

Production Co-ordinator

Melissa Wiechmann

Unit Production Manager

John Cameron

Locations Manager

Craig Allen Busch

Assistant Directors

Michael Cedar
Conte Matal
Donald W. Murphy

Script Supervisor

Scott Peterson

Casting

Mary Gail Artz
Barbara Cohen
Associate:
Debra Secher
Local:
Liz Keigley
Additional:
Juel Bestrop
Debra Zane

Special Effects Co-ordinator

Ron Trost

Calligrapher

Mark van Stone

Animation/Models

Halo Productions

Animator

David Ridlen

Art Director

Andrew Laws

Set Designer

Daniel Bradford

Set Decorator

Alexandra Reynolds-Wasco

Costume Designer

Karen Patch

Costume Supervisor

Catherine Allen Busch

Key Hair/Make-up

Robert W. Harper
Sally J. Harper

Hair/Make-up Stylist

Theresa Harper

Prosthetic Make-up

Bart J. Mixon

Titles/Opticals

Pacific Title

Music Supervisor

Randy Poster

Executive in Charge of Music, Walt Disney Motion Picture Group

Kathy Nelson

Music Co-ordinator

Chris Parker

Music Editor

Michael Baber

Score Recordist

Robert Casale

Soundtrack

"Making Time" by Edwin Michael Phillips, Kenneth George Pickett, performed by Creation; "Take Ten" by/performed by Paul Desmond; "Concrete and Clay" by Tommy Moeller, Brian Parker, performed by Unit 4 + 2; "Nothin' in This World Can Stop Me Worryin' 'Bout That Girl" by Ray Davies, performed by The Kinks; "A Summer Song" by David Stuart, Clive Metcalf, Keith Noble, performed by Chad & Jeremy; "Blinuet" by George Handy, performed by Zoot Sims; "Here Comes My Baby", "The Wind" by/performed by Cat Stevens; "Jersey Thursday" by/performed by Donovan Leitch; "A Quick One While He's Away" by Pete Townshend, performed by The Who; "I Am Waiting" by Mick Jagger, Keith Richards, performed by The Rolling Stones; "Snowflake Music" by/performed by Mark Mothersbaugh; "Rue St. Vincent" by Bruant Aristide, performed by Yves Montand; "Hark, the Herald Angels Sing" performed by The Vince Guaraldi Trio; "Oh Yoko" by/performed by John Lennon; "Manoir de mes rêves" by/performed by Django Reinhardt; "Ooh La La" by Ron Wood, Ron Lane, performed by The Faces

Sound Mixer

Pawel Wdowczak

Supervising Re-recording Mixer

Mark Berger

Re-recording Mixer

Michael Semanick

Re-recording Room Supervisor

Grant Foerster

Supervising Sound Editor

John Nutt

Dialogue Editor

David Franklin Bergad

Sound Effects Designer

Kyrsten Mate Comoglio

Sound Effects Editor

Aura Gilge

ADR

Additional Voices:
Loop Troop
Recordist:
Doc Kane
Loop Group Editor:
Larry Mann

Foley

Artists:
Margie O'Malley
Marnie Moore
Recordist:
Frank Rinella
Mixer:
Steven Fontano
Editor:
Malcolm Fife

Stunt Co-ordinator

David Sanders

Animal Wrangler

Doug Terranova

Bee Wranglers

Kalen Hoyle
Michael R. Wohlfeld

Dog Trainer

Renee Roth

Cast

Bill Murray

Herman Blume

Olivia Williams

Rosemary Cross

Jason Schwartzman

Max Fischer

Seymour Cassel

Bert Fischer

Brian Cox

Doctor Guggenheim

Mason Gamble

Dirk Calloway

Sara Tanaka

Margaret Yang

Stephen McCole

Magnus Buchan

Ronnie McCawley

Ronny Blume

Keith McCawley

Donny Blume

Connie Nielsen

Mrs Calloway

Kim Terry

Mrs Blume

Luke Wilson

Dr Peter Flynn

Deepak Pallana

Mr Adams

Andrew Wilson

Coach Beck

Marietta Marich

Mrs Guggenheim

Hae Joon Lee

Alex

Adebayo Asabi

Mr Obiamiwe

Al Fielder

Ernie

Colin Platt

boy portraying Frank Serpico

George Farish

O'Reilly

Francis Fernandez

Burnum

McCauley Pendergast

Fields

Eric Weems

Willie

Dalton Tomlin

wrestler

Wally Wolodarsky

referee

Ella Pryor

woman backstage

Paul Schiff

waiter

Antoni Scarano

small boy artist

Brian Tenenbaum

contractor

Thayer McClanahan

school reporter

Patricia Winkler

Mrs Whitney

Manning Mott

Mr Holstead

J.J. Stonebraker

Woody

Donny Caicedo

40 Ounce

Ali Ktiri

Benjamin

Michael Maggart

concierge

Robbie Lee

Isaac

Morgan Redmond

Bellman

Ed Geldart

security guard

David Moritz

dynamite salesman

J.J. Killalea

Tommy Stalling

William Lau

Mr Yang

Lucille Sadikin

Mrs Yang

Steve Eckelman

tennis pro

Eric Anderson

architect

Danny Fine

Coach Fritz

Kyle Ryan Urquhart

Regis

Kumar Pallana

Mr LittleJeans

Stephen Dignan

Reuben

Certificate

15

Distributor

Buena Vista International (UK)

8,339 feet

92 minutes 40 seconds

SDDS/Dolby digital/Digitsl DTS sound

In Colour
Anamorphic [Panavision]