Moulin Rouge
USA/Australia 2001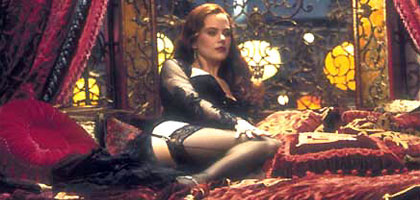 Reviewed by Jos Arroyo
Synopsis
Our synopses give away the plot in full, including surprise twists.
Montmartre, 1899. Christian (Ewan McGregor), a young Englishman who wants to become a writer, moves to Paris. He comes into contact with a group of bohemians, including Satie (Matthew Whittet) and Toulouse-Lautrec (John Leguizamo). They want to stage a show, and enlist Christian to write it. They also choose him to approach Zidler (Jim Broadbent), the manager of the Moulin Rouge, for funds. When he arrives, Zidler is setting up a meeting between his star Satine (Nicole Kidman) and the Duke of Worcester (Richard Roxburgh) in exchange for funds to put on his next production. Believing Christian to be the Duke, Satine invites him to her room and starts to seduce him. They are interrupted by the Duke. Satine convinces the Duke to fund the show, and agrees to star in it.
As rehearsals begin, Christian and Satine begin seeing one another, keeping their relationship secret from the Duke, who has asked Satine to marry him. As the date of Satine's wedding approaches, Christian becomes jealous. Satine discovers she's dying from TB and decides to give up Christian. However, the Duke vows to have Christian shot unless he leaves Paris. On the opening night Christian appears on stage and sings of his love for Satine, who, in return, declares her love for him. The Duke leaves. Satine collapses and dies. Christian turns the events of the past year into a love story.
Review
The trailer for Moulin Rouge is so good one goes to the movie ready to luxuriate in beauty and wallow in emotion. Unfortunately, the film itself is like a trailer stretched to feature length and one soon begins to feel walloped by talent and frazzled by cleverness. This Moulin is textbook postmodernism at its worst, a relentless pastiche of pop-cultural sounds and representations sutured into the service of a cliché.
Moulin Rouge, which tells of the love affair between young playwright Christian and Paris starlet Satine, begins much like a film from the 1900s as we are immersed in a distressed black-and-white illustration of Montmartre. The film then erupts into colour: the costumes are dazzling, the jewellery brilliant. When the characters first burst into song - the 'Sound of Music' - or when Kylie Minogue appears spreading her magic dust as a Tinker-Bell-like fairy, one wants to applaud. But then almost every shot is as demanding of our appreciation and after a while of patting yourself on the back for 'getting' Moulin Rouge's many references, watching this breathless, over-excited film becomes wearisome.
The idea of making an Antipodean Y2K version of fin-de-siècle Paris for the post-MTV generation is delicious. The Moulin Rouge has long been the iconographic setting for modernism's fermentation. The Moulin was where the aristocracy, bohemia and the working and criminal classes mixed against a backdrop of modernist ideas and the best of popular culture. It's a time and a place that has been depicted by film-makers before: in his 1953 film Moulin Rouge, John Huston used this period setting as a cradle for melodramatic spectacle. Renoir, meanwhile, drew on turn-of-the-century Paris as a source for his musical French Cancan (1955), a paean to the exalting power of show business. Here the manifold complexity of human relations, of practical needs and ideal wants, is shown delicately and with simplicity. At the end, people who didn't expect to be together accept their fate in communal appreciation of the joy and energy of the can-can.
If films set in the Moulin Rouge are one frame of reference for Luhrmann, the musical as a genre is another. Ewan McGregor's role as the earnest suitor would have been tailor-made for Dick Powell in Busby Berkeley's Warner musicals; Nicole Kidman's Satine brings to mind Marlene Dietrich's cabaret artist Lola-Lola in The Blue Angel (1930). Structurally and conceptually, the clearest influence is the MGM musical as exemplified by the Freed Unit. However, what Luhrmann seems to have missed is that the MGM musical appealed to an operatic range of emotion. Moulin Rouge, by contrast, merely represents feeling in fragments and through quotations, keeping it at a comfortable remove from the audience.
As a melodrama, Moulin Rouge's story is too simple, the narrative too fractured and the tone too ironic. Every avenue of identification is closed off to us. Characters are often foregrounded against a back-projection, destroying the illusion of three-dimensionality, and Christian's dialogue is often drawn from pop-cultural sources, as when he tells Satine 'Love is a many-splendoured thing' or 'All you need is love'. Such quotations, though initially seeming clever, soon become tiresome - and the collage-like script works against our sympathy for the characters.
If the film fails as a melodrama, it's a disaster as a musical. From what we're allowed to see, the only people who can dance are the extras. And the way the music has been integrated into the film is also a mistake. Luhrmann has his protagonists warble watered-down versions of songs whose originals are imprinted on our collective consciousness. When the strapping Kidman sings 'Diamonds are a Girl's Best Friend', the indelible memory of Marilyn Monroe's breathy vulnerability is like a reproach; when the Tango group sing the Police's 'Roxanne', their version lacks the hurt and desire of Sting's original.
And yet one does feel ravished. Kidman's Satine may lack the hoydenish indifference of Dietrich in The Blue Angel or the sensuous carnality of Rita Hayworth in Gilda (1946), but she's still stunning to look at. McGregor's wide-eyed readiness to perform is an undiluted pleasure and he is at his most charismatic here - Moulin Rouge is the first film in which he comes across as a proper movie star. The shot of Montmartre as if filmed by Méliès is priceless - indeed the whole film is gorgeous to look at. If Moulin Rouge is a failure, at least it's an honourable one, made by artists with ambition and talent.
Credits
Director

Baz Luhrmann

Producers

Martin Brown
Baz Luhrmann
Fred Baron

Screenplay

Baz Luhrmann
Craig Pearce

Director of Photography

Donald M. McAlpine

Editor

Jill Bilcock

Production Designer

Catherine Martin

Music/Music Arranger

Craig Armstrong