Series 7: The Contenders
USA 2000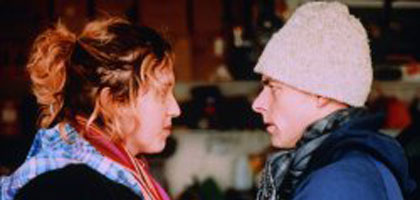 Reviewed by Mark Kermode
Synopsis
Our synopses give away the plot in full, including surprise twists.
Five new contenders are selected by national lottery for series 7 of US television show The Contenders. Each contestant is visited at home live on television, handed a gun and assigned a cameraman.
On hearing of his selection, terminal cancer patient Jeff (Glenn Fitzgerald) attempts unsuccessfully to shoot himself. Heavily pregnant series 6 winner Dawn (Brooke Smith), a former girlfriend of Jeff, travels to her home town of Newbury where the contest is to take place, and attempts to intimidate the new competitors. Teenager Lindsay (Merritt Wever), under encouragement from her parents, tracks down and attacks ageing Franklin (Richard Venture) who escapes after wounding Lindsay. Asbestos-removal worker Tony (Michael Kaycheck) takes his child hostage in an attempt to escape participation, but is subdued and injured by the Contenders' workforce. Paralysed in a hospital bed, Tony is injected with a lethal dose of drugs by religious ER nurse Connie (Marylouise Burke).
Answering an ad promising escape from the game, Lindsay is lured to a shopping mall and bludgeoned to death by Franklin who is subsequently shot dead by Connie. Dawn promises to kill Jeff painlessly when the time comes. Dawn breaks into Connie's house; while attempting to kill her, she goes into labour. Connie delivers Dawn's baby which is subsequently removed by the television company. Doubting Dawn's return, Jeff asks his wife to kill him, and is dismayed when he later awakes in hospital.
Having killed Connie, who intended to give him a lethal injection, Jeff meets Dawn at an appointed location, where the couple turn their guns on their camera operators and escape. At a cinema, the couple hold an audience hostage demanding the return of Dawn's baby, but when Jeff's wife arrives and shoots Dawn, Jeff shoots himself. Later, Jeff awakes in hospital, surviving to take part in series 8.
Review
An American satirist once suggested that, since the purpose of contestant television is essentially to debase all those involved in the pursuit of fame and money, we should expect a series entitled I'll Kill That Dog in which respectable middle-class couples underbid each other to shoot a cuddly pooch on camera for cash. The joy of this unashamedly cheap gag is that it's just about possible to imagine such a show happening. But the problem with Daniel Minahan's murderous televisual satire, in which boringly ordinary contestants kill each other in crowded shopping malls and hospitals, is precisely the comic overstatement of its central premise. Unlike the Belgian black comedy Man Bites Dog, which somehow established an appalling unquestioning logic as a television crew merrily tailed a serial killer, Series 7 goes over the top in its killer conceit. The upshot is a film which fails to make us take our mind off the clumsiness of its central dramatic device - even though there's been a recent proliferation of such shows as Survivor and Big Brother which depend on team-mates 'offing' one another. As a result, we are left wondering about the simple impracticalities of the show (how could this actually happen?) rather than musing on the frankly trite social observations which have already been expressed elsewhere: that fame is a drug; that television is the new reality; and that modern warfare is a form of entertainment, viewed by millions from the safety of their armchairs.
Originally developed at the Sundance Writers Lab in 1997 (before the launch of Survivor) and shot in post-Blair Witch digital-video style, Series 7 actually borrows its thriller plot from a long line of murderous satires, encompassing movies as diverse as Norman Jewison's sombre socio-horror story Rollerball (1975), Paul Bartel's slapstick splatter romp Death Race 2000 (1975), and even Paul Michael Glaser's daft sci-fi adventure The Running Man (1987). As for its critique of reality TV, anyone familiar with Peter Weir's insightfully understated The Truman Show (1998), or even Ron Howard's misguidedly romantic EDtv (1999), will get the impression they've been here before. All of which would not be a problem in itself, were it not for the fact that, unlike the best of its predecessors, Series 7 seems to exist in a cultural vacuum. Throughout, Minahan assaults the audience with knowingly staged scenes of violence, apparently unaware that we've all seen carnage-filled background television screens many times before (in films as mainstream as Oliver Stone's Natural Born Killers), or watched videotaped murder sequences being terrifyingly picked apart in everything from John McNaughton's Henry Portrait of a Serial Killer to Michael Haneke's Benny's Video. Just as television audiences demand some new thrill from the goggle-box every season, so even the most casually cineliterate viewer of Series 7 may well find him or herself baying for some fresh insight while being served repeats of old satirical material given a contemporary make-over.
None of which is to say that Series 7 is entirely without merit. When laughing at itself (as it does splendidly in the 'found' videotape of ex-goths Dawn and Jeff moodily showing off to the sounds of Joy Division's miserablist anthem 'Love Will Tear Us Apart') it hits a good few home runs, with Minahan demonstrating that an apprenticeship in popular news magazine-shows has sharpened rather than blunted his acerbic sensibilities. There are dark chuckles too in the nicely blasphemous prayers of killer Catholic nurse Connie, and in the hilariously horrendous 'dramatic reconstructions' which pop up to fill the holes in the 'real-life' footage. If the entire enterprise had been conducted at this level of wry self-awareness, it may well have bordered upon brilliance. Instead, as with I Shot Andy Warhol (on which Minahan and co-producer Christine Vachon previously collaborated) it ends up straddling an uneasy divide between genuinely edgy artistry and bluntly indulgent bluster, leaving us uncertain whether it's the television show portrayed or the film itself that's the real turn-off.
Credits
Director

Daniel Minahan

Producers

Jason Kliot
Joana Vicente
Christine Vachon
Katie Roumel

Series 7 Promo:

Jason Bowers

Screenplay

Daniel Minahan

Director of Photography

Randy Drummond

Editor

Malcolm Jamieson

Production Designer

Gideon Ponte

Music/Music Performers

Girls against Boys