Election
USA 1999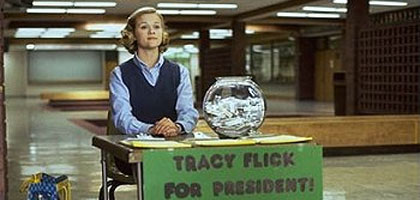 Reviewed by Geoffrey Macnab
Synopsis
Our synopses give away the plot in full, including surprise twists.
The US Midwest, the present, Tracy Flick, star pupil at George Washington Carver High, is standing unopposed for president of the student government. Civics teacher Jim McAllister has a grudge against Tracy because of her part in a sex scandal which saw fellow teacher Dave Novotny sacked. McAllister encourages high-school football hero Paul Metzler to stand against her. Paul's sister Tammy also joins the race after being dumped by her girlfriend (who, to spite Tammy, has become Paul's girlfriend and campaign manager). One weekend, Tracy loses her temper putting up posters in the school corridor and tears down the election banners. There is a school inquiry. Tammy takes the blame - even though she knows Tracy was responsible - and is suspended. Her parents decide to enrol her in a strict, all-girl convent school instead. As the election draws nearer, Jim has a brief fling with Dave Novotny's estranged wife Linda. Although he thinks he's in love, she dismisses the affair as a mistake and tells Jim's wife about it.
Jim oversees the election count; Tracy has won by one vote. Jim surreptitiously throws two votes for Tracy into a wastepaper basket and declares Paul the winner. Tracy is devastated. The school janitor finds the missing votes. The election result is overturned. Jim resigns in disgrace. His marriage breaks up. He heads to New York, where he gets a job working in a museum. While visiting Washington DC he sees Tracy climbing into a car with a Republican politician whose assistant she has become. He throws his drink at the car and runs off.
Review
"It's like my mom said: the weak are always trying to sabotage the strong," proclaims Tracy Flick, the foot-stamping, cupcake-baking overachiever whose battle to become class president forms the backdrop to Election. As demure as Pippi Longstocking and as sanctimonious as Tipper Gore, Tracy works her heart out. She's also the only one in class who can explain the difference between morality and ethics, but that doesn't change the fact that she's a little monster. If Billy Wilder had been assigned to make a teen comedy, he might well have come up with a film as witty and sour as this. Alexander Payne's second feature (after Citizen Ruth), Election is a wonderfully acidulous satire which uses its high-school setting to make some barbed points about US politics and culture in general. We're offered a presidential campaign in microcosm, complete with dirty tricks, smears, a hint of a sex scandal, and even some unseemly vandalism.
Payne manages to make us see Tracy through the eyes of the one person who detests her - her teacher, Jim McAllister. Not that it is immediately apparent that the film is biased against her. The screenplay (co-written by Payne and Jim Taylor) seems scrupulously even-handed. In voiceovers running throughout the film, all the candidates are given the chance to reflect on the events surrounding the fateful election campaign. The mainstream is represented by high-school football hero Paul Metzler, a genial, simple-minded oaf with (so he's told) a big penis, who doesn't think it's right to vote for himself. We hear from the counterculture in the form of Paul's sister Tammy, a nihilistic lesbian whose slogans "Who cares?" and "What does it matter anyway?" appeal infinitely more to the voters than Tracy's pious homilies. Tracy, for her part, represents ambition, self-help and "the American way". (Sure enough, she turns out to be a Republican.) The most compelling voice, though, belongs not to the candidates but to the teacher overseeing the campaign.
At GWC High, McAllister is all that stands between Tracy and absolute power. His hackles rise every time she shoots up her arm in class. US politics is about checks and balances, he tells his class, and checking Tracy's career becomes his full-time obsession. After his experiences as a squeaky-clean juvenile lead in such films as Ferris Bueller's Day Off and Project X, it must surely have been liberating for Matthew Broderick to play a character as crumpled and seedy as McAllister, a man who keeps porn films in the basement. He suffers every manner of indignity. He is spat at. His car is bespattered with mud. He's stung in the eye by a bee. When he cheats on his wife, Payne makes him look all the more absurd by showing him groping with Linda Novotny from the baby's point of view. Still, he's as close as Election gets to a hero. He's the one who upholds democratic values - even if it means cheating. "Do you want an apple or an orange? That's democracy," he explains to a bewildered-looking Paul as he tries to ensure Tracy isn't elected unopposed.
Election turns the usual conventions of the high-school comedy on their head. There's no prom night. Payne doesn't labour the tension between the jocks and the nerds, or try to show school life from the rebel's perspective. The film may have been made by MTV, but its fairground-style music (by Rolfe Kent) sounds as if it were borrowed from some old Mack Sennett comedy. Just occasionally, we feel flickers of sympathy for Tracy. Nobody likes her much and her all-consuming ambition means she is never satisfied. Witherspoon, last seen as the goodie two-shoes in Cruel Intentions, plays her brilliantly, screwing up her features and scowling when things go against her and smiling insincerely at all other times.
The funniest moments are often the cruellest. When gawky teacher Dave Novotny bursts into tears as he realises his affair with Tracy has ruined his career, the scene is played for laughs. (Perhaps Novotny deserves his punishment for using Lionel Richie's 'Three Times a Lady' as a seduction theme.) Jim's humiliations are also milked for comedy. The humour may be vicious, but there's also a strong vein of pathos running through the film. Payne's sympathies are with the underdog. Ultimately, it is success - at least in the way it is achieved by Tracy - which seems shabby.
Credits
Producers

Albert Berger
Ron Yerxa
David Gale
Keith Samples

Screenplay

Alexander Payne
Jim Taylor
Based on the novel by
Tom Perrotta

Director of Photography

James Glennon

Editor

Kevin Tent

Production Designer

Jane Ann Stewart

Music

Rolfe Kent

©Paramount Pictures Corporation

Production Companies

Paramount Pictures presents an MTV Films production in association with Bona Fide Productions

Executive Producer

Van Toffler

Co-producers

Jacobus Rose
Jim Burke

Production Co-ordinators

Holly Balbinder
NY/Washington Crew:
Douglas Moe

Unit Production Managers

Victor Ho
NY/Washington Crew:
Alysse Bezahler

Location Managers

John Latenser
NY:
Ann Yamamoto
DC:
Katherine Dorrer

Additional Locations

Kai Ephron

Post-production Supervisor

Pamela Winn Barnett

Production Liaison

Momita Sengupta

2nd Unit Director

George Parra

Assistant Directors

George Parra
Sean McCarron
Shari Hanger
2nd Unit:
Sean McCarron
Shari Hanger
NY/Washington Crew:
Randy Barbee
Marc Garland
Lucia Burns

Script Supervisors

Rebecca Robertson
NY/Washington Crew:
Peggy Sutton

Casting

Lisa Beach
Omaha:
John Jackson
Additional:
Carrie Houk
Voice:
Barbara Harris
NY/Washington Crew:
Ellen Parks

2nd Unit Directors of Photography

Casey Hotchkiss
Radan Popovic

Camera Operators

Casey Hotchkiss
2nd Unit:
Andy Anderson

16mm Footage

2nd Unit:
Jim Taylor

Digital Visual Effects

Digiscope

Graphic Artist

Nathan Carlson

Art Director

Tim Kirkpatrick

Set Decorators

Renee Davenport
NY/Washington Crew:
Tyndall Arrasmith

Costume Designer

Wendy Chuck

Costume Supervisors

Rikke Rosbaek
NY/Washington Crew:
Charlotte Corday

Set Costumer

NY/Washington Crew:
Jill Tarlow

Make-up Artists

James Ryder
NY/Washington Crew:
Nikki Ledermann

Bee Sting Prosthetics

Steve Johnson's XFX

Hair Stylists

Denise Fischer
NY/Washington Crew:
Kyra Panchenko

Title Design

Victoria Vaus

Titles/Opticals

Cinema Research Corporation

Optical Supervisor

Bruce Cardozo

Conductor

Bill Stromberg

Concert Master

Bruce Dukov

Orchestrator

Tony Blondal

Additional Orchestration

Kerry Wikstrom

Music Supervisor

Dondi Bastone

Music Editors

Richard Ford
Preview:
Tom Kramer

Recording Mixer

John Vigran

Soundtrack

"The Jody Grind" by Horace Silver, performed by Quintetto X; "Matchmaker, Matchmaker" by Jerry Bock, Sheldon Harnick; "Foxey Lady" by Jimi Hendrix; "Find a Way to Win" by/performed by Tim Carroll; "Three Times a Lady" by Lionel Richie, performed by The Commodores; "Born to Be with You" by Don Robertson, performed by The Damnations TX; "Rue Paul", "Marcello McAllister", "El Tostado", "Ai grandota", "Leisure Suit Riot" by Joey Altruda, performed by Joey Altruda and The Cocktail Crew; "Navajo Joe Main Theme" by/performed by Ennio Morricone; "This Road I'm Traveling" by Neil Halstead, performed by Mojave 3; "Right in the Back of Your Mind" by Edgar Jones, performed by Spacehog; "Gonna Get Along without Ya' Now" by Milton Kellem, performed by Patience and Prudence; "La Piscine couverte" by Elinor Blake, Andy Paley, performed by April March; "Get Set" by Daniel James, Tim Wild, Jason Singh, Tim Watson, performed by TaxiRide; "Only God Knows" by Scott Bricklin, Brian Bricklin, performed by Martin's Dam; "With My Eyes Wide Open I'm Dreaming" by Mack Gordon, Harry Revel, performed by Mandy Barnett; "It's a Beautiful Day" by Deke Dickerson, performed by The 1001 Guitars of Deke Dickerson featuring Meghan Ivey; "Jennifer Juniper" by Donovan Leitch, performed by Donovan; "Rising Sign" by Andy Bell, performed by Hurricane #1;"Drown in Small Cowgirl's Boots" by Dave Burris, performed by Jolene; "If You'll Be the Teacher" by Sue Miller, Ned Miller, performed by Mandy Barnett;"God Whispers to Constantine" by Rolfe Kent, performed by Frank Morocco

Sound Mixers

Jon Ailetcher
NY/Washington Crew:
Antonio Arroyo

Technical Supervision

Patrick Stoltz
Rich Toenes
Bill Johnston

Re-recording Mixers

Patrick Cyccone Jr
Michael Keller

Recordists

Drew Webster
Eric Flickinger

Supervising Sound Editors

Frank Gaeta
Scott Wolf

Dialogue Editors

Daniel Irwin
Laura R. Harris
Fred Stahly
Kimaree Long
Lauren Stevens

Sound Effects Editors

Scott Sanders
Mark Hunshiki Choi
Craig Jaeger

ADR

Loop Group:
Holly Dorff
Andrea Taylor
Anneliese Goldman
Noreen Reardon
Matt Adler
Steve Alterman
Daamen Krall
Catherine Cavadini
Kate Carlin
Barbara Iley
David Kramer
Jeff Fischer
Vernon Scott
Charles Bazaldua
David Randolph
Recordist:
Dana Porter
Mixer:
Ron Bedrosian
Editors:
Daniel Irwin
Laura R. Harris
Fred Stahly
Kimaree Long
Lauren Stevens

Foley

Artists:
Jim Moriana
Jeff Wilhoit
Recordist:
Gregg Zimmerman
Mixer:
Nerses Gezalyan

Stunt Co-ordinator

Gary Wayton

Cast

Matthew Broderick

Jim McAllister

Reese Witherspoon

Tracy Flick

Chris Klein

Paul Metzler

Jessica Campbell

Tammy Metzler

Mark Harelik

Dave Novotny

Delaney Driscoll

Linda Novotny

Molly Hagan

Diane McAllister

Colleen Camp

Judith R. Flick

Frankie Ingrassia

Lisa Flanagan

Phil Reeves

Principal Walt Hendricks

Matt Malloy

Vice-Principal Ron Bell

Jeanine Jackson

Jo Metzler

Holmes Osborne

Dick Metzler

Loren Nelson

custodian

Emily Martin

girl in crisis

Jonathan Marion

Amy Falcone
classroom students

Matt Justesen

'eat me' boy

Nick Kenny

'eat me' boy's buddy

Brian Tobin

Christa Young
adult video actors

David Wenzel

Tracy's friend Eric

Joel Parks

Jerry Slavin

Larry Kaiser

chemistry teacher

Marilyn Tipp

Carver office lady

Jeannie Brayman

faculty ballot-giver

Nick D'Agosto

Larry Fouch

James Devney

motel clerk

L. Carmen Novoa

Spanish teacher

Jason Paige

Matt Golden
Heather Koenig
kids in Georgetown hall

Jillian Crane

Jillian

Certificate

15

Distributor

United International Pictures (UK) Ltd

9,254 feet

102 minutes 49 seconds

Dolby

Colour by
Consolidated Film Industries/DeLuxe

Super 35 [2.35:1]