The General's Daughter
USA/Germany 1999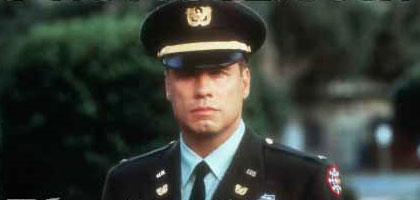 Reviewed by John Wrathall
Synopsis
Our synopses give away the plot in full, including surprise twists.
Fort McCallum, the Deep South. When the naked corpse of Captain Elisabeth Campbell, daughter of General Joe Campbell, is discovered staked to the ground, Warrant Officer Paul Brenner of the Criminal Investigations Division has 36 hours to solve the case before the FBI is called in.
Brenner is teamed with his former girlfriend, army rape-counsellor Sarah Sunhill. Colonel Moore, Elisabeth's commander, is arrested when his fingerprints are found on the victim's dog tags. After Moore's apparent suicide, General Campbell's adjutant Colonel Fowler is anxious to pin the blame on Moore. But Brenner and Sunhill visit West Point, where they learn that Elisabeth, a few years back, was gang-raped on a training exercise, and left staked out on the ground. Her father persuaded her to hush the incident up.
From evidence provided by Colonel Moore's boyfriend, Brenner discovers that Elisabeth persuaded Moore to help her recreate the circumstances of her rape so that she could show her father what she had been through. But General Campbell, after discovering his daughter staked to the ground, decided to leave her there. Colonel Kent, who had an unrequited crush on Elisabeth, then killed her out of frustrated passion. Brenner races to the training ground to find that Kent has deliberately led Sunhill into a minefield. Brenner saves Sunhill before Kent kills himself by stepping on a mine. Instead of hushing up the case, Brenner threatens General Campbell with court martial for conspiracy to conceal a crime.
Review
With Con Air, director Simon West demonstrated that he could deliver a pyrotechnic action thriller in the classic Jerry Bruckheimer mould by keeping the camera constantly on the move and cutting every few seconds. He applies the same approach to The General's Daughter with rather less success, because this salacious whodunit requires very little action, but an endless parade of dialogue scenes in which assorted suspects tell the investigating duo what happened, cueing thunderous flashbacks.
In a desperate bid to pump up the action quotient (and provide material for a trailer) West throws in a succession of ridiculous climaxes, as bombastic as they are irrelevant to the plot. For starters, there's death by motorboat propeller. Later, the discovery of Colonel Moore's corpse is orchestrated, preposterously, to Carmina Burana, with baffling cut-aways to a fencing match in progress somewhere else on the base. Madeleine Stowe's role as Travolta's investigating sidekick, Sarah Sunhill, exists solely so that she can twice wander back to the crime scene at night, there to be assaulted by different suspects in the murder (though, since only one of them was actually guilty, what was the other one playing at?).
Worst of all, however, are the grotesque flashbacks to Elisabeth Campbell's rape on a training exercise at West Point, recounted in gloating slow-motion. West belongs to the school of directors who believe that everything in a film should look glossy and beautiful, even if the event depicted is itself abhorrent. He's a connoisseur of mist, low-angle tracking shots, helicopters and ejected cartridge cases cascading to the ground - but his ham-fisted deployment of these flashy clichés leaves one pining for the comparative subtlety of Tony Scott.
It's hard to see what else beyond money can have attracted John Travolta to the unrewarding role of Paul Brenner. In solving the murder, Brenner's sole act of detection is noticing a bin liner on a roof, an event which West, inevitably, tries to drum up into another action crescendo. The rest of the time, all Brenner is required to do is stare at suspects in that solid-jawed Travolta way until they tell him what they know, and launch us into another flashback. Brenner's character never develops, though he does mercifully drop his southern accent a few minutes into the film. His past relationship with Sunhill (who, as someone actually points out in the film, has no real function in the investigation: why does the victim need a rape counsellor if she's already dead?) is a bare-faced contrivance to give Brenner some substance.
The script is credited to Christopher Bertolini and William Goldman; the latter was presumably brought in for rewrites. Over the years, Goldman's two Oscars and his self-promoting handbook Adventures in the Screen Trade have given him an unassailable reputation as a script doctor; even now, nearly 30 years after Butch Cassidy and the Sundance Kid, he's one of the few screenwriters whose name the general public recognises. But his shoddy work on The General's Daughter is only the latest entry in a recent catalogue of trash: Absolute Power, The Chamber and Maverick among others. Take the characterisation of the only halfway interesting person in the film, James Woods' Colonel Moore: he has a funny way of holding a cigarette, listens to opera and is seen cooking his dinner with undue fastidiousness. Of course, he turns out to be gay! Nothing in West's overblown bag of tricks could hope to disguise such a thoroughly by-the-numbers piece of writing.
Credits
Producer

Mace Neufeld

Screenplay

Christopher Bertolini
William Goldman
Based on the novel by
Nelson DeMille

Director of Photography

Peter Menzies Jr

Editor

Glen Scantlebury

Production Designer

Dennis Washington

Music

Carter Burwell

©Paramount Pictures

Production Companies

Paramount Pictures presents a Mace Neufeld and Robert Rehme production
A Jonathan D. Krane production
In association with MFP Munich Film Partners GmbH & Co 1 Produktions KG

Executive Producer

Jonathan D. Krane

Co-producer

Stratton Leopold

Associate Producers

Lis Kern
Anson Downes
Linda Favila

Production Supervisors

Amy Ness
Debbie Schwab

Production Co-ordinator

Robert Mazaraki

Unit Production Manager

Stratton Leopold

Location Managers

David Israel
Lisa Strout
Savannah Unit:
Laura Bryant

Assistant Directors

Steve Danton
Donald L. Sparks
Foongy Lee

Script Supervisor

Patti Dalzell

Casting

Mindy Marin
Voice:
Barbara Harris

Additional Photography

Joe Maxwell

Wescam Operator

Steve Koster

Camera Operators

Robert Presley
Joe Maxwell
Richard Cantu
Underwater:
Mike Thomas

Steadicam Operator

Robert Presley

Visual Effects Supervisor

Glenn Neufeld

Digital Visual Effects

Visionart, Inc
Digital Effects Supervisor:
Marc Kolbe
Digital Effects Producer:
Robert D. Crotty
Compositing Supervisor:
Dorene Haver
Digital Artists:
Carl Hooper
Jeremy Squires
Jon-Marc Kortsch
Daniel Patrick Naulin
John Peel
Chris 'Willie' Williams
Dennis Bredow
Jim McLean
Archie Gogoladze
Jeremy Nelligan
Compositors:
Alette Vernon
Shellaine Corwel
Christina Drahos
Video I/O Supervisor:
John Campuzano
Film I/O Supervisors:
Jeff Pierce
Celine Jackson
System Administrator:
Krystal Wood

Special Effects

Co-ordinators:
George Paine
Chuck Stewart
Paul Lombardi
Technicians:
Steven L. Dearth
Scott Blackwell
Terry Erickson
Parry Willard
Stan Bielowicz
Shop Co-ordinator:
Scott Mattson

Additional Editing

Todd Miller

Art Directors

Tom Taylor
Ann Harris

Set Designers

Lorrie Campbell
Lynn Christopher
Beverli Eagen

Set Decorator

Marvin March

Storyboard Artist

David Negron Jr

Costume Designer

Erica Edell Phillips

Costume Supervisors

Mark Peterson
Donna Marcione

Make-up

Supervisor:
Toni G
Artist:
Will Huff
Savannah Unit Artist:
Joseph Hurt

Dummy Corpse

Steve Johnson's XFX Group
Production Manager:
Sean Taylor
Project Supervisor:
Christien Tinsley
Mold Shop Supervisor:
Matt Singer
Cosmetics:
Lennie MacDonald
Hair Department Supervisor:
Mark Boley
Mold Technician:
Brian Van Dorn

Supervising Hairstylist

Joy Zapata-Chavez

Hairstylist

Geordie Sheffer

Title Design

Imaginary Forces

Titles/Opticals

Pacific Title/Mirage

Music Conductor/Orchestrations

Sonny Kompanek

Folk Music Recordings Adapter

Greg Hale Jones

Music Editors

Adam Smalley
Jim Henrikson
Preview:
Joe E. Rand
Barbara McDermott

Music Recorder/Mixer

Michael Farrow

Music Recordist

Paul Wertheimer

Music Technical Engineer

Norm Dlugatch

Soundtrack

"Sea Lion Woman" (trad) performed by Christine Shipp, Katherine Shipp; "Lead Me to the Rock" (trad) performed by Wash Dennis, Charlie Sims; "Rock Island Line" (trad) performed by Kelly Pace and Group; "Say You're Mine" by Stephen Preston, performed by The Rockats; "Escape (The Pina Colada Song)" by Rupert Holmes; "Love You Anyway" by Barry A. Ryan, performed by The Rockats; "All through the Night" performed by Ray Colcord; "Downstairs" by Elvin Ray Jones, performed by Kenny Burrell; "In diesen heil'gen Hallen" from "Die Zauberflöte" by Wolfgang Amadeus Mozart, performed by Falloni Orchestra, soloist: Kurt Rydl, conducted by Michael Halász; "O Fortuna" from "Carmina Burana" by Carl Orff, performed by CSR Symphony Orchestra and Slovak Philharmonic Chorus, conducted by Stephen Gunzenhauser; "Amazing Grace" (trad), lyric by John Newton; "Early in the Mornin'"

Sound Design

Stephen Hunter Flick

Sound Mixers

Tommy Causey
Steve Maslow
Gregg Landaker

Supervising Sound Editors

Stephen Hunter Flick
Co:
Beth Sterner

Supervising Dialogue Editor

Carin Rogers

Dialogue Editors

Susan Kurtz
Richard G. Corwin
J.H. Arrufat

Sound Effects Editors

William Jacobs
Peter Brown
Jeff Clark

ADR

Recordist:
Dave McDonald
Mixer:
Bob Baron
Supervising Editor:
Robert Ulrich
Editor:
Kerry Dean Williams

Foley

Artists:
Sarah Monat
Robin Harlan
Mixer:
Randy K. Singer
Supervising Editor:
Thomas Small
Editors:
Tammy Fearing
Dana Gustafson
Scott Curtis
Jeff Payne

Aerial Co-ordinator

Craig Hosking

Military Adviser

Jared Chandler

Forensic Specialist

Gia Goyen

24 FPS Video Playback/Computer Graphics

Playback Technologies

Marine Co-ordinator

Savannah Unit:
Harris Parker

Stunt Co-ordinator

Mark Riccardi

Cast

John Travolta

Paul Brenner

Madeleine Stowe

Sarah Sunhill

James Cromwell

General Joe Campbell

Timothy Hutton

Colonel Kent

Clarence Williams iii

Colonel Fowler

James Woods

Colonel Moore

Leslie Stefanson

Elisabeth Campbell

Daniel von Bargen

Chief Yardley

Peter Weireter

Belling

Mark Boone Junior

Elkins

John Beasley

Colonel Slesinger

Boyd Kestner

Captain Elby

Brad Beyer

Bransford

John Benjamin Hickey

Captain Goodson

Rick Dial

Cal Seiver

Ariyan Johnson

PFC Robbins

John Frankenheimer

General Sonnenberg

Katrina vanden Heuvel

CNN anchor

Chris Snyder

Deputy Yardley

Steve Danton

Rich Jackson
bomb van soldiers

Joshua Stafford

Darius Montgomery
soldiers who finds Elizabeth

Scott Rosenberg

Jared Chandler
James Paul Morse
Paul Ware
MP guards

Mark Ivie

fencing loser

Michael Terry Swiney

lockup sergeant

Tait Ruppert

young tech

Lisa A. Tripp

work detail leader

James O. Evans

Chris Grayson
Sy Leopold
Fred Tate
sex video officers

Steve Goyen

honor guard commander

Pablo Espinosa

colour guard commander

Levin Handy Jr

Jason M. Luevano
airborne soldiers

Gustavo A. Perdomo

drill team NCO

Rodney Mitchell

Ryan D. Kirkland
ranger instructors

Michael Gerald Jones Jr

soldier in locker room

Matt Anderson

firing party commander

Cooper Huckabee

Colonel Weems

Cliff Fleming

Cris Saunders
Bruce Benson
Rick Shuster
Corey Fleming
pilots

Certificate

18

Distributor

United International Pictures (UK) Ltd

10, 480 feet

116 minutes 27 seconds

Digital DTS Sound/Dolby Digital

Colour by
DeLuxe

Anamorphic [Panavision]