Kiss Kiss Bang Bang
USA 2005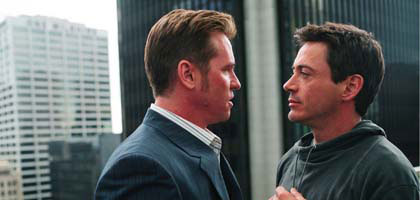 Reviewed by John Wrathall
Synopsis
Our synopses give away the plot in full, including surprise twists.
New York , the present. Running from the police, petty criminal Harry Lockhart takes refuge in an audition, during which his convincingly on-the-edge performance secures him a trip to Hollywood and a shot at a role as a private detective in a big movie. At the birthday party thrown for heiress Veronica Dexter by her father Harlan to celebrate their recent reconciliation after a legal dispute, Harry meets his long-lost childhood friend Harmony Faith Lane, now a struggling actress.
To research his role, Harry goes out on a video-surveillance job with real-life private eye Perry Van Shrike, and sees a woman's body being dumped in a lake. After Harry and Perry are spotted by the killers, Mr Frying Pan and Mr Fire, the corpse turns up in Harry's hotel room, and he and Perry have to dispose of it. The dead woman later turns out to be Veronica Dexter.
Meanwhile, Harmony, mistaking Harry for a real detective, hires him to investigate the suicide of her little sister. Mr Frying Pan and Mr Fire set an ambush for Perry in LA's MacArthur Park, but Harmony saves him. Mr Frying Pan is shot dead in an ensuing shoot-out, while the previously non-violent Harry kills Mr Fire after seeing him murder a female accomplice. With the killers dead, Perry wants rid of the Veronica Dexter case, until Harry works out that Harlan Dexter was keeping the real Veronica in a private clinic while a double appeared in public to make it look as if the couple were ending their lawsuit (the double was the female accomplice killed by Mr Fire). Visiting the clinic, Harry and Perry are captured by Dexter, who is about to have the real Veronica's corpse cremated, thus destroying the evidence. Harry and Perry escape while Harmony tries to steal the corpse. In a shoot-out on the freeway, Perry is apparently shot dead, forcing Harry to take action to save Harmony. He kills Dexter and his goons.
Perry, in fact, survives and, a year later, takes Harry on as his partner.
Review
Though he made his name writing formula action movies (Lethal Weapon, 1987, The Last Boy Scout, 1991, The Long Kiss Goodnight, 1996) for hack directors (Richard Donner, Tony Scott, Renny Harlin), Shane Black has always produced scripts with a distinctive flavour. Once the hottest screenwriter in Hollywood, famed for his massive pay cheques, his star has waned since the infamous flop of The Long Kiss Goodnight; the last film he scripted, A.W.O.L. (1999), was barely even released. Kiss Kiss Bang Bang marks not only his comeback as a writer, but also his debut as director. In many ways, it's a compendium of existing Black-isms: a central buddy relationship, ingeniously foul-mouthed wisecracks, scuzzy low-life humour, sadistic torture/interrogation scenes, and preposterous action climaxes. Having used up three permutations of the black-and-white duo in his three best-known films (white cop/black cop; white private eye/black athlete; white CIA assassin turned housewife/black private eye), Kiss Kiss Bang Bang tries something different, teaming Robert Downey Jr's Harry Lockhart, a petty criminal turned actor, with Val Kilmer's Perry Van Shrike, a gay private eye turned Hollywood studio adviser. As always, it's the laugh-a-minute repartee of this odd couple that drives the movie far more than the ridiculously overly complicated plot, of which this review's accompanying summary barely scrapes the surface.
Directing his own script with a budget of $15 million - small change for producer Joel Silver (Lethal Weapon, The Matrix) - Black has unprecedented freedom to make the movie he wants to make. Instead of A-list stars throwing their weight around, he has the laid-back central trio of Downey, Kilmer and newcomer Michelle Monaghan, whose relaxed interplay is the film's main attraction. And he can take more risks, whether with Perry's homosexuality (surely a first for a leading man in a Silver production) or the bitter satirical asides and self-referential gags that pepper the script.
But though Black has said this is the first of his screenplays to reach the screen without studio interference, for all its laughs the finished product does not seem in any way more personal, mature or coherent. (And for my money, The Long Kiss Goodnight was funnier.) On this evidence, he's a confident director of actors, but his main talent still seems to be as a writer of jokes and set-pieces. (Harry's unexpected audition, when he blunders into a casting session while on the run from the police, is a particular gem.) Left to run riot, Black's mannerisms risk descending into self-indulgent clever-cleverness. After the Sunset Blvd. opening, in which Downey's jaded narrator is filmed from beneath the surface of a swimming pool, the homages come thick and fast: chapter headings are borrowed from Raymond Chandler novels, the plot is lifted (with credit) from a pulp 1941 thriller by Brett Halliday, while the characters make constant reference to a fictional fictional (sic) detective named 'Jonny Gossamer'. Despite its scurrilous, up-to-the-minute in-jokes about Drew Barrymore and Colin Farrell, the film seems doubly old-fashioned at times: like a 1980s pastiche of a 1940s thriller, complete with a big-band score and animated credits that seem to have strayed in from the 1960s.
Fully aware of the kind of movie they're in, Black's characters comment cutely on the way the plot unfolds ("How about it film-goer?" asks Downey's voiceover. "Have you solved the mystery?"). Black tried this sort of self-referential games-playing before in Last Action Hero (1993), an expensive flop the press notes omit from his biography; but a decade on, after the Scream franchise has done it to death, it seems overworked, tacked on for the sake of a few quick laughs. The same is true of Perry's sexuality - a gag rather than a true character trait. While Kilmer revels in showing off his long-dormant talent for suave comedy, there's not a boyfriend in sight, and Perry only ever kisses or flirts to scare men off and stop them coming any closer (he keeps a tiny pistol concealed in his crotch, where straight men fear to frisk). The epilogue may show Harry and Perry together one year later, with no sign of Harry's alleged love interest Harmony. But the irony seems unintended, testament to Black's boy's-own view of buddydom triumphant rather than any more subversive agenda. The two men may now be partners, but strictly in the private-detective sense.
Credits
Director

Shane Black

Produced by

Joel Silver

Screenplay/Screen Story

Shane Black
Based in part upon the novel Bodies Are Where You Find Them by Brett Halliday

Director of Photography

Michael Barrett

Edited by

Jim Page

Production Designer

Aaron Osborne

Music/Score Produced by/ Orchestrations

John Ottman

With

Robert Downey Jr,
Val Kilmer
Michelle Monaghan
Corbin Bernsen

Certificate 15 102m 36s