Lower City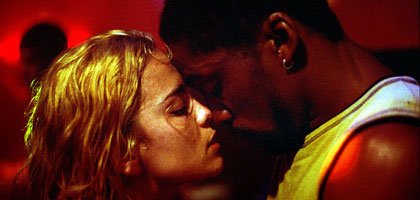 Synopsis
Our synopses give away the plot in full, including surprise twists.
Bahia, Brazil, the present. Best friends Deco (Lázaro Ramos) and Naldinho (Wagner Moura) own a boat and make their living ferrying cargo up and down Brazil's north-eastern coast. They offer Karinna (Lázaro Ramos), a young girl they meet by chance, a lift to the state capital Salvador in exchange for sex. On the way there, Naldinho gets into a brawl at a cock fight and is knifed in the stomach. Deco savagely attacks the aggressor. The three escape to Salvador.
Deco recovers from his injury, and Karinna starts working as a stripper and prostitute. With little cargo work on offer, Deco turns to boxing and Naldinho robs a pharmacy. Karinna alternates between the two men, who become jealous of each other. Eventually, she falls pregnant. She tells Naldinho and they set up home together. A female colleague offers to give Karinna drugs to abort the child and the two women plan to move to the Amazon together. In a jealous rage, Naldinho and Deco fight. Karinna tenderly washes the wounds of both of them.
Review
Flickering flames and strumming guitars play over the opening credits of Lower City, a sure sign of the fevered passions that will be unleashed over the next 97 minutes. And with the first shot of bottle-blonde Karinna (played by Sonia Braga's niece Alice Braga) making up in front of a cracked mirror, the stage is set for a high-octane drama from the same school of Latin American crowd pleasers as Amores perros and The City of God (the latter of which also featured the younger Braga). The jerky hand-held camera, low lighting and saturated colours are highly reminiscent of both these earlier films. And it comes as no surprise that the accomplished male leads are veterans of Hector Babenco's stylish prison epic Carandiru. Toss producer Walter Salles into the mix, and this is a project with a strong track record.
But first-time feature director Sérgio Machado brings much that is new to the screen. Like his actors, he is a native of Bahia. The African-influenced state is far from Rio and São Paolo, the metropolises that have dominated the recent boomlet of Brazilian films seen in the UK. The waterfront location of Lower City, with its bobbing boats, crowded streets and buzzing markets, is a visual delight; the twitchily mobile camera clearly revels in the rich texture of peeling walls and sweaty skin. The leads, intensively coached before shooting started, are equally attractive. Lázaro Ramos' boxer Deco and Wagner Moura's more extrovert robber Naldinho brood and posture to perfection; while Braga's pole-dancing prostitute looks sweet and vulnerable even in blue eye shadow and body glitter. ( Bahia's Association of Sex Workers, which is thanked in the final credits, may well have helped Lower City move beyond stereotypes here.)
As co-writer as well as sole director, Machado picks up the pace through the course of the film. He strings together vivid set-pieces one after the other: a deafening, blurry cock fight (echoing Amores perros' dog fights); a gruelling boxing match; and a climactic struggle between the love-rival male leads.
And Machado is generous to his working-class characters. When Karinna appears to go into a cocaine-fuelled fit, it is just a scam to extract money from a clueless john and she is left none the worse for wear. When Naldinho robs a pharmacy, the only harm that results is that the shop assistant pees his pants.
This confirms Machado's vision of a film that, in spite of its seductive look, is driven by character not action. Rarely for Latin American cinema, the focus is not on social conditions but on human emotions. Machado even claims that his threesome could have been born in Norway and worked in a supermarket. It seems unlikely, however, that Nordic shelf-stackers would have the enviable sexual potency depicted here. Whether Karinna is making love with Deco or Naldinho in a boat, a brothel or an alleyway, the frequent zipless (and unprotected) fucks go from nought to ecstasy in ten seconds.
More intriguing is the hint that the two men might be more interested in each other than in the girl they both seek so desperately. Deco caresses the manly chest of his friend before his hand moves on to Karinna's pert breasts. And when the boys are briefly reconciled after quarrelling over Karinna, Naldinho insists on giving his mate a rough kiss. But in spite of teasing us to the limit (Karinna dances in a disco between the two hot men), Machado chickens out: there will be no threesome between the lovers, let alone unsublimated male on male action.
So Lower City, which claims to be based on "how people get horny, pissed, have orgasms", is less transgressive than it thinks. Machado says the people of Bahia live only for the moment, but it seems likely that each of the two guys would prefer to settle down in coupled bliss with the girl. The plot is thus caught in a vice with no real development possible, as the two men alternate between the poles of ecstatic fulfilment and morbid jealousy. It is symptomatic that so many plot strands (Karinna's pregnancy, Naldinho's conflict with his crime boss, Deco's argument with his boxing manager) go unresolved at the film's end. And the final battle between the two friends reveals that classic macho jealousy is still more than a match for homo-social bonding. Lower City's script, partly improvised during rehearsal, is sometimes banal ("you're my main man") or sabotaged by heavy-handed subtitles ("that's phat, bro"). But, like its young stars, the film remains a likeable and accomplished addition to the Latin American new wave.
Credits
Director

Sérgio Machado

Screenplay

Sérgio Machado
Karim Aïnouz

With the collaboration of

Adriana Rattes
Gil Vicente Tavares

Director of Photography

Toca Seabra

Editor

Isabela Monteiro de Castro

Art Director

Marcos Pedroso

Music

Carlinhos Brown
Beto Villares

With

Wagner Moura
Lázaro Ramos
Alice Braga
José Dumont

Certificate 18 97m 38s