Boys Don't Cry
USA 1999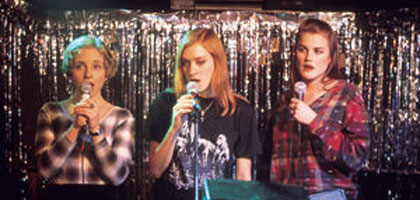 Reviewed by Xan Brooks
Synopsis
Our synopses give away the plot in full, including surprise twists.
The US Midwest, the early 90s. Teena Brandon, a petty thief from Lincoln, Nebraska, cuts her hair, binds her breasts and reinvents herself as a boy named Brandon Teena. Alighting in the depressed Nebraskan township of Falls City, Brandon befriends young single-mother Candace and her dropout buddies: ex-cons John and Tom and vixenish teenager Lana. John lives at the home of Lana's mother and is fiercely protective of Lana, who is herself attracted to Brandon. Lana and Brandon begin a relationship.
However, when Brandon's warrant sheet catches up with him, the authorities realise he is actually a girl and place him in the women's cell. Brandon tells Lana he is a hermaphrodite and she arranges his bail. Back at Lana's house, a disgusted John and Tom strip Brandon naked to prove he is actually a girl. Later that night, John and Tom drive Brandon to a remote part of the country where they rape and beat him. Brandon presses charges and hides out at Candace's home where he plans to escape Falls City with Lana. Informed of his whereabouts by Lana's mother, John and Tom drive over and kill Brandon and Candace. End credits reveal they are both serving time for murder. Lana left town but later returned to Falls City.
Review
Fledgling film-maker Kimberly Peirce first learned of the murder of Teena Brandon from a 1994 article in that oracle of New York hipness, the Village Voice. She developed it as a feature in tandem with quintessential East Coast indie-producer Christine Vachon, of Safe, Kids and Happiness fame. As a result, this glue-fume drama of disaffected American youth boasts an exotic, mongrel pedigree. Just as the charismatic, shape-shifting Brandon Teena arrives in Falls City, Nebraska, from "someplace beautiful", so Boys Don't Cry frames its big-sky, flat-land backdrop with a decidedly East Coast sensibility. Peirce's film casts Manhattan icon Chloë Sevigny as a small-town factory girl and filters its true-crime material through the prism of New Queer Cinema. A missive from the American Midwest, it is, paradoxically, very New York, very Village Voice.
Strange to note, then, that Boys Don't Cry's gender-bending concerns fit with a surprising snugness into its stolid heartland setting. After all, the American West has always trumpeted itself as a place of renewal and reinvention, a land where pioneers could throw off the shackles of the past and live the life they always dreamed of. And what is Teena Brandon if not a contemporary update of the 19th-century frontiersman, a sexual pioneer who sheds her old skin in Lincoln to become a plaid-shirted lad about town in Falls City?
Peirce elects to keep her protagonist's unhappy Lincoln experiences abbreviated, but the implication is clear. Teena Brandon is more successful as a man than she was as a woman. Rebranded as Brandon Teena, this lonesome petty thief becomes an admired confidant of the local toughs and an object of desire for both single-mum Candace and town temptress Lana. By playing Brandon this way, Peirce effectively turns the whole macho West on its Stetsoned head. In contrast with the self-possessed Candace and Lana, the film's two main male characters, John and Tom, are an insecure, emasculated ex-con and a subordinated self-abuser respectively. Both find themselves decisively 'out-boyed' by the handsome, sexually adept newcomer Brandon Teena who knows exactly how to please women, both carnally and emotionally.
Not that Boys Don't Cry is ever so obvious, so explicit in its gender politics. On the contrary, Peirce's picture is marked throughout by a lovely, lyrical ambiguity. Despite the sheer gut-churning horror of its central rape scene, the perpetrators are never demonised as brutish monsters, and while Peirce stacks the cards substantially in Brandon's favour (the director has admitted she "fell in love" with the character during the making of the film), Hilary Swank's wary, edgy interpretation saves him from becoming a simple martyr. Most impressive of all is Sevigny's perfectly weighted tour de force as Lana. For a start, the actress hits the right note physically: her heavy-jawed beauty contrasts nicely with Swank's more refined, aquiline looks and further blurs the tale's gender roles.
More importantly, Sevigny manages to conjure Lana into an astonishingly subtle and unreadable creature. We peg her for a dupe - a naive white-trash vixen who's in for a big surprise - only to realise that she is actually two steps ahead of everyone else. The enigmatic Brandon offers Lana a way out of her rut and the possibility of a real and lasting love. To quote the title of a Flannery O'Connor story, this girl understands a good man is hard to find. (Boys Don't Cry's atmosphere of surrealism and inarticulacy recalls O'Connor's similarly strange and depressed fictional worlds.)
Lana knows what she knows, trusts in her lover and is reluctant to dig any deeper. In the end, the relationship between Brandon and Lana turns out to be the crowning glory of Boys Don't Cry. On a stylistic level, of course, this poetic slice of trailer-park blues also takes its lead from the true-crime prose of In Cold Blood and The Executioner's Song or Terrence Malick's lovers-on-the-run classic Badlands (1973, similarly based on a true story). But in its themes, implications, and its haunting emotional resonance, Peirce's film stands alone. Boys Don't Cry is a crime story, a queer Western, a boy-meets-girl romance. It runs throughout on an almost unbearable sexual tension. In doing so, it shows the strange - and yes, beautiful - ways that love can go.
Credits
Director

Kimberly Peirce

Producers

Jeff Sharp
John Hart
Eva Kolodner
Christine Vachon

Screenplay

Kimberly Peirce
Andy Bienen

Director of Photography

Jim Denault

Editors

Lee Percy
Tracy Granger

Production Designer

Michael Shaw

Music

Nathan Larson
©Twentieth Century Fox Film Corporation

Production Companies

Fox Searchlight Pictures and The Independent Film Channel Productions
present
a Killer Films/Hart-Sharp Entertainment production
Developed with the assistance of the Sundance Institute

Executive Producers

Pamela Koffler
Jonathan Sehring
Caroline Kaplan
John Sloss

Co-producer

Morton Swinsky

Line Producers

Jill Footlick
NY Additional Photography:
Jon Marcus

Associate Producer

Bradford Simpson

Executives in Charge of Production

Killer Films:
Katie Roumel
Hart-Sharp:
Rachel Peters

Production Office Co-ordinators

Dee Evans
NY Additional Photography:
Rachel Dawson

Production Manager

Jamie H. Zelermyer

Unit Production Manager

NY Additional Photography:
Jon Marcus

Location Managers

John Cadenhead
Sherri Lennon
Additional:
Andrea Friedman

Assistant Directors

Jeanine Rohn
Jim LaClair
Alfie Kiernan
W. Alex Korp
NY Additional Photography:
Jay Piro

Script Supervisors

Pamela Richardson
Dallas 2nd Unit:
Joni Linton
NY Additional Photography:
George Camarda

Casting

Billy Hopkins
Suzanne Smith
Kerry Barden
Jennifer McNamara
Local Director:
Amy Grappell

Additional Dialogue

Laurie Weeks

Directors of Photography

Time Lapse Photography:
John Pirozzi
NY Additional Photography:
Joe Arcidiacono

Special Effects

Jack Bennett

Associate Editor

Michelle Harrison

Art Directors

Shawn Carroll
NY Additional Photography:
Amy Silver
Andrea Stanley

Costume Designer

Victoria Farrell

Wardrobe Supervisors

Michelle Elaine Teague
NY Additional Photography:
Sarah Beers

Key Make-up/Hair/Effects

Renée Lecuyer

Make-up Artist

Kalen Hoyle

Key Make-up Artist

NY Additional Photography:
Jane Choi

Key Hair/Make-up Stylist

NY Additional Photography:
Kerrie Plant

Titles

Scarlet Letters
Ben Schoen

Optical Effects

Custom Film Effects
Mark Dornfeld

Music Supervisor

Randall Poster

Executive Music Producer

Jim Dunbar

Music Editor

Allan Zaleski

Soundtrack

"Just What I Needed" by Ric Ocasek, performed by The Cars; "And It's All Right" by Andrew Shernoff, performed by The Dictators; "Space" by/performed by Butthole Surfers; "Bluest Eyes in Texas" by Van Stephenson, Dave Robbins, Tim Dubois, performed by (1) Nathan Larson, Nina Persson, (2) Chloë Sevigny; "A New Shade of Blue" by Bobby Fuller, Mary Stone Huffman, performed by Bobby Fuller; "That Lady Part 1" by Ernie Isley, Marvin Isley, Ronald Isley, Rudolph Isley, O'Kelley Isley, Chris Jasper, performed by The Isley Brothers; "Who Do You Love" by Elias McDaniel, performed by Quicksilver Messenger Service; "Haunt" by/performed by Roky Erickson; "Fan Blades of Love" by/performed by Ed Hall; "Burning House of Love" by Exene Cervenka, John Doe, performed by X; "Cod'ine" by Buffy Sainte Marie, performed by The Charlatans; "She's a Diamond" by David Robach, Kendra Smith, performed by Opal; "Tuesday's Gone" by Allen Collins, Ronnie Van Zant, performed by Lynyrd Skynyrd; "Rock Your Baby" by Harry W. Casey, Richard Finch, performed by George McCrae; "Boys Don't Cry" by Robert Smith, Laurence Tolhurst, Michael Dempsey, performed by Nathan Larson; "Why Can't We Live Together" by/performed by Timmy Thomas

Sound Mixers

Production:
Mack Melson
NY Additional Photography:
William Kozy

Re-recording Mixer

Robert Fernandez

Supervising Sound Editor

Lewis Goldstein

Dialogue Editor

Jac Rubenstein

Sound Effects Editors

Glenfield Payne
Sean Garnhart

ADR

Editors:
Gina Alfano
Hal Levinsohn

Foley

Supervisor:
Jennifer Ralston
Artist:
Jay Peck
Engineer:
Matthew Haasch

Stunt Co-ordinators

Russell Towery
Ben Loggins

Cast

Hilary Swank
Brandon Teena

Chloë Sevigny

Lana Tisdal

Peter Sarsgaard

John Lotter

Brendan Sexton III

Tom Nissen

Alison Folland

Kate

Alicia Goranson

Candace

Matt McGrath

Lonny

Rob Campbell

Brian

Jeannetta Arnette

Lana's mom

Cheyenne Rushing

Nicole

Robert Prentiss

trucker

Josh Ridgway

Kwik Stop cashier

Craig Erickson

trucker in Kwik Stop

Stephanie Sechrist

April

Jerry Haynes

judge

Lou Perryman

sheriff

Lisa Wilson

Pam

Jackson Kane

Sam Phillips

Joseph Gibson

Tom

Michael Tripp

nerdy teen

Shana McClendon

girl in car

Libby Villari

nurse

Paige Carl Griggs

Dave, deputy

Gail Cronauer

clerk

Certificate

18

Distributor

20th Century Fox (UK)

10,656 feet

118 minutes 24 seconds

Dolby digital

In Colour
Prints by
DeLuxe