Holy Smoke
USA 1999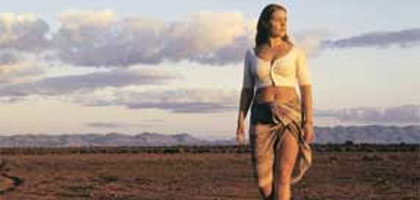 Reviewed by Stella Bruzzi
Synopsis
Our synopses give away the plot in full, including surprise twists.
Delhi, India. Young Australian Ruth Barron joins a cult, leaving her friend Prue to return to Sydney alone. Prue tells Ruth's horrified family of her friend's conversion. To lure her back, Ruth's mother Miriam travels to Delhi and pretends Ruth's father Gilbert is dying. They fly home.
P.J. Waters, an American "cult exiter", is hired by Ruth's family. He begins his three-day deprogramming of Ruth in a shack in the outback. On the evening of day two, Ruth starts to break. P.J. shows the family a video about cults and brainwashing. Later, Ruth and P.J. have sex. On day three, Ruth joins her gay brother and mates at the local pub, where P.J. saves her from being gang raped. Carol - P.J.'s partner - arrives unexpectedly. Ruth and P.J., who is now besotted with Ruth, argue about religion among other things. She dresses him up in women's clothes. The family arrive. P.J. locks Ruth in the boot of his car so she won't reveal what's happened between them, but her sister-in-law Yvonne lets her out. Ruth runs off, chased by a hallucinating P.J., who offers to return to the cult with her. In the bed of the family truck, Ruth and P.J. embrace. One year later. Ruth is living in India, and P.J. and Carol have twins. P.J. and Ruth continue to correspond.
Review
Holy Smoke is an exquisite and unexpected film. Frank Auerbach once remarked that fellow British painter Michael Andrews was a great artist because he only ever produced masterpieces; a similar tribute could almost be paid to Jane Campion, despite the odd blip, such as The Portrait of a Lady, a film weighed down by the expectations generated by The Piano. Paradoxically, despite the echoes in Holy Smoke of earlier work such as Sweetie and Passionless Moments, the latest film is mature and finely polished. Both in style and subject, Campion has abandoned the earnest precision of the crinoline genre and has resuscitated the light, witty touch she displayed in her films set largely in modern times. For all its stylistic richness, The Piano lacked spontaneity; Holy Smoke - the story of recent cult convert Ruth Barron's confrontation and eventual relationship with "cult exiter" P.J. Waters - is vibrant, alive, and comes more from the heart than the head.
Symptomatic of this shift towards imaginative exuberance is Campion's abandonment of Stuart Dryburgh's lush but convoluted camerawork (his swooping, vertiginous helicopter shot over the New Zealand cliffs in The Piano is now an oft-imitated cliché). Shot by Antipodean DP Dion Beebe (Crush), Holy Smoke's style is more playful. Its mise en scène juxtaposes mundane detail with pyrotechnic flights of fancy (for instance, the garish, hypnotic Pierre et Gillesesque sequence marking Ruth's conversion, or P.J.'s hazy, love-fuelled vision of Ruth as a six-armed goddess). In both The Piano and The Portrait of a Lady such extravagances jarred (remember the 'talking' lima beans in Portrait?); here they're tropes integral to the narrative and keys to understanding Ruth and P.J.
Holy Smoke is ostensibly a film about cults and cultism, in much the same way as Sweetie and Angel at My Table were about mental illness. But as with those films, what makes Holy Smoke so joyous (as if Campion herself is finding the means to express her liberation from the costume film's stays) is the fact that the subject matter never constricts the film. It's only one element in a much richer narrative centring on the ambiguities of characters and relationships, Campion's most consistent preoccupation.
On paper, the love affair between cult member Ruth and her deprogrammer P.J. sounds like a cliché. But in Campion's hands their liaison becomes emblematic of how power trickles back and forth between lovers. By degrees, P.J. and Ruth's roles are reversed as she becomes his guru. Holy Smoke doesn't judge their mutual dependence: Ruth's susceptibility is an imaginative need, a craving for a life freed from banality, hence the preponderance of subjective fantasy sequences. At first P.J. is characterised by a lack of fantasy, but by the end he has discovered a comparable desire for imaginative liberation as he permits her to dress him in a provocative red dress, to daub his lips with matching lipstick and to transform his life. Existence is a chain; we learn from and mimic each other.
In this way, cultism may be the catalyst for the action in Holy Smoke, but it is essentially a film about the tenuousness of most people's sense of self - our decentredness, our malleability, our vulnerability in the face of our own desires and the manipulative skills of others. Everyone in the film, not just Ruth, is impressionable (there's her mother who returns to India with her at the end; there's her sister-in-law who, when she isn't imagining sex with film stars, falls for P.J. in much the same irrational way as Ruth did), and they all, in the chaos that pervades the whole film, are attracted to each other in a desperate attempt to flee from themselves.
Certainty and identity are learned, not innate. In delivering this idea, Holy Smoke is Campion's most superficial film, brimming with visual trickery, sudden changes of direction, unpredictable characters. It is ultimately about reconciling imagination with reality. Just as the film marries fantasy and realism, so the characters, having undergone their own tortured and extreme awakenings, become reconciled to compromise. Across continents Ruth and P.J. become virtual lovers, a state of being, the film suggests, we're all in. Holy Smoke can be read as a text of reconciliation: between realism and surrealism, earnestness and irreverence, oneself and the world. It is an immense, emotional, engrossing film that nevertheless wears its brilliance casually.
Credits
Director

Jane Campion

Screenplay

Anna Campion
Jane Campion

Director of Photography

Dion Beebe

Editor

Veronika Jenet

Production Designer

Janet Patterson

Music

Angelo Badalamenti

©Miramax Film Corp

Production Company

Miramax Films presents
a Jan Chapman production

Executive Producers

Bob Weinstein
Harvey Weinstein
Julie Goldstein

Producer

Jan Chapman

Line Producer

Cathy Bishop

Associate Producer

Mark Turnbull

Production Associate

Indian Crew:
Antonia Barnard

Production Co-ordinators

Clare Shervington
Indian Crew:
Rudabah Nanporia

2nd Unit Co-ordinator

Daniel Read

Unit Managers

Simon Lucas
Wil Milne
Indian Crew:
Pravesh Sahni

Location Manager

Maude Heath

Locations Manager

Indian Crew:
Sanjay Kumar

Location Co-ordinator

Indian Crew:
Rajeev Mehra

Base Liaison

Sally Chesher

Pushkar Liaison

Indian Crew:
Dilip Kumar

Post-production Supervisor

Catherine Bishop

2nd Unit Director

Jackie Farkas

Assistant Directors

Mark Turnbull
Jane Griffin
Marty Hallman
Julian Ryan
2nd Unit:
Simon Warnock
Indian Crew:
Shajahan
Hasan Kutty
Kudleep Khangarot

Continuity

Lynn-Maree Danzey

Casting

Alison Barrett Casting
US:
Billy Hopkins
Suzanne Smith
Kerry Barden
Indian Crew:
Uma Da Cunha
US Associates:
Mark Bennett
Jennifer McNamara

2nd Unit Director of Photography

Jackie Farkas

Camera Operator

Dion Beebe

Visual Effects

Animal Logic
Visual Effects Supervisor:
Andy Brown
Executive Producer:
Zareh Nalbandian
Producer:
Fiona Crawford
Lead Compositor:
Kirsty Millar

Compositors:
Charlie Armstrong
Robin Cave
Leonie Willis
3D Animator:
Aiden Sarsfield
Technical Support:
Naomi Hatchman
Aaron Barclay

Special Effects

Studio Kite
Steve Rosewell
Warren Beaton
Marcus Erazmus

Art Directors

Tony Campbell
On-set:
Chris Elliott
Indian Crew:
Nitin Desai

Set Decorators

Rebecca Cohen
Lisa Thompson

Draftspeople

Godric Cole
Beth Pickworth

Indian Crew Draftsman

David Soures

Scenic Artist

Matt Connors

Costume Designers

Janet Patterson
Associate:
Angus Strathie

Costume Supervisor

Paula Ryan

Hair/Make-up Supervisor

Noriko Watanabe

Make-up/Hair Artists

Noreen Wilkie
Kylie Marr

Additional Make-up/Hair

Margaret Aston

Title Design/Production

Animal Logic
Designer:
Andy Brown
Executive Producer:
Zareh Nalbandian
Producer:
Fiona Crawford
Compositor:
Kirsty Millar
R&D:
Chris Bone
3D Animator:
Brett Feeney

End Titles

Optical & Graphic

Opticals

SOS Digital
Richard Springett

Score Conductors/

Orchestrators
Angelo Badalamenti
Phil Marshall

Music Editor

Julie Pearce

Chief Engineer

Gary Chester

Music Consultant/

Researcher
Christine Woodruff

Music Consultant to Jane Campion

Andrew Kotatko

Soundtrack

"Holly Holy", "I Am ...I Said" performed by Neil Diamond; "Trust in Me" performed by Rani; "You Oughta Know" by Alanis Morissette, Glen Ballard, performed by Alanis Morissette; "Am I Ever Gonna See Your Face Again" performed by The Angels; "I Put a Spell on You" performed by The Angels; "I Saw Mommy Kissing Santa Claus" performed by Jimmy Boyd; "The Lord's Prayer" by A.H. Malotte; "Baby It's You" by Burt Bacharach, Mack David, Barney Williams, performed by The Shirelles; "Pucho Jara Puchho", "Jo Tumhe Chahe Us Ko" by Nadeem, Sameer, performed by Kumar Sanu, Alka Yagnik &chorus; "Gem Song" by Kishore performed by DJ Gem; "Indian Asram Music" by Shiva Vyas, performed by Shiva Vyas & company; "Primitive" by/performed by Annie Lennox; "Maya, Mayi Ma - The Celebration" by Angelo Badalamenti, Chloe Goodchild, arranged by Angelo Badalamenti, performed by Chloe Goodchild

Choreography

Tobin Saunders

Sound Design

Lee Smith

Sound Recording

Ben Osmo

Sound Mixer

Roger Savage

Production Dialogue Editor

Tim Jordan

Effects Editor

Peter Townend

ADR

Supervisor:
Karin Whittington
Editor:
Nicholas Grusovin

Foley

Artists:
Simon Hewittson
John Simpson

Religious Consultant

John Cleary

Adviser/Muse to the Director

Penny Allen

Stunt Co-ordinator

Lawrence Woodward

Animal Wrangler

Evanne Chesson

Cast

Kate Winslet
Ruth Barron

Harvey Keitel

Peter John 'P.J.' Waters

Pam Grier

Carol

Julie Hamilton

Miriam, mum

Tim Robertson

Gilbert, dad

Sophie Lee

Yvonne, Robert's wife

Daniel Wylie

Robbie

Paul Goddard

Tim

George Mangos

Yani

Kerry Walker

Puss

Leslie Dayman

Bill-Bill

Samantha Murray

Prue

Austen Tayshus

Stan

Simon Anderson

Fabio

Eve Martin

Mira Wright
Polly Wright
Lior Aizenberg
S. Samaran
Michelle Abel
Adina Kumar
Jeff Silverman
Andreas Wagner
Vandana Mohindra
devotees

Savrash

Saurabh Srinivasan
dancing boys

Dhritiman Chaterji

Chidaatma Baba

Genevieve Lemon

Rahi

Robert Joseph

Miriam's taxi driver

Valerie Thomas

Miriam's double

Arif

boy who runs with taxi

John Samaha

Chatiwall, Shiva's diner

Jane Edwards

Priya

Miranda Cleary

Priya's daughter

Tamsin Carroll

Jodie

T'mara Buckmaster

Zoe

Ante Novakovic

man with trolley

Diana Kotatko

Patricia Lemon
women with trolley

Ethan Coker

Toddy Barron

Ellie Burchell

Tiffany Barron

Morgan Watt

Luke Testo
William Mackay
David Franco
boyfriends

Eleanor Knox

Meryl

Angels

Doc Neeson
Rick Brewster
John Brewster
Jim Hilburn
Brent Eccles
band

Mark Gray

dope peddler

Cameron McAuliffe

Tim Rogers
seducers

Johannes 'Maddy' Brinkmann

Ruth's boyfriend

Eric Schussler

Joan Bodgen
Robert Lee
cult video reporters

Certificate

18

Distributor

Film Four Distributors

10,311 feet

114 minutes 35 seconds

Dolby digital

In Colour