I'm gonna make you love me
Film of the Month: Dreamgirls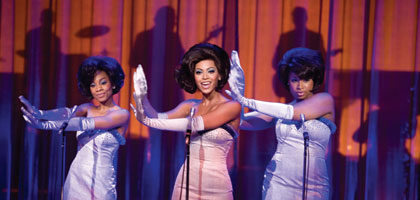 Linda Ruth Williams celebrates a starry retelling of the rise to fame of a 1960s black girl group in a musical that pumps new energy into the genre
Bill Condon's Dreamgirls reaches the UK on a wave of nods and awards that includes Golden Globe wins for newcomer Jennifer Hudson and the film itself, and a raft of Oscar nominations. A dazzling musical - in the traditional sense - packed with A-list African-American performers, directed by the screenwriter of Chicago and based on a Broadway show about one of the most loved moments of US pop history, it's destined to make a huge splash. Inspired by the rise of Motown in the 1960s and 1970s, Dreamgirls reimagines the story of Berry Gordy's grooming of the Supremes for crossover stardom. Here all is superlative: the Dreams, like the Supremes, achieve a more powerful global presence than any female performers before; the spectacles are - well - spectacular; the star vehicles are plentiful.
At the film's centre are Effie (Hudson), Deena (Beyoncé) and Lorrell (Tony Award-winner Anika Noni Rose), who start as a singing trio headed by the beltingly powerful Effie, before becoming backing singers to soulman Jimmy Early (Eddie Murphy). Groomed by Rainbow Records mogul Curtis Taylor Jr (Jamie Foxx), they achieve massive crossover appeal, fronted by Deena. Jimmy, a composite of Marvin Gaye and James Brown with a dash of Little Richard and a sprinkling of Jackie Wilson, begins his career singing hot gospel-inflected R&B, his performances climaxing in a mock faint in the manner of the Godfather of Soul's histrionics. But Jimmy's trouble is that his act is too 'black', appealing only to the "chitlin' circuit" of race-specific venues, record labels and radio stations. Even when he's made the crossover, he continues to shock white audiences with a style that's too sexualised. He is, however, the only one to address the political moment (fleshed out in troubling newsreel footage), with a recording that echoes Marvin Gaye's 'What's Going On'.
Curtis (who starts the film as a Cadillac salesman) is a charming Svengali, moulding the Dreams for white cabaret audiences by eviscerating their 'soul' and excising their autonomy. His motivation is the well-rehearsed idea that the history of black artistic achievement is also a history of white theft. A jaunty song about a Cadillac penned by Effie's brother C.C. and released by Jimmy quickly makes it to the mainstream - but only when rerecorded by an anodyne white trio called Dave and the Sweethearts. It's a funny and distressing vignette, and as Curtis points out, there's a famous precedent: the first person to record 'Hound Dog' was black Big Mama Thornton, not white Elvis.
Cue the formation of Rainbow Records, a name that poignantly suggests the dream of a racially inclusive industry and audience. But in the process of promoting its roster of black performers, Rainbow changes them, losing the edgy sassiness of C.C.'s songs and Effie's voice. Indeed Effie is too passionate a singer and too corpulent a physical presence to please crossover audiences, so Curtis replaces her with Deena, who has TV-friendly looks and a "lighter sound". Getting black acts into previously segregated locations also means they have to withstand heavy racism ("These are good people," says a stand-up comic introducing Jimmy and the girls. "They can sing, they can dance, they can even mop up afterwards").
Curtis, played by Foxx with clear-eyed steel, swiftly progresses to bigger markets and other choices, following his firing of Effie with a rejection of Jimmy's political album and the burial of Effie's solo record. Deena's mother confides in him that she never thought her daughter had much of a voice, to which Curtis replies: "Deena has something better than a voice - she has a quality." He even compares the invention of the Dreams to making "a great sundae".
However, Dreamgirls doesn't follow Curtis' example by diluting its own product. Though Beyoncé plays Deena, it's first-timer Jennifer Hudson who steals the show, and her character Effie whose story enables the film's moral conclusion. The segue from Effie's agonised protest solo, 'And I Am Telling You I'm Not Going', to the Dreams - minus Effie - in full-blown Caesar's Palace glamour mode reveals the film's ambivalence about Curtis' musical and emotional choices. This is not to say that the Dreams' staged set-pieces aren't entertaining, hilarious, and gorgeous too. But while Effie bears the cost, she is not excised from the audience's view: Dreamgirls gives us both an Aretha and a Diana.
This, then, is more of an ensemble piece than you might expect from the star billing of Foxx, Beyoncé and Murphy. No doubt the idea of playing a Diana Ross clone in a Hollywood vehicle was as attractive to Beyoncé as playing Billie Holiday in Lady Sings the Blues was to Ross herself. Yet Dreamgirls' fidelity to the story of the Supremes (in which Ross originally backed Florence Ballard before being promoted to front of stage) means that Beyoncé spends the first third of the film playing second-fiddle to a newcomer. Reportedly Dreamgirls initially stalled in pre-production when Whitney Houston wanted to sing both Deena andEffie's power-songs, and it's remarkable that a star as huge as Beyoncé risked being overshadowed, especially given Curtis' rationale for his promotion of her character Deena: "I chose you to sing lead because your voice has no personality, no depth. Except for what I put in it."
Up to this point Deena has accepted her passive position as modeller's clay, a tough call for a globally famous songwriting diva, even a relative newcomer to cinema (Beyoncé's film work to date has been limited to slight comic roles like Foxxy Cleopatra in Austin Powers 3: Goldmember). But Deena rebels and is rewarded with the anguished torchsong 'Listen', which sounds more noughties than 1970s, presumably all the better to hit the singles charts.
Still, it is Hudson's performance that won the Golden Globe and Oscar nomination. An American Idol finalist (though not the winner), she has followed a trajectory that's remarkably similar to Effie's: a singer who failed to get first place but lands a more meaningful prize second time around. Then again, Deena's story of promotion from the ranks to star billing also reflects Beyoncé's own emergence from Destiny's Child to solo superstardom. Perhaps this is just the age-old story of the chorus girl who gets her chance in the spotlight filtered through the tale of the rise of the first globally successful black corporation.
Audiences of a certain age will take pleasure in spotting the lookalike elements of the main characterisations. Deena's hairstyle goes through all the phases of Diana's, and Beyoncé has clearly studied Ross' characteristic head movements as if she were swotting for an exam in Motownology. Rainbow Records' stable of acts features some hilarious soul parodies - including the Family Funk and the Campbell Connection, a five-piece act headed by a squeaky-voiced Jacksonesque boy. Dreamgirls positively fizzes with the fun it's having with these icons and their funky interiors, bell-bottoms and expanding Afros.
But perhaps the greatest pleasure comes from its honesty as a musical. The production numbers trip a well-judged line between nostalgic parody and full-blown splendour: great spangly extravaganzas of glam and glory, fireworks and frocks. Meanwhile musical shifts from gospel to soul to proto-funk tell the story of the cultural changes of those turbulent times. Even more engaging are the operetta-style moments when characters break into song and serenade each other as they did in classic Hollywood. Dreamgirls is that rare movie - a must-see, talking-point film with immediate appeal to all audiences. And not an action sequence in sight.