NOZONE - The early life of Brian
DVD review: Murder à la Mod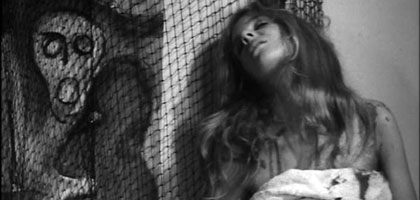 At last, says Tim Lucas, De Palma fans can find the director's first theatrical release on DVD
Brian De Palma/Larry Moyer; USA 1968/1963; Something Weird Video; Aspect Ratio 1.33:1; Features: 'An Eye for the Girls' (bonus feature excerpt)
Anyone attempting to chart Brian De Palma's development as a film director has long been thwarted by the unavailability of his earliest work. As luck would have it, the most easily found pieces of this puzzle - Greetings(1968) and The Wedding Party (1969) - look forward to the unsuccessful, comic side of De Palma exemplified by Get to Know Your Rabbit (1972), Wise Guys (1986) and The Bonfire of the Vanities (1990), while only the anarchistic and involuted aspects of Hi, Mom! (1970) offer shades of the sly, malicious prankster he would become. Last year, an important change in these affairs was facilitated by the Carlotta label's French DVD release of Brian De Palma Années 60, which collected the 1970 release Dionysus in '69 (documenting an orgiastic Greenwich Village stage production of Euripides' The Bacchantes) as well as two shorts, Woton's Wake (1962) and The Responsive Eye (1966), and a 30-minute documentary. Now, thanks to the wily specialists in orphaned exploitation cinema at Something Weird Video, an even more significant recovery has been made: Murder à la Mod, De Palma's second feature and first ever theatrical release.
The only feature ever distributed by the oddly named Aries Documentaries, Murder à la Mod seemingly vanished off the face of the Earth after playing at a single New York City theatre. Very likely only a single print was circulated, and it's presented here looking fresh from the lab. Better yet, it's unmistakably a De Palma film through and through - a very close relative of Sisters (1973), Dressed to Kill (1980) and Blow Out (1981) in particular, with subject-matter both suspenseful and recursive, revealing close affinities with the time-and-spatial play of Resnais' Last Year at Marienbad, Michael Powell's Peeping Tom, and the self-confessional cinephilia of the previous year's David Holzman's Diary.
An extended pre-credits sequence finds various young women (including Sisters' Jennifer Salt) caught in the cross hairs of a movie camera, being auditioned by their boyfriend (the offscreen voice is De Palma's own) for a skin flick he's got to make to pay for his divorce. Each woman seems to think she's the only one in the photographer's life, and the final session segues from a pop explosion of Lesteresque effervescence to on-camera murder. The ensuing story finds the fashionable Tracy (Andra Akers), back from Europe, catching up with her less worldly friend Karen (Margo Norton), who announces her engagement to Chris Jordan (Jared Martin), a handsome photographer for whom she's posed nude but who strangely hasn't touched her or applied pre-marital sexual pressure. When next they meet, Chris tries to break his engagement to Karen, admitting that his divorce is not yet final and that he's had to take a job shooting a smut movie to get the $10,000 necessary to dissolve his marriage. (The film is masterful at inserting details that must be easily recalled to mind later.) The startling murder-by-icepick of a key character (very Sisters), filmed in high contrast, puts into effect a cinematic mechanism - a big, loudly ticking one like the car bomb in the director's 1974 film Phantom of the Paradise - that continually turns the chronology of events backwards and forwards in an effort to elucidate the murder and its motivations from multiple angles and through multiple eyes, including those of an acid-giggly director played by frequent De Palma collaborator William Finley (who also contributed the psychedelic theme song). It would not be much of an exaggeration to call Murder à la Mod the first fully realised De Palma film; a crude model certainly, but with an intricacy of design to rival Snake Eyes (1998) or Femme Fatale (2002). It's also precociously recursive: Phantom fans will be intrigued to spot De Palma's own name on the clapboard in a film-within-the-film.
The extras in this 'special edition' are two bonus features. The first is Larry Moyer's The Moving Finger, another heretofore lost independent curiosity filmed in New York City, in which a Beat coffee house run by resident poet Lionel Stander becomes a hideout for wounded bank robber Mike Dana. A young Barry Newman is prominent among the countercultural coveters of Dana's stolen $90,000, and there's an impressive brief appearance by the legendary New York street musician-poet Moondog.
The tin can tied to the end is An Eye for the Girls, a condensation of a feature consisting of stock footage and original still photographs, credited almost solely to one Harold Klein. At 50 minutes, it's quite long enough, thank you, but its non-story has sufficient thematic ties to Murder à la Mod to show that it wasn't included thoughtlessly.