The Singer
France/Belgium 2006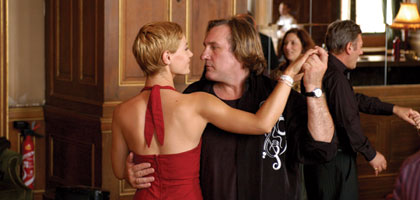 Reviewed by Ginette Vincendeau
Synopsis
Our synopses give away the plot in full, including surprise twists.
Central France, the present. Alain Moreau tours the discotheques, restaurants and casinos of the Clermont-Ferrand area, singing sentimental ballads and pop standards from the 60s and 70s. He is managed by Michèle, his ex-wife, and her partner Daniel. He falls in love with Marion, a young estate agent; they sleep together on the first night, but she is more reticent the next morning. We then follow Alain through a succession of gigs and in his courtship of Marion, a single mother unsuccessfully trying to bond with her young son from a former relationship. Under the pretext of looking for a house, Alain spends a lot of time with Marion and their relationship develops into a closer, though mostly platonic one, to the extent that Michèle becomes jealous. Marion has a brief affair with Bruno, her boss; Alain sleeps with Michèle. Alain has to take a break from singing due to a throat infection. Later he is offered a slot as the opening act to famous pop singer Christophe before a huge audience, but he gets cold feet and flees before the start. He and Marion meet in a café where they talk about their separate futures. In the last shot, she returns and they embrace.
Review
Gérard Depardieu sings! Or perhaps more to the point, Gérard Depardieu acts! The giant of the French star-system, the man who has made more than 170 films, the star of Le Dernier Métro and Cyrano de Bergerac, had lately become known primarily for his dodgy, though lucrative, business ventures, his speeding offences and his cameos in blockbusters like La Vie en rose.
The Singer, by young director Xavier Giannoli, gives Depardieu a wonderful opportunity to display his colossal talent (and physique). He plays Alain Moreau, an ageing provincial crooner who, with his band, regales sedate middle-aged couples and OAPs in and around Clermont-Ferrand in central France - a beautiful, but not especially glamorous area. His repertoire mixes French standards of the 60s and 70s, sentimental Italian songs and a rather heartfelt French version of 'Save the Last Dance for Me': all hugely pleasurable to a French audience although unlikely to alter the British view of French pop. Alain manages his business in a relaxed ménage à trois with his ex, Michèle, and her partner Daniel. Into this cosy scene enters Marion, an attractive young estate agent played by rising star Cécile de France, whose banter barely hides her fragility, largely caused by her inability to connect with her young son from a broken relationship. One nice touch: Alain and Marion mark their first encounter with a one-night stand, but spend the rest of the film in romantically hesitant courtship until the expected, yet ambivalent, reunion at the end - having parted, they embrace, but in the distance, behind a glass door.
Among other difficulties, The Singer has to negotiate between the devil of caricaturing a provincial has-been and the deep blue sea of becoming a narcissistic Depardieu fest. Most of the time it avoids both. Giannoli researched the musical scene recreated by the film and Alain Moreau is based on a real singer - Alain Chanone - from the area. Chanone's band backs Depardieu who does a surprisingly good job as a chanteur. The semi-documentary impulse (Alain's home in the film is Chanone's) is what saves the film from caricature. As we go from one deeply unfashionable location to another, from low-key disco to spa to stuffy restaurant, there is a sense of melancholy, but also of real enjoyment which comes from both the on-screen audience and the unsentimental exuberance of Depardieu's performance.
Also crowd-pleasing is the fact that a gorgeous young woman would be attracted to a mountainous provincial singer pushing 60 (that familiar father-daughter French narrative), rather than the younger and more attractive Bruno (Mathieu Amalric). It is a credit to Depardieu and de France's acting, and to Giannoli's directing, that they make the chemistry between the two believable. Yet her character is never fully fleshed out - we don't really understand why she has such a bad relationship with her son. The film in its first half builds up parallel scenes designed to show us both Moreau and Marion as lonely souls, but the balance is uneven. And for good reason, because this is obviously Depardieu's film - and not just because it was written with him in mind.
Just when we thought the actor had squandered his talent in extracurricular activities and token appearances, along comes a part which sums up all the strands of Depardieu's star persona, scattered over so many films. His embodiment of Moreau is a superlative condensation of the vulnerable machismo he developed in films like Loulou, Police, and Cyrano de Bergerac, with the comic persona that launched so many French comedies over the last 30 years, from Les Valseuses to Le Placard. Difficult to think of another actor who could be both hilarious and touching, yet not ridiculous, when having his hair streaked, or who can make fun of his own physique with such brio ("I am the Massif Central," says Alain, a reference to the area's mountain range). The real feat Depardieu manages in The Singer is to make us believe in a character content with being second fiddle, when the film is also such an evident reflection on his craft as an actor, where he is of course second to none. The key is in the post-credits sequence in which Alain is seen singing 'for himself' in his dressing room. Throughout the film Alain keeps saying that he is happy with his lot because he has fun singing, and he even refuses the chance of a promotion to bigger and better things. It is clear that the star has equal fun performing. Depardieu recently threatened to stop acting in films altogether - The Singer, which in French is called 'When I Was a Singer', makes us grateful that he is still an actor.
Credits
Directed by

Xavier Giannoli

Produced by

Edouard Weil
Pierre-Ange Le Pogam

Written by

Xavier Giannoli

Director of Photography

Yorick Le Saux

Editor

Martine Giordano

Production Designer

François-Renaud Labarthe

Original Music/ Arranger/Director

Alexandre Desplat