NOZONE: Out of the shadows
DVD Review: The Third Secret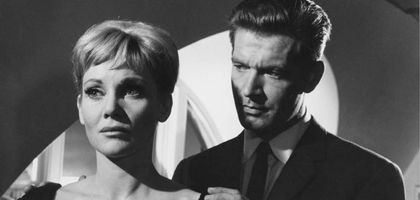 Tim Lucas on a modest 1960sB-movie made beautiful by its black-and-white photography
Charles Crichton; UK 1964; 20th Century Fox Home Entertainment/Region 1; 103 minutes; Aspect Ratio 2.35:1; Features: stills gallery, interactive pressbook gallery, US theatrical trailer
Few things are quite so beautiful in the world of cinema as black-and-white scope photography. To see Yojimbo, The Innocents or In Cold Blood is to feel the unique attraction of this combination full-throttle, but its romance is only heightened when it's applied to works of humbler origin, such as this all-but-forgotten B-mystery directed by that fine avatar of Ealing comedies, Charles Crichton. Hailing from Crichton's autumnal years between The Lavender Hill Mob (1951) and his December triumph A Fish Called Wanda (1988) - a period that found him mostly occupied with classic television shows like Danger Man, Man in a Suitcase and The Avengers - The Third Secret has the feel of polished work-for-hire, one that points more specifically to its other auteur, producer Robert L. Joseph, who also wrote the screenplay. Yet, all things considered, it perhaps belongs most of all to cinematographer Douglas Slocombe, in whose filmography it stands as the third panel of a psychologically themed triptych, following John Huston's unjustly neglected Freud (1962) and Joseph Losey's masterpiece The Servant (1963). Like those earlier films, The Third Secret embodies an exciting time in movie history when the delineation of character became more penetrating, less concerned with star iconography, more self-aware, self-conscious and conflicted.
After psychoanalyst Leo Whitset (Peter Copley) is found by his housekeeper shot in the head, muttering the dying words "Blame no one but me," the news of his apparent suicide sends shock waves through his list of patients. One of these is Alex Stedman (Stephen Boyd), a popular American news commentator for British television, in therapy since the unexplained deaths of his wife and daughter. He makes the acquaintance of Cathy (a luminous Pamela Franklin), Dr Whitset's 14-year-old daughter, who believes her father was murdered by a patient who he himself did not realise was a paranoid schizophrenic. Cathy makes her appeal to Alex as an investigative reporter, but it's his needs as a man that volunteer him: he must believe in the murder to confirm, for his own shaky wellbeing, that the affirmation of life instilled in him by Whitset was not a lie. In the course of his investigation into a shortlist of patients supplied by Cathy, he takes the place of her father and she becomes a daughter to him, but it's a bond inescapably allied to death.
The supporting cast is stellar: among the suspects are Richard Attenborough as a simpering art gallerist, Diane Cilento as a woman fearful of men, Jack Hawkins as a judge harbouring a ruinous secret about his past, and our unreliable protagonist himself - a man prone to mood swings, depression, blackouts, even violence. Even in the extreme background of the narrative one finds the formidable likes of Rachel Kempson, Freda Jackson, Nigel Davenport and, in her screen debut, Judi Dench. At times, the storyline seems almost secondary to the sublimated neuroses of nearly every character, the true natures of which become secondary mysteries in the plot's unfolding. Slocombe's monochrome photography and compositional skills are essential tools for an innovative approach to character depiction. Denied the emotional distraction of colour, the facades of the cast become more transparent, and the viewer sees through to their ills, or better sees the idealised projections of their ills, for what they are. Light and shadow are used as an outward representation of troubled minds, the light hardening as characters clamp down on ideas, or growing softer as they let them go. Likewise, the doubled width of the frame poignantly diagrams the sometimes unbridgeable gulfs between people as they simultaneously strive for human contact and self-concealment. (This is by no stretch an action film, nor a showily directed one, but it has an emphatically composed, storyboarded look that puts the viewer in mind of a graphic novel.) Taken collectively, these three films shot by Slocombe - Freud, The Servant, The Third Secret - lay bare questing, societal inclinations of the early 1960s which, in retrospect, anticipate the coming fascination with drugs and other agents of inner-space exploration later in the decade.
Released by 20th Century Fox Home Entertainment with no attendant publicity, it's a lovely, strange and moody picture, full of unusual interaction and odd grace notes, made all the more special by Joseph's novel-rich dialogue, which recalls Paddy Chayefsky's elegantly pithy editorialising on the human condition in that other offbeat drama about world-weary newsmen, Network (1976). One can well understand the enthusiasm expressed for it by Boyd himself in a theatrical trailer narrated by the actor. He notes the top-flight English cast, pushes the compelling mystery angle ("What is 'The Third Secret?'"), and promises a lead performance that stretches him substantially beyond his previous work in Ben-Hur and The Fall of the Roman Empire. It's all true. Boyd's deeply felt and wholly unpredictable portrayal, possibly his best, is eclipsed here only by Franklin, who can be seen evolving in this single, demanding role from one of Britain's most gifted child actors into a skilled professional of the first rank. Her command of the screen and its technical demands, and the nuanced suggestion of complex emotions well beyond her experience are almost frighteningly remarkable.