Jar City
Iceland/Germany/Denmark 2006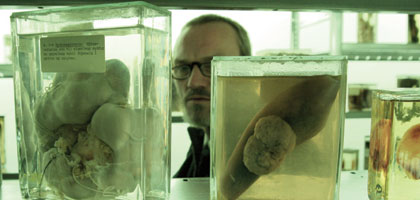 Reviewed by Kate Stables
Synopsis
Our synopses give away the plot in full, including surprise twists.
p>Reykjavik, the present. At the Icelandic Genetic Research HQ, father Orn seeks information on his young daughter's brain disease. She dies. Meanwhile, elderly thug Holberg is found murdered. Misanthropic police inspector Erlendur and his team discover a photo of a child's grave from the 1970s hidden in Holberg's flat. Tracking down the dead girl Aude's aunt, Erlendur discovers that she was conceived after a gang rape by thugs Holberg, Gretar and Ellidi, covered up by local cop Runar.
Erlendur's heroin-addict daughter Eva, now pregnant, moves back in with him. Ellidi, a long-term prisoner, was on leave during Holberg's murder. He threatens Erlendur, but reveals that Gretar photographed the sex, which wasn't rape - Gretar disappeared years ago. Aude's body is exhumed, and Erlendur's partners interview older local women, looking for 70s rape victims, including Orn's mother.
Aude's brain is in pathology archive Jar City, administrated by Orn. He tells Erlendur that Aude died of a rare brain disease. Ellidi breaks out of prison. Erlendur rescues Eva from a junkie squat. In a flashback, Orn breaks into Holberg's flat and steals a photo. Erlendur's sidekick Sigurdur finds Ellidi attacking Runar and intervenes. Erlendur finds Gretar's body concealed under Holberg's floor, with photo negatives of a sexual encounter.
In flashback: Orn confronts his mother - Holberg was his biological father, and Gretar tried to blackmail her with the photos. Orn confronts Holberg with the fact that he passed the brain disease gene to his illegitimate children, and Orn's child. During a struggle, Holberg insults Orn's mother, and Orn kills him.
In the present, Orn disappears. His boss tells Erlendur that illegally accessing the Icelandic DNA database gave him the disease trail. Aude's remains have vanished. Erlendur dashes to her grave, where Orn is reburying his half-sister. Orn insists that his fatal genetic deviation needs correction, and shoots himself. At home, Erlendur tells the now detoxed Eva he is haunted by the misery of murders.
Review
It's grim up North, in Baltasar Kormákur's dour, brooding and atmospheric Icelandic murder mystery. His Iceland is not the modish, forward-thinking home of free central heating, indie music and the Northern Lights (which is partly showcased in his 2000 101 Reykjavik). Instead the country emerges as a hardy, inward-looking and secretive society torn between old and new values, whose inhabitants' unsightly secrets can be unmasked through their distinctive genetic heritage, stored in a (real-life) database, holding the whole population's medical records.
Adapting Arnaldur Indridason's successful crime novel, Kormákur is visibly fascinated by this database, for it offers his characters a veritable cornucopia of clues, moral dilemmas and devastating truths. It allows the dyspeptic Inspector Erlendur to unearth 30-year old crimes after the seemingly everyday killing of elderly ne'er-do-well Holberg, and prompts Orn, a young father agonised over the inherited brain condition that is killing his daughter, to a series of terrible deeds. And it's this skilled exploitation of the explosive possibilities of the Icelandic high-tech hall of secrets, alongside a sly, rather mordant assertion that historical isolation has bred an Icelandic national taste for taciturn stoicism (and sheep's head as fast-food) that makes one forgiving of Jar City's narrative shortcomings.
Anyone familiar with the classier end of British or US TV police procedurals can see the intertwining of Orn and Holdberg's stories coming a country mile away. With its melancholy tone, foot-slogging police work and misanthropic hero ("Another typical Icelandic murder - shitty and pointless"), Jar City is a cinematic Inspector Norse, right down to its insistent, well-trodden themes of how the past infects the present through genetic and emotional inheritances. Nonetheless Kormákur's decision to concentrate on the police grunt work (Erlendur's team toil through a search for rape perpetrators from 30 years ago, for example) gives the movie a homely, trudging tone which sets it usefully apart from slicker Hollywood fare. It also melds neatly with the film's insistent bird's-eye views of the odd, anti-beauty of the Icelandic landscape, a rocky, geyser-pocked wasteland lashed by rain and snow. In fact, the film's downright disinterest in conventional aesthetics, as the crumpled, beardy Erlendur and his distinctly plain sidekicks wend their way through ugly post-war buildings, dilapidated interiors and Reykjavik's grey, weather-blasted suburbs, complements the unlovely, exhumed truths of Orn and Erlendur's searches most effectively. The filmisn't always deft (there's a sudden, disconcerting eruption of flashback in the last act to synch the two story strands) but it's never less than thoughtful.
As is the snuffling, beady-eyed performance of Ingvar Eggert Sigurdsson, whose dogged, cynical detective drags the story on like a husky. His Erlunder mixes tenacity with flashes of tenderness that lend that common trope of crime thrillers - the policeman's ambivalent relationship with his own wayward child - with a pleasingly gruff poignancy. Carrying his drug-addled, pregnant daughter away from a junkie squat as impassively as if she were a truant toddler, he provides a moment more eloquent about the parent-child link, than anything that the Icelandic Genetic Research database could reveal. Kate Stables
Credits
Directed by

Baltasar Kormákur

Produced by

Agnes Johansen
Lilja Pálmadóttir
Baltasar Kormákur

Written by

Baltasar Kormákur
Based on the novel Myrin by Arnaldur Indridason

Director of Photography

Bergsteinn Björgúlfsson

Editor

Elísabet Ronaldsdóttir

Art Director

Atli Geir Grétarsson

Music

Mugison

Review 2

Linha de passe

Reviewed by Paul Julian Smith