Telstar
UK 2008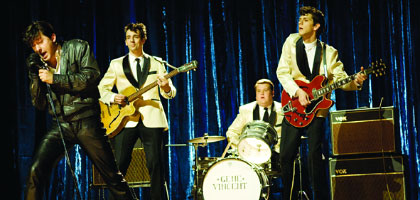 Reviewed by Mark Sinker
Synopsis
Our synopses give away the plot in full, including surprise twists.
North London, 1961. Pianist Geoff Goddard arrives at Joe Meek's studio in a flat on the Holloway Road. Recording is in progress, amid bedlam. The musicians bicker; local plastics businessman Major Banks oversees the money; Meek enrages and charms his middle-aged landlady. Propelled by daft stunts and home-designed electronic effects, the Meek-produced song 'Johnny Remember Me' is a UK number one. Bacon-slicer and would-be star Heinz Burt arrives, and Meek falls in love with him. The telecommunications satellite Telstar is launched, and Meek is inspired. With Goddard's help, he creates the instrumental 'Telstar', a huge international hit. Heinz and band tour with Gene Vincent, to the disgust of the latter's teddyboy fan club. Hijinks on the road land them in court. Meek's arrest and conviction for cottaging gets into the papers. A French composer claims that the 'Telstar' tune is stolen from his work; all profits are withheld pending litigation. Ever more paranoid, Meek alienates Goddard, Banks, his musicians and Heinz. On 3 February 1967, Meek shoots his landlady and himself.
Review
There are dozens of likeable covers of 'Telstar', Joe Meek's US chart-topping 1963 instrumental for the Tornados: surf-twang versions, reggae versions, even Duke Ellington had a go. But only in the mid-1980s did a version attempt to give its nagging glide-whine an overt story and politics. Bronski Beat's 'Smalltown Boy' isn't a cover - with lyrics and different melody, it may not even know it's a remake - but it narrates Meek's own story exactly as that instantly recognisable, instantly gripping, instantly maddening clavioline tone had once wordlessly howled it: "The love that you need will never be found at home/run away, turn away/run away…"
The start is Todd Haynes-ish: Meek in rural childhood yelling into the horn of a wind-up phonograph - and his echo repeatedly shouting back at him. The anecdote is straight from John Repsch's 1989 biography, which is rich in potentially Haynesian matter. Instead, perhaps wisely, director Nick Moran patchworks Repsch's material into a cheerfully slapdash comedy: after all, for all the outsider sadness and sexual loneliness and escapist ambition embedded in it, a lot of this story is quite silly. Against the sheer pasteboard parochialism in the early 1960s of British chartpop and high-street life, Meek's passions — boys, the occult - are rendered largely as farce, his focused ingenuity as geek-dottiness.
Not perfect but disarmingly artless, Telstar is as much a covert examination of the 1980s as of Meek's own times. The '60s rock explosion' had rendered him all but invisible for years, as repeated visual drop-ins of the Beatles remind us. In the 1980s, when the aesthetic hegemony of the rock era began to be challenged, Meek's ideas resurfaced, with much that hovered round his story now rejigsawed from quaint flaw into value: electronics, independent record labels, brash tinniness, the reality of being gay… For a long time the word 'manufactured' in the phrase 'manufactured pop' had been a shorthand for pop's limitations, its shallowness or dishonesty. Now it came to hint at long-overlooked potential in orchestrated sound, in emotional and dramatic complexity, the layered and crafted sound a stage for the acting out of the age-old battle between producer-svengalis and their truculent charges; between the predatory world of the casting couch and the liberating seductions of the guru-disciple relationship.
A measure of Telstar'sintelligence is its treatment of this last, in its portrayal of the hapless Heinz Burt, inept bleach-blond near-singer. Gleefully hostile crowds threw cans of beans but Meek, smitten, was convinced that a heartthrob was born. And JJ Feild gives Heinz a gawky idiot charisma, a glimpse of what Meek maybe fell for, and believed in. The will-becomes passing through Meek's studio - a bewildering multitude including Tom Jones, Ritchie Blackmore, Chas of Chas and Dave - risk becoming an in-joke for the cognoscenti. But knowing cliché is inverted as a gun-wielding Meek reduces Mitch Mitchell to tears; Mitchell's wildman drum career with Jimi Hendrix seems a tame relief by comparison. A couple of the film's many cameos are clumsy, but as doughy session drummer Clem Cattini, put-upon but a reliably excellent backline, James Corden is, well, a reliably excellent backline. And at least one cameo is inspired - Justin Hawkins from the Darkness as Screaming Lord Sutch, a knowingly obnoxious cartoon playing a knowingly obnoxious cartoon.
Above all, the film is enormously sympathetic to Meek himself, this almost impossible man, with his rages, his obsessions, his violence, his insanity; honed in the hit stage play, Con O'Neill's mercurial performance leaves Meek's inner life as opaque as his most famous records do, but makes manic sense of the externals, and of the affection he was held in, even after everything crashed into grisly double-tragedy. Would Meek have prospered in the post-McLaren, post-Boy George 1980s? Would he have found happiness freed from the constraints of his day - the laws against homosexuality, a leisure industry so poorly geared to the visionary small business? Just as we're not nudged into self-congratulatory comity with any of the turns history will soon take - rock, post-rock, whatever our present time is named - we're not nudged into a smugness that we're that much freer or smarter now. Probably we go into this film knowing how the story ends; certainly the structure is careful to remind us: the chattering clutter of the early fun is punctuated by glimpses of the ugliness at the end. This device could easily be banal beyond bearing - but as with the tone, somehow Meek's own spirit guides the film-makers; he had a gift, after all, for lifting the idiotically rinkydink up towards Lorcan passion and otherworldly strangeness, and apparently with nothing but homemade electronic gimmicks.
Credits
Directed by

Nick Moran

Produced by

Adam Bohling
Simon Jordan
David Reid

Written by

James Hicks
Nick Moran

Director of Photography

Peter Wignall

Edited by

Alex Marsh

Production Designer

Russell De Rozario

Composer

Ilan Eshkeri