Love is the drug
DVD: I Can No Longer Hear the Guitar/Emergency Kisses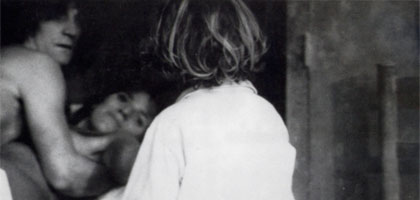 Tim Lucas on Philippe Garrel's surprisingly tender films about his heroin-fuelled relationship with legendary chanteuse Nico
I Can No Longer Hear the Guitar/Emergency Kisses
France 1991/1989; Zeitgeist Video; Region 1; Aspect Ratio 1.66:1; Features: 'Philippe Garrel, artiste' documentary, lobby cards French pressbook excerpts including notes by Jean-Luc Godard and Leos Carax, brochure with essay by Richard Brody
Though he has made more than 20 features and assorted shorts since 1964, the intensely personal work of Philippe Garrel has generally been so difficult to view, particularly in English-speaking countries, that for many his notoriety unfortunately rests on his heroin-fuelled, ten-year love affair with the legendary Velvet Underground chanteuse Nico. Neither of them was incapacitated by their shared addiction; in fact, it was during this mutually fruitful period (1972-79) that Nico served as Garrel's principal muse, the sultry yet ashen centrepiece of his El Topo-like La Cicatrice intérieure (The Inner Scar, a feature-length journey through the imagery of her Desertshore album) and a compelling ornament to such fascinating works as Les Hautes Solitudes (The High Solitudes, his fetishistic study of Jean Seberg) and Un ange passe (An Angel Passes). The couple drifted apart as Nico took to the road, Garrel marrying actress Brigitte Sy and fathering future actor Louis Garrel, but they remained in periodic touch until Garrel heard of her death by cerebral haemorrhage while she was bicycling along a roadside in Ibiza in 1988. At age 50, Nico had finally kicked her habit and was pedalling her way to a healthier lifestyle.
The news reached Garrel as he was preparing to film Emergency Kisses, the second feature included in this fascinating two-disc special edition from Zeitgeist Video. Here, the nakedly autobiographic artist plays a film director opposite Sy and five-year-old Louis, who play his actress-wife and child. Philippe's father, actor Maurice Garrel, shows up to offer some particularly sage paternal advice. Engrossing from the first scene, Emergency Kisses opens with a poised yet emotive Sy confronting her husband with hurt and confusion over losing a role in his upcoming feature, based on herself, to another actress (Anémone as 'Minouchette'). Adding to the irony of Sy's rejection is the contrast between her richly feeling performance and the fact that Garrel gives a remarkably numb non-performance, possibly induced by the shock of his recent loss. Lending poignancy to this observation is a scene in the companion feature, I Can No Longer Hear the Guitar, dedicated to Nico, in which the Nico-based character Marianne (Johanna ter Steege) meets her ex-lover's wife (Sy, of course) and remarks that she is surprised he didn't settle down with a woman who more closely resembled her. In Emergency Kisses, when Garrel explains to Sy why she didn't get the role she expected, he reasons that Minouchette more closely resembles the character he wrote. The liner notes describe Garrel's character Mathieu as a philanderer but, unless I missed something, the film itself depicts him as a faithful family man and uncompromising artist, who is legitimately confused and saddened by the extremity of the offence taken by his wife, which compels her to commit adultery in the presence of their child and separate from him. Mathieu never makes the film - unless Emergency Kisses is it - which allows for the eventual healing of their rift.
I Can No Longer Hear the Guitar deals more directly with Nico and her loss, but also in a lightly fictionalised way. Benoît Régent stars in this elliptic drama about a man who seeks mature stability, desiring a child with a German lover (Steege) already unable to care for her young son, and who is instead dragged into heroin addiction. Her wanderlust eventually grants him the opportunity to fall in love with a more grounded woman (Sy), with whom he settles down to paternity, responsibility and middle age. This arrival into his real desires, including the birth of a son, is treated elliptically, while the earlier relationship is documented with great tenderness and candour, including a surprisingly romantic kissing scene staged while Steege is urinating. This is a film that invokes the word 'love' more often than the average Cassavetes picture, celebrating and worrying at it with philosophic discussion every chance it gets, as when Sy, scrubbing a floor on her hands and knees, argues that dignity is the one thing more important than love. But it is neither a film about passion nor even the elation of love; like Emergency Kisses, it is more an essay in abiding love and romantic forgiveness, an idea that belatedly forges a seemingly downbeat ending into a mutedly but inevitably happy one. It also deals with heroin use in an almost startlingly non-exploitative way, omitting the usual highs and cold-turkey lows, and offers Marianne no parallel to Nico's musical life, though what sound suspiciously like two uncredited samples from a Velvet Underground bootleg crash twice through the haiku-like stillness.
The two features, respectively in black-and-white and colour, share a voice that latches on to words and ideas in a sometimes invigoratingly oblique way, so one can well understand what Godard meant when he described Garrel's cinema as being "as close as teeth are to lips to the idea of natural beauty." They are romantic yet have a skeletal frankness and bite. Both titles look quite acceptable despite the lack of anamorphic enhancement, and benefit from evocative jazz soundtracks by Barney Wilen and Faton Cahon respectively. The most significant extra is the documentary Philippe Garrel, artiste, a 1998 interview for French television which finds the director thinking epigrammatically if not terribly clearly ("Just as time destroys love, the cinema destroys love") and includes tantalising clips of films from the Nico period which attest to the need for their immediate release on disc.