DVD: L'important c'est d'aimer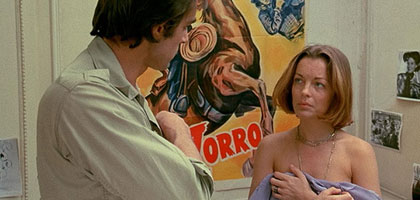 Tim Lucas on Romy Schneider, giving the performance of her life in Andrzej Zulawski's tale of broken hearts and lost dreams, 'L'important c'est d'aimer'
Andrzej Zulawski; France/Poland/Italy 1975; Mondo Vision/Region 1; 113 minutes; Aspect Ratio 1.66:1; Features: French/English/German audio tracks, removable English subtitles, Zulawski commentary with Daniel Bird, Zulawski video interview, pre-release trailer, photo gallery, restoration comparisons
Though the films of Andrzej Zulawski are known for their boisterous energy and feverish excesses of sex, violence and the bizarre, his third film L'important c'est d'aimer (The Important Thing Is to Love) is tempered by a richly humanistic story and a shattering performance by Romy Schneider, which she considered to be (and many critics agree) her career zenith.
She plays Nadine Chevalier, a once promising actress reduced in early middle age to roles in pornographic films with titles like Nymphocula. Servais Mont (Fabio Testi), a handsome ex-combat photographer, sneaks on set to take unauthorised shots of Nadine, who halts her performance to beg him not to photograph her at a job she was forced to take to pay her debts - and in that moment, they connect. Servais knows what it is to make a living by ugly means: he is actively paying off his father's debts to the mob by shooting porno loops and indebting himself to the underworld at the same time. Feeling something pure, possibly for the first time, he goes to Nadine's apartment, meets her younger cinephile husband (a mesmerisingly edgy Jacques Dutronc) and takes some serious magazine cover photos, for which she later attempts to reward him with sex. Knowing this would be the end of them, he won't allow their relationship to be debased and leaves, conceiving a plan for their mutual redemption. Aware that she is out of work and living on charity, Servais agrees to film a VIP sex orgy for the mob to use as blackmail fodder, and uses his earnings to buy Nadine the female lead in a new production of 'Richard III', directed by the transvestite lover of wealthy stage actor Karl-Heinz Zimmer (Klaus Kinski). In one of the great dramatic eurekas of Zulawski's filmography, Servais soon finds himself ensconced in a minefield of broken hearts and corrupted dreams: "I'm in a bind," he tells a confidante. "If I stop I'll do some harm - and if I continue I'll do more."
Based on a novel by Christopher Frank (who told Zulawski, of his film, "It is not my novel, but it is a masterpiece"), Zulawski's adaptation is more grounded in terra firma than his original projects, which makes it both an ideal entry-level work for newcomers and arguably his greatest film. It is certainly his most deeply affecting, thanks in part to composer Georges Delerue, whose heart-wrenching cue for Nadine evokes his haunting theme for Godard's Le Mépris. Acting largely without makeup, the better to show the weary but indomitable core of a survivor, Schneider was never more beautiful onscreen, while 1960s garage-punk teen idol Dutronc is uncanny in his first acting success, perversely menacing yet absolutely innocent and sympathetic. (What a great Joker he would have made!) Kinski is also extraordinary, giving a great performance while at the same time revelling in it, and the delight he takes while consoling a hysterical Nadine shows him juicing the pleasure of working opposite a fellow German star in an unexpected career pinnacle.
As always with Zulawski, the film is packed with incidental characters who linger under the skin, the most sordid of them sometimes revealed as the most noble. The pre-release trailer included among the extras is composed entirely of unused takes, a fascinating index of acting paths not taken - including a variant of Nadine and Servais' kiss that shows Schneider playing the scene in a more taunting manner. Zulawski's audio and video commentaries are honest, comprehensive and articulate. A more sentimental film-maker would doubtless gush over Schneider's performance and find ways of relating its poignancy to her eventual suicide; Zulawski ignores her tragic death to concentrate on the professional rather than the legend, her abilities and vulnerabilities, which bring us much more into her presence as a human being. (He gently observes, "at the risk of hurting her soul," that she drank too much wine at lunch and did her best work in the morning.) His candour in no way reduces her memory, and it is obvious that he cherishes her great gift to his filmography. Only when discussing Kinski ("clinically mad") and Testi ("a moron") does Zulawski's tact begin to fail him, but these admissions are necessary keys to unlocking great stories and lead finally to gracious appreciations of what both men brought to the picture. Zulawski reserves the harshest exposure for himself, describing a second way of shooting the final scene that sorely tempted him at the time and admitting he still isn't sure he made the right choice. His uncertainty may be infectious. It's an astonishing idea. Damn the idea.
Mondo Vision have treated the film to some of the most beautiful packaging ever lavished on an individual DVD title. In the standard edition, a digipak disc holder, complete with embossed silver title and stunning artwork, comes in an elegant hardcover slipcase. A marginally more expensive 'Signature' limited edition has white leatherette casing, with added incentives such as a 48-page commemorative booklet and a second disc containing Delerue's score in its most complete form issued to date.
See also
The Wild Bunch: 50 visionary directors