Electric 'Underground'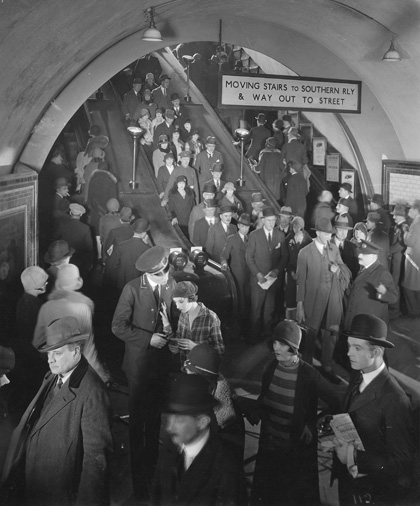 Director Anthony Asquith has long been dismissed as a lightweight. But his restored 1928 silent is a revelation, says Jay Weissberg
Anthony Asquith is a director who fell through the cracks almost the moment he stepped onto a studio floorboard - even when in fashion he was unfashionable. Son of a prime minister and a society beauty, Asquith (nicknamed 'Puffin') was first criticised for being too much in the thrall of European art cinema, and later for not being 'true' enough. For critics such as Paul Rotha and Harry Alan Potamkin, he was an aristocrat without a proper feel for realism: too elegant, too theatrical. William K. Everson watered him down further, saying he became "another Cukor, a niche already well filled by John Cromwell and others". In fact, few critics bothered to look at Asquith's films for what they were, preferring to complain about what they weren't - and thus revealing far more about themselves than about the director they were purportedly analysing.
The BFI's 2002 restoration of Asquith's A Cottage on Dartmoor (1929) received so much positive press that it wasn't unreasonable to hope for a long-overdue reassessment. Now, with their spanking new restoration of Underground (1928), perhaps Asquith's star is finally on the rise.
Asquith's screen debut came in 1926 when he acted as stunt double to Phyllis Neilson-Terry in Sinclair Hill's Boadicea (one wonders how Papa reacted to the sight of his son in long tresses). His proper introduction to film-making came one year later, however, when producer H. Bruce Woolfe teamed him with A.V. Bramble as co-director of Shooting Stars. This astonishingly confident debut was "calculated to electrify the plodding British film industry", as Rachael Low proclaimed. As a result, in 1928 Asquith was given his solo chance with Underground, based on his own story about a love triangle within the ranks of the 'popular' classes.
The film is all about the social interactions that can only exist in the confined, democratic spaces of the London Underground. From the very start, with its attention-grabbing shot of a train pulling into a station, Underground foregrounds the transgressive nature of the Tube, where factory workers literally rub up against shop-girls, and top hats brush past floozies. Asquith brilliantly codifies his characters, even the extras, via their headgear: thick-featured Cyril McLaglen in his formless cap versus a stunning Brian Aherne in a jaunty trilby. Best of all is Asquith's thrilling location work, both below and above street level - there's a lovely sequence on top of a double-decker. From the start of his career Asquith imbibed the style of Weimar cinema, working here with German lighting designer Karl Fischer.
So why has it taken so long for Underground to receive its due? There are two reasons, the first purely technical. The BFI National Archive only had a damaged nitrate copy too compromised to restore to anything approaching its former glory; but now, thanks to ever-improving digital technology, it's possible to minimise scratches and solarisation. In addition, a French print at the Cinémathèque Royale de Belgique was discovered with slightly better picture quality in places, and occasionally longer shots. The restoration team, headed by Ben Thompson and James White and overseen by BFI curator Bryony Dixon, used the Brussels nitrate print along with some of the BFI's own nitrate print and safety duplicate negative to build up a new negative that was then scanned digitally and cleaned up frame by frame. The results, paid for by a generous grant from Simon Hessel, are said to be a stunning improvement.
The second reason Underground - like Asquith's output in general - remains under-appreciated is almost as difficult to combat as deteriorating nitrate. "We're profoundly insecure about our own cinema", says Dixon. "Each generation has to be told it's OK to like British films." Ever since the time Madame de Pompadour dictated taste to the world, the British have been maddeningly insecure about their own artistic production, looking across the Channel for legitimisation. "However much we might celebrate Humphrey Jennings, the real change came with a conference in Marseille," says Dixon. "All of a sudden the cineastes in Britain began to believe it." Isn't it time to break the cycle? Why not make Asquith our next rediscovery? Or must I change my surname to Montblanc?
Composer Neil Brand on the thrill of writing a new score for 'Underground'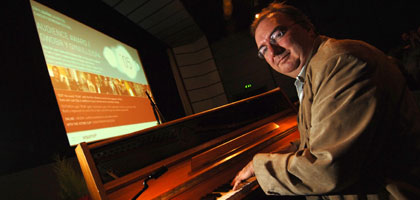 I've been waiting 20 years to see Underground properly, let alone work with it. While its charms were apparent from the BFI viewing copy, there was a major problem with the print. The final chase - a violent and magnificently shot scuffle across the roof of Lots Road Power Station in Chelsea, through the slag-heaps beneath, down onto the Underground lines and into a station, culminating in the station lift - was almost obliterated by nitrate damage. Thankfully, the whole film now exists in a newly restored print to wow modern audiences.
Like Hitchcock, Anthony Asquith has put 'his' London onscreen, but it's one with the odd touch of magical realism and real romance to leaven the dark shadows, along with the intense passions and black humour of Hitch. That, for me, was the key to the score. Although, as in Hitchcock's films, the changes of pace and tone are bold and clearly signalled, Underground has its whimsical side which will ultimately win out, so I injected an overriding warmth into the music, as well as reflecting the period as much as possible. My first theme is a reasonably modernist one, mirroring the headlong rush of the Tube train (matched in the ferocity of Cyril McLaglen's plot against Brian Aherne, as well as in the final chase). Nora Baring's performance is magnificent, with its slow descent into madness, but for me the most exciting opportunity is perhaps the most clichéd: for the first time in a big score, I will be able to indulge myself with a proper, soaring love theme that develops through the film.
Underground is a truly British creation. Its quirks and concerns are very much those of its director (as are, arguably, its slightly patrician view of the lower classes), and its view of London and its Tube is unique. This is a film whose moment back in front of the public is very long overdue - and whose survival is a real testament to the archives which have, as always, wrought miracles of resurrection. I have high hopes that this year's LFF will just be the start for this truly great picture.
'Underground' is the LFF's Archive Gala screening at the Queen Elizabeth Hall on 23 October, with a new score by Neil Brand, performed by the Prima Vista Social Club
See also
Starmaker: Gwenda Young on the overlooked Clarence Young
Back to school: Andrew Roberts on 80 years of boarding school movies
Thomas and the Magic Railroad reviewed by Ed Lawrenson