DVD review: Brigitte Bardot 5-Film Collection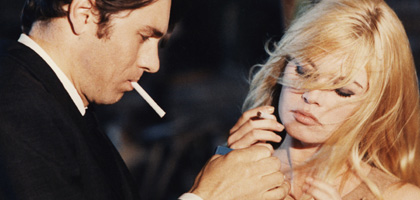 Tim Lucas on an overlooked Brigitte Bardot box-set showcasing some of the French screen icon's less familiar films
Brigitte Bardot 5-Film Collection; Michel Boisrond/Roger Vadim/Serge Bourguignon/Jean Aurel; France 1956-69; Lionsgate/Studio Canal Region 1; Features: Bardot documentary featurette, English and Spanish subtitles
Brigitte Bardot has always been best known to cinephiles outside France for her curiosities - Godard's Le Mépris, Henry Koster's quirky valentine Dear Brigitte, or Edward Dmytryk's Sean Connery western Shalako - rather than the bedrock of her filmography, effectively sampled by this overlooked Lionsgate box-set from 2007. Covering a 13-year period, the set includes five films - Naughty Girl, Come Dance with Me, Love on a Pillow, Two Weeks in September and The Vixen - which encompass Bardot's maturation from a delightfully game and capable young dancer and comedienne to a more serious avatar of romantic dramas grappling with the question of free love.
Michel Boisrond's Naughty Girl (Cette sacrée gamine, 1956), scripted by 'Vadim', slightly precedes and no doubt facilitated the international sex stardom BB achieved in Roger Vadim's And God Created Woman. It's a trivial situation comedy in which an engaged nightclub singer (Jean Bretonnière) is left in charge of his employer's 'baby girl', an auburn-tressed nymphet whose allure creates problems with his psychoanalyst fiancée. Boisrond's first film, and the first of three with Bardot, it's a Frank Tashlin-like affair with some clever sight gags and a chase scene that takes the leads through a ladies' shower room, showing more of the female form than Vadim did with his film that shook the world.
Come Dance with Me (Voulez-vous danser avec moi?, 1959), also by Boisrond, is a light noir comedy based on the novel The Blonde Died Dancing by husband-and-wife mystery-writing team Kelley Roos. Bardot's dentist husband (Henri Vidal) is nearly seduced by blackmailing dance instructor Dawn Addams, actually excusing himself but not before slimy collaborator Serge Gainsbourg has taken some incriminating snaps. When Addams turns up dead, the innocent Vidal flees the scene of the crime and Bardot goes undercover at the dancing school to unmask the true assassin. Bardot, invisibly pregnant at the time, is on top form here, but it was her final film for Boisrond - possibly because Addams was allowed to be at least as ravishing as she.
From the pinky blonde fluffiness of these baubles, the set suddenly swerves into existential sobriety with Vadim's Le Repos du guerrier (Repose of the Warrior, 1962), here frivolously titled Love on a Pillow. What this film shares with the balance of the package is that it isn't particularly distinguished as cinema, yet its human dimension is unusually complex and compelling, riveting one's attention until the disappointing finale. While visiting the city to receive a million-dollar inheritance, Bardot bungles into the wrong hotel room in time to save suicidal Robert Hossein from an overdose. He attaches himself to his pretty saviour, and his postwar nihilism and amorality gradually dissipate her new fortune and corrupt her standards, destroying her sense of self, her past and her plans for the future. In a scene whose obscurity would later benefit a better-known film, Bardot discovers the manuscript of the detective novel Hossein boasts of writing and finds the sentence "The lady left at five o'clock" repeated on page after page.
Serge Bourguignon's Two Weeks in September (A coeur joie, 1967) is an exploration of free love in which Bardot, a retired fashion model, leaves loving husband Jean Rochefort to accept an invitation to be photographed in London by Michael Sarne. After some spirited hotel-room scenes with Georgina Ward (who gives the best performance), our heroine responds to the attentions of Laurent Terzieff - a neurotic boy who kisses her like she's a sour apple - and uses him to test the limits of her fidelity. Somehow their unconvincing chemistry achieves supernova in a tepid bedsheet tumble patterned on the one in A Man and a Woman, leaving Bardot to ponder with whom her love truly resides.
Jean Aurel's The Vixen (Les Femmes, 1969) stars Maurice Ronet as a popular novelist burnt-out on women, whose publisher proposes he explore this notion in a new book. Knowing that he needs a muse, the publisher hires Bardot as Ronet's secretary and travelling companion, required by contract to offer him any service "a woman can offer a man." She retaliates by offering Ronet a mass of crazy contradictions, which unsurprisingly cause him to fall in love with her as he dictates a sentimental memoir of his past romances with different women. One can't help noticing that the flashback actresses are all noticeably younger (and nuder) than Bardot, only 34 at the time of filming and five movies away from her 1973 retirement. Here BB seems like a guest star in her own vehicle, barely playing a role and ceasing to play one at all as this supposedly everyday woman walks down a public street and makes every pedestrian jaw within frame drop. Though a failure on most counts, The Vixen holds one's attention as a sincere rumination on the effect of contracts on personal relationships, and as a catalogue of human eccentricities.
The set concludes with Peter Ventrella's Larger Than Life: Brigitte Bardot and the Mythology of the Sex Symbol, in which Hugh Hefner and others discuss BB's impact. As screenwriter Howard Rodman observes, Bardot's greatest gift to the world wasn't her films, but rather her ability to project absolute comfort "in her own skin, as a woman".
See also
The New Wave at 50: the star reborn: Ginette Vindendeau on Brigitte Bardot and the new stars of the nouvelle vague (April 2005)
Theatre of complicity: Geoffrey Nowell-Smith on Catherine Deneuve's screen artistry (April 2005)
Café society: Ginette Vincendeau on Amélie (August 2001)