Review / From the archives
Boudu Saved from Drowning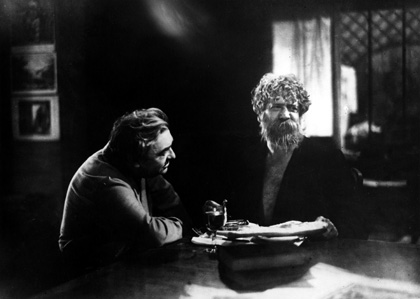 Renoir's airy 1932 fable about a Parisian tramp's subversion of a middle-class household remains as fresh as when Tom Milne wrote this review for the BFI's Monthly Film Bulletin in 1965…
Boudu sauvé des eaux (Boudu Saved from Drowning)
France 1932
Director: Jean Renoir
With Michel Simon, Charles Grandval, Marcelle Hainia, Sévérine Lerczinska
84 mins | Cert PG
Synopsis
Our synopses give away the plot in full, including surprise twists.
When he throws himself into the Seine in a fit of melancholy after losing his dog, the magnificently scruffy tramp Boudu is rescued by an antiquarian bookseller, M. Lestingois. Far from being grateful, Boudu insists that his rescuer is now responsible for him. The kindly Lestingois does his best, but his task is not made easy by Boudu's total disregard of the proprieties. It isn't long before Boudu's anti-social behaviour has Mme. Lestingois on the verge of hysteria, while Lestingois and the maid Anne-Marie, prevented from spending their nights together because Boudu insists on sleeping in the corridor between their rooms, are cross and frustrated. Nobody demurs when Mme. Lestingois declares that the tramp must go.
After a visit to the barber, however, a rejuvenated Boudu has little difficulty in seducing her. Then, while Mme. Lestingois languishes hopefully, Boudu turns his attentions to Anne-Marie, who is being consoled by Lestingois – and the double adultery is discovered. But Boudu has just won a fortune with a lottery ticket given him by Lestingois, so Anne-Marie agrees to marry him, and this seems to be the best solution for all concerned. After the marriage, however, as the wedding-party sails down the river in a punt, Boudu accidentally upsets it. The others scramble ashore, but Boudu, suddenly rediscovering his liberty, drifts downstream and disappears. While the others mourn his supposed death, he changes his clothes with a scarecrow, and sets happily out on the road again as a tramp.
Review
In the 33 years it has taken to officially arrive in this country, Boudu hasn't aged a day. Its joy is as infectious as ever, its anarchy still as cutting as that of L'Age d'Or; and the free-and-easy techniques once described by Sadoul as "of very uneven quality" look not only completely masterly but impeccably modern. There is a tracking shot following Boudu along the quais, past the bouquinstes and crowds, which makes the similar sequence in Adieu Philippine look almost contrived; during the scene in which Anne-Marie serves at the Lestingois dinner-table, the elegant simplicity with which Renoir simply tracks laterally as she moves out of the dining-room, so that after a moment she can be seen through a window reappearing in the kitchen, couldn't have been bettered by anybody; and all the modern lightweight equipment in the world could hardly have improved his location shooting on the banks of the Marne, where the sensuous pleasures of a summer's day on the river are so present that one can almost smell and touch them. When Boudu insists that he is stifling in his bed in the Lestingois apartment and sleeps on the bare floor, it isn't just a manner of speaking: the three-dimensional view we are given of the apartment, with one room leading to the next, bordering on a courtyard on the other side of which are more rooms with more people caged in them, is of a closed, ordered world built out of restrictions.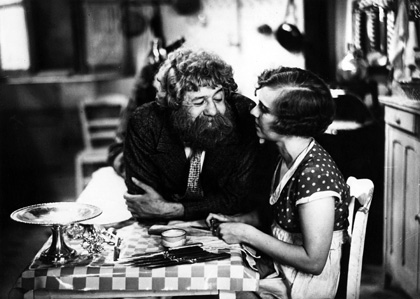 Renoir's insidious call to rebellion against order could not have been nearly so effective if he had not been able to conjure up so exactly and tantalisingly the uninhibited freedom of Boudu's natural habitat on the river banks. One of the most interesting things about the film, from the Renoir point of view, is the way he has altered his original material to suit his needs. In René Fauchois' play, for instance (where Lestingois was the central character rather than Boudu), the tramp is finally converted to bourgeois civilisation and sees the error of his ways. Renoir's Boudu, of course, not only remains triumphantly unregenerate, but brings his own morality into combat to challenge the accepted rules. Madame Lestingois may be disgusted because Boudu won't wash; but Boudu is even more disgusted when, in the interests of cleanliness, it is suggested that after using his handkerchief, he should replace it, soiled, in his pocket. And if Monsieur Lestingois can jump into bed with Anne-Marie, Boudu sees no reason why he should not do the same with Madame and Anne-Marie.
Characteristically, although all his affection goes to Boudu, Renoir cannot make Lestingois unlikeable: he is genuinely friendly and sincere in his fondness for Boudu, but cannot break away from the ordered pattern of his life. While Boudu's liberty is so complete that he can throw away a fortune, a pretty wife and a new suit in exchange for a scarecrow's clothes and a sandwich begged from a picnic party, Lestingois is capable only of the vicarious freedom of defying his wife by letting a needy student take away a coveted book without paying. Charles Grandval lends a plump bonhomie to Lestingois which is perfect, and the two women are equally good, but they are overshadowed by Michel Simon's Boudu – huge, hirsute, appalling and enchanting, and surely one of the cinema's great performances. It is a pity that the present copy of the film is not quite complete: the scene in which Boudu, in great distress after spitting on the floor and furniture has been strictly forbidden, suddenly seizes and opens with guilty triumph a copy of Balzac's Physiologie du Mariage, is a moment to treasure.*
Tom Milne, Monthly Film Bulletin, November 1965
---
* Note: The new restoration of Boudu Saved from Drowning has restored this formerly missing scene.
See also
The Exterminating Angel and Simon of the Desert reviewed by Tim Lucas (DVD, April 2009)
The River reviewed by Bryony Dixon (November 2004)
Café society: Ginette Vincendeau celebrates Amélie, Jean-Pierre Jeunet's postmodern valentine to Montmartre (August 2001)
Desire is violence: Claire Denis tells Chris Darke about her uniquely sensuous films (July 2000)
Divining the real: Peter Matthews argues for the rehabilitation of André Bazin, the high priest of realism, from postmodern sneers (August 1999)