Review / From the archives
Kes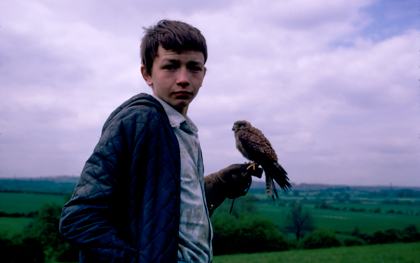 Ken Loach's adaptation of Barry Hines's novel about a Barnsley boy and his kestrel is more than mere telly-vérité, wrote Jack Ibberson in our Autumn 1969 issue
Kes
UK 1969
Director: Ken Loach
With Lynn Perrie, Freddie Fletcher, Colin Welland, Brian Glover
112 mins | Cert PG
It was formerly said that the English and Americans had everything in common except language, and sometimes one feels much the same of film and television. Ken Loach's first feature Poor Cow was dismissed by at least one critic as an unhappy mixture of television and Godard, and accused of sentimentality and inappropriate lyricism. A hostile critic might perhaps similarly describe Kes (United Artists), an account of the changes effected in the life of a budding delinquent by his discovery and training of a young kestrel hawk, as television and Truffaut. But though probably invited by the determined publicising of the director as part of 'the British New Wave', this would be unfair. And certainly, though we are again treated to a conventional telly-type coverage of the British working-class taking its pleasures beerily, and to moments of what one can only call telly-vérité, Ken Loach can hardly be accused this time of a predilection for the picturesque. On the contrary, he captures admirably the gritty quality of Northern life, and that mixture of the rural and industrial which persists despite all the new housing estates, modernised schools, working-men's clubs, the telly and the pit-head baths.
This is hardly surprising, for not only was the novel which Kes (generally) closely follows set wholly in author Barry Hines' native Barnsley, but Ken Loach made his film entirely on location in the streets, homes, clubs, betting-shops and markets of the town. Much of it is set in the school attended, either as pupils or teachers, by a number of its players. Loach has chosen his cast carefully, mainly from former TV associates with Northern backgrounds or performers from the Northern Club circuit, with a number of townspeople often playing themselves, like Zoe Sunderland as the assistant at the public library where Billy's efforts to borrow books on falconry are frustrated, or Martin Harley as the young messenger unjustly caned when he joins Billy and other petty offenders in the queue outside the Headmaster's study. Above all he has been well served by peaky-featured 15-year-old David Bradley as Billy Casper.
All the scenes to which Billy is central are admirable, whether depicting his home life with his good-timing Mum and elder brother, his paper round and petty pilfering and closing wasted weeks of a schooling which he realises all too well is leading inevitably to some dreary dead-end job; or the brief vision of another kind of life which Billy glimpses while training his hawk, or haltingly endeavouring to convey the fascination involved to his class or to the one master who shows any understanding.
Loach is perhaps less fortunate with scenes involving some of the adults. The tormenting of Billy by the hearty sports master, and the scenes with Colin Welland (who played in several Loach-directed episodes in Z-Cars) as the sympathetic Mr. Farthing, succeed. But some of those involving Jud at work or the boys' mother out on the spree seem clumsy and irrelevant, and the discovery of the bird's disappearance, killed by an angry Jud when Billy fails to put on his winning bets, lacks impact. As a result the film's ending, with Billy burying the body in the fields and returning home defeated and disconsolate, lacks the intensity of, for instance, the final scenes in Les Quatre Cents Coups. Perhaps the weaknesses here stem from the lack of that autobiographical element which so strongly marked Truffaut's film. Nevertheless Kes, admirably photographed by Chris Menges (who was camera operator on Poor Cow) is not to be lightly dismissed; and Loach's success with young players especially makes one eager to see his forthcoming film for the Save the Children Fund.
Jack Ibberson, Sight & Sound, Autumn 1969
'Kes' is re-released from 9 September 2011 at the BFI Southbank and venues around the UK, as part of a major two-month Ken Loach retrospective. Loach's long-suppressed Save the Children film premiered at the BFI Southbank on 1 September 2011
See also
Ken Loach essay contest for young writers (July 2011)
The Wind That Shakes the Barley reviewed by Edward Lawrenson (July 2006)
Bread and Roses reviewed by Peter Matthews (May 2001)
The best music in film: an interview with Loach for our special themed issue (September 2004)
Ken Loach's top ten films chosen for our 2002 Greatest Films poll