Review / Artists' movies
Pipilotti Rist: sublime pants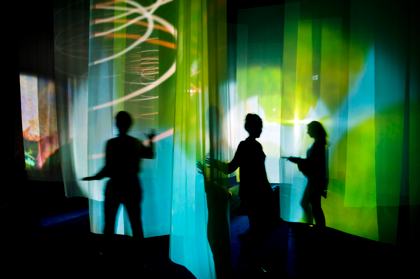 Laura Allsop is tickled by a fanciful exhibition of screened bodies and embodied screens
---
Hayward Gallery, London, UK
28 September 2011–8 January 2012
---
Leaving Pipilotti Rist's exhibition Eyeball Massage at the Hayward Gallery, it's impossible not to smile. The Swiss video and installation artist revels in the sensory pleasures afforded by the every day, from underpants to flowers to a cat's face, and her works evoke childish wonderment at natural and manmade phenomena.
Indeed, watching her 30-odd video works imaginatively projected onto a variety of surfaces inside the gallery, you are invited to re-experience what it was like to be a child and perceive the world fresh. There is an innocence to Rist's work and worldview that is infectious. (That she renamed herself after Astrid Lindgren's whimsical heroine Pippi Longstocking is indicative of her playful, childish nature). Flashes of possible threat – be it in the form of a plastic bomb-shaped toy in a child's cot in 1993 installation The Little Circle, or a woman trapped in a tiny burning hole in the floor and squeaking for salvation in 1994 video work Selfless in The Bath of Lava – keep the relentlessly happy vibe from being cloying.
The first work one comes across is Massachusetts Chandelier (2010), a chandelier made of underpants, illuminated by a silent light show and hanging from the ceiling of the darkened gallery. The effect of the lights on the gently fluttering pants calls to mind the movements of a jellyfish, elevating this collection of sensible underwear to something sublime. It's typical of Rist's playful treatment of not only the everyday but also the body and bodily taboos.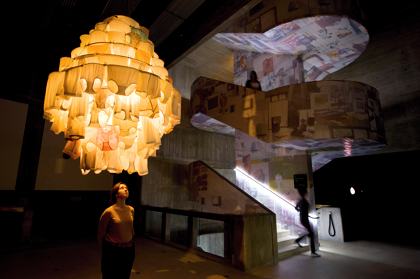 'Eyeball Massage' installation view at the Hayward Gallery. Foreground: Massachusetts Chandelier (2010). Staircase: I Never Taught in Buffallo II wallpaper (2003/2011). Photo Linda Nylind
There is plentiful nudity in her work, references to menstruation and a hilarious sex scene projected on a screen nestled inside the aforementioned bomb-shaped toy, but the artist doesn't deploy these for their shock value. Instead, she views the body as a neutral, even innocent, space, ripe for exploration and compares the digestive system to the way we digest and process images.
This is articulated in the multi-part installation Digesting Impressions (1996), which features a yellow swimsuit hanging from the ceiling and weighted in the abdomen by a round screen playing video footage of an endoscopic journey through the oesophagus, stomach and intestines. Translucent latex partitions surround the swimsuit, catching flashes of light projected from inside it.
Similar partitions encircling her other projections in transparent gauze give one the impression of being cocooned. Indeed, the dark gallery rooms, with gentle sequences of images thrown against the walls, evoke an amniotic space.
Video projections such as 1996 Mutaflor (a video projection onto the floor showing a woman floating into view, opening her mouth wide as if to swallow the spectator, before cutting to an image of her anus) or Blood Room (an audio-visual installation from 1993/1998 in which a woman's body is decorated with glistening menstrual blood, at one point even filling her mouth) showcase the artist's engagement with ideas about gender and especially the female body. But the gentleness of these images belies any shock or repulsion we might feel.
Elsewhere, stuffed jumpers and trousers, which are scattered on the floor inside a gallery displaying new audio-video installation Administrating Eternity – a series of projections of, among other things, gambolling sheep and sparks of light against a forest of strips of hanging white gauze – initially evoke, with their suggestions of disembodied limbs, the Gothic horror of Louise Bourgeois sculptures. On closer inspection, though, they appear benign, even cosy.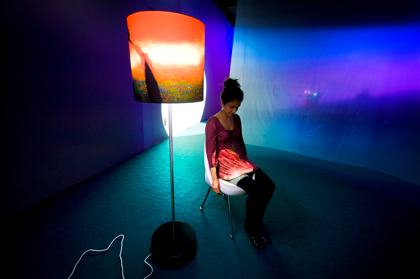 The innocence of the body is further explored in 2009 video installation Lobe of the Lung which, according to the artist, imagines the world if we had no concept of the fall of man. The footage, projected across three screens, references her 2009 feature film Pepperminta, about a young woman who tries to free people from their fears. Footage of a flame-haired Eve and a snuffling boar devouring apples divests the Biblical story of its lustful overtones, instead levelling it to a basic and joyous bodily need.
The projections here are a celebration of everything sensory, from the saturated colours of giant red tulips to multi-coloured fruits playfully squashed under rapturous feet. Mirrors behind the screens and strips of material surrounding the projection filter and catch these colours to produce an experience that closely approximates the eyeball massage of the show's title.
Rist's visual language is vivid and immersive and though the show includes some of her early single-channel works from the 1980s, it is the work from the 1990s onwards, showcasing her desire to take video out of the flat screen and into the world, that is most captivating. Bags, shells and doll's houses become receptacles for screens.
Even the body is a surface on which to watch moving images, as in Lap Lamp (2006), where you are invited to sit down and watch images of leaves and trees float across their thighs. Rist coaxes you into being an active part of the work; her charm is such that few could refuse.
See also
Quick cuts and slow change: Laura Allsop on UK experimental filmmaking and the Arts Council funding cuts (June 2011)
Electric dreamer: Laura Allsop on Nam June Paik (February 2011)
In Free Fall: Daniel Trilling is mesmerised by Hito Steyerl's video essay about an aeroplane chewed over by the movie industry (November 2010)
Polytechnic: Colin Perry on an intimist retrospective of early British video art (September 2010)
The deathly hallows: Mat Collishaw talks Armenian shrines, YouTube sheep sacrifices and his homage to the strange world of Sergei Parajanov (March 2010)
Project me: Isabel Stevens on the Jarman Award artists who straddle the worlds of gallery and screen (October 2009)