Cannes: some favourites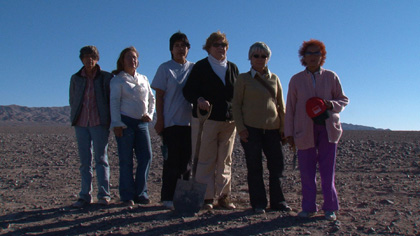 Patricio Guzmán's Nostalgia de la Luz
---
Cannes, France
May 2010
Sender: Geoff Andrew
---
And so another Cannes draws to a close. Not the greatest of vintages – outright masterpieces were conspicuously absent – but far from the worst, given that most films I managed to catch were certainly more than decent, and a fair few were very fine indeed. Nor did there appear to be any overarching themes or moods; it was a potpourri, and I dare say it, away from the Croisette, some of the films may grow in stature as time passes.
It's hard, then, to summarise the last ten days, other than to propose a number of the titles that impressed me most. In the main competition, Mike Leigh's Another Year was undoubtedly among the forerunners, though my own personal favourites were Lee Chang-dong's Poetry and Abbas Kiarostami's Certified Copy; two other movies that impressed me greatly were Xavier Beauvois' Of Gods and Men and Bertrand Tavernier's The Princess of Montpensier. None of these five was particularly innovative (though the Kiarostami is a rather slyer response to art-movie conventions than some seem to realise), but all were fresh, relevant, emotionally affecting and properly thought-provoking.
The official selection also, of course, includes both out-of-competition titles – and here Patricio Guzmán's widely neglected Nostalgia de la Luz, an essay film that embraces astronomy, deserts, politics and philosophy, shone out – and the Un Certain Regard section, which this year offered some of the most delectable pickings: in addition to fine new work by Pablo Trapero, Hong Sangsoo, Jia Zhangke and Manoel de Oliveira, the strand included two of my favourites of the entire festival, Cristi Puiu's Aurora and Lodge Kerrigan's Rebecca H. (Return to the Dogs).
These two, while a tad mystifying in places, were for me the most intellectually exhilarating films screened in the Palais, and took their place alongside a likewise ambitious title screened in the Directors' Fortnight, Michelangelo Frammartino's Le quattro volte. What distinguished this trio from most of the other fare on show was that they were not only engaging in terms of content but that they also displayed a concern with form – not for form's sake (which was, one suspects, a motivating factor in Godard's Film Socialisme), but for how it engaged with and reflected that content. Like the Kiarostami, they demand that our imaginations engage with what is seen and heard, and they repay that engagement with rewards aplenty.
See also
Cannes 2010: doom, chills and bewilderment: Nick James on Cannes 2010's Un Certain Regard selection (online, May 2010)
Cannes 2010: time for TV?: Nick James hails Olivier Assayas' small-screen epic Carlos (online, May 2010)
Cannes 2010: side tracks: Geoff Andrew hunkers down with 100 goats in a Calabrian village (online, May 2010)
Cannes 2010: brotherly love: Nick James on Xavier Beauvois' Of Gods and Men (online, May 2010)
Cannes 2010: slow lift-off: Geoff Andrew on Cristi Puiu's Aurora and Mike Leigh's Another Year (online, May 2010)