Last remaining seats
London Film Festival preview: Sight & Sound's recommendations of films still available for booking in this year's London Film Festival. Check back for updates as we see more (and as screenings sell out).
Galas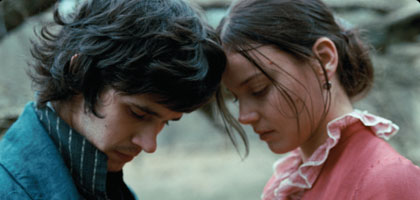 Bright Star
Bright Star
The death-haunted love affair between the poet John Keats and his household neighbour Fanny Brawne is tenderly evoked in Jane Campion's imaginative and intimate portrayal.
Father of My Children
A before-and-after family portrait inspired by the death of an overworked French film producer, former critic Mia Hanson-Løve's feature debut is insightful and powerfully moving.
Film on the Square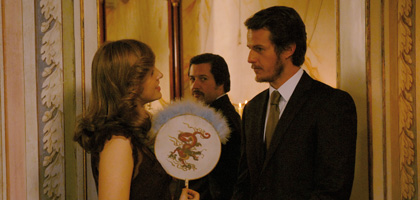 Eccentricities of a Blonde-Haired Girl
Eccentricities of a Blonde-Haired Girl
This latest moral fable from tireless 100-year-old Portuguese director Manoel de Oliveira is a wry shaggy-dog story in miniature, a tale of courtship interruptus with distinct shades of Buñuel.
Life During Wartime (MATINEE STILL AVAILABLE)
Todd Solondz revisits Happiness ten years on, with an entirely new and superb cast (including Ciarán Hinds, Shirley Henderson and Charlotte Rampling) playing the old characters, and a newfound compassion from the director, who had seemed stuck in an acerbic rut. Look out for Pee-wee Herman as a restless ghost.
Mother
After The Host, Bong Joon-ho's latest bag of surprises follows a quack herbalist as she sets out to investigate a sex murder that seemingly implicates her mentally retarded son – but it's less detective story than a mazily stylish and blackly comic exploration of maternal feelings.
Vincere (MATINEE STILL AVAILABLE)
Marco Bellocchio's latest tracks the rise of Italian fascism through the eyes of Ida Dalser, a Milan beauty-salon owner turned hapless mistress to the young Benito Mussolini, and defiant mother of his illegitimate son. A cinematic oratorio combining archive footage, evocations of Fascist rhetory and a superb score, it's sad, stirring and still all-too timely.
French Revolutions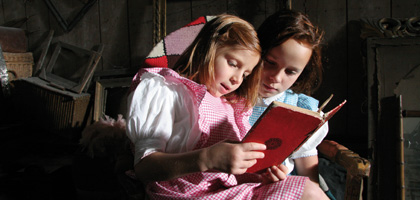 Bluebeard
Bluebeard
Catherine Breillat takes command of Charles Perrault's gothic fairytale with this sly, playful adaptation, cross-referring the period drama (set in a delightfully medieval France replete with callous convent mothers, eerie forests and weighty castles and robes) with its contemporary telling by two young, fanciful sisters, alter-egos to the sisters in the story. Fans of Buñuel, Borowczyk and Angela Carter will be thrilled.
The Girl on the Train
André Téchiné's slow-burning, sharply provocative latest interweaves the personal dramas of a rich character ensemble against the backdrop of the resurgence of anti-Semitism in France. Amidst a stellar cast (Michel Blanc, Catherine Deneuve), Emilie Dequenne gives her strongest turn since her forceful debut in the Dardennes' Rosetta.
Hadewijch
Its title name-checking a thirteenth-century mystic, Bruno Dumont's film follows Céline, a novice at a nunnery whose mystical yearnings are frustrated by the realities of modern life, until she meets Nassir, a Muslim from the Paris banlieus whose religious convictions echo her own. Our office is torn – Dumont's best since La Vie de Jésus, or his most sententious yet?
Cinema Europa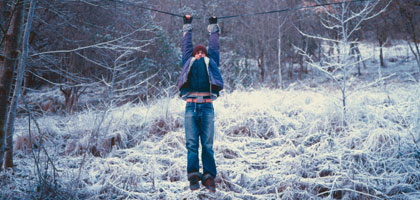 Ivul
Ander
A marvellously understated drama about a fortysomething Basque farmer living with his widowed mother who is forced to take on help from a South American immigrant after an accident leaves him temporarily disabled and unfit for work. Moments of gentle humour, subtly nuanced direction and excellent performances throughout (but most especially from Josean Bengoetxea as the titular protagonist) make for an utterly credible movie of considerable compassion and sensitivity.
Ivul (MATINEE STILL AVAILABLE)
British director and artist Andrew Kötting (Gallivant) finally returns to the cinema screen with this Franco-Swiss third feature (following the trend of emigré British arthouse film-makers), a family psychodrama-cum-performance piece about a teenage boy who takes to the trees when his patriarchal father catches him playing dirty games and banishes him from the family's land.
Lourdes
The remarkable Sylvie Testud is wheelchair-bound, emotionally hidden and – yet – hopeful that miracles do happen as she joins a pilgrimage of Catholic believers to the Pyrenees tourist town, looking for luck in Austrian film-maker Jessica Hausner's harrowing, heartening third feature.
Men on the Bridge (MATINEE STILL AVAILABLE)
Asli Ozge's multi-strand portrait of life in Istanbul follows three men whose work takes them regularly to the huge Bosphorus bridge that links Europe to Asia. One sells roses amid the halting traffic and is striving to get a better job; another is a traffic policeman using the internet for dating opportunities; the third is a driver of a shared taxi, whose needling wife has aspirations beyond their income. Put together with great charm, sensitivity and an immaculate sense of timing, the film deservedly won the Istanbul Film Festival's Golden Tulip prize.
Morphia
The latest film from outré Russian director Alexei Balabanov is set against Russia's October revolution in 1917, but mostly bunkers down with Doctor Poliakov and his assistant and lover Anna Nikolaevna in their rural hospice as they meet myriad graphically-rendered medical calamities by developing a serious morphine addiction.
Women Without Men (MATINEE STILL AVAILABLE)
Iranian-American video artist Shirin Neshat won the Silver Lion for direction at this year's Venice Film Festival for this ambitious film debut, a mix of modern-historical and magical realism that ties together four women in early 1950s Tehran (adapted from a novel by Shahrnush Parsipur). Semi-successful on a narrative level, the film offers a haunting gallery of faded imagery.
World Cinema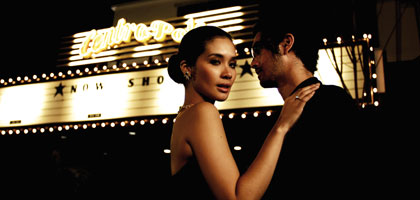 Forbidden Door
Forbidden Door (MATINEE STILL AVAILABLE)
Indonesian Joko Anwar's remarkable psycho-thriller follows an impotent, possibly crazed sculptor into the Lynchian maze of a private members club where a CCTV spy channel taunts him with glimpses of the domestic abuse of a young boy who may be Gambir's younger self…
Experimenta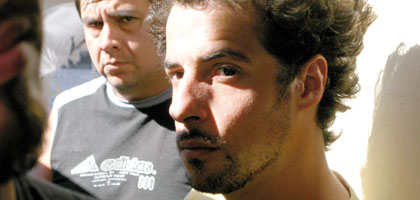 Castro
Castro (MATINEE STILL AVAILABLE)
First-time Argentinian director Alejo Moguillansky channels the absurdist spirit of Beckett in this ostensible adaptation of the latter's novel Murphy, while upending the master's trademark stasis; the film is an action-packed, garrulous and wildly inventive chase movie, with Edgardo Castro as the eponymous lover-on-the-run, pursued by his ex-wife's crew of assailants.
Double Take (MATINEE STILL AVAILABLE)
Or 'Kill Your Twins': Johan Grimonprez's virtuoso film essay plays with Alfred Hitchcock as both singular (or is he?) icon and as the ultimate iconographer of Cold War themes of ticking-bomb tension and doppelganger face-offs. As a succession of US leaders vie with each other and the Hitch-a-like Soviet leader Kruschev over the fate of the world, Grimonprez mixes archive footage of the master teasing TV audiences with voice- and body-doubles elaborating a tall story of Hitchcock meeting himself.
The Portuguese Nun (MATINEE STILL AVAILABLE)
Eugène Green's latest sees the idiosyncratic director turn from Paris to Lisbon and a bow to Portuguese cinema, fado, and the city itself; it's also a fine addition to the canon of self-reflexive movie-movies, with Leonor Baldaque as a French actress meeting a real nun on her nightly perambulations around the city where she's come to shoot the titular costume romance with director Denis Verde (Green himself, charming.)
Treasures from the Archive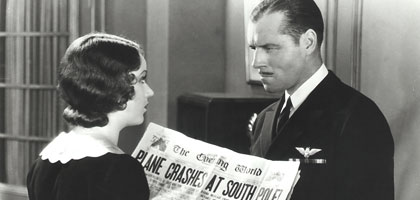 Dirigible
Dirigible
Restored from the Columbia Studios archive, Frank Capra's ambitious early (1931) sound movie is an aeronautical adventure featuring rival heroes in a race to the South Pole. Fay Wray tries to prop up an unconvincing love-triangle angle, but it's the action set-pieces that make the film.