Of Freaks and Men
Russia 1998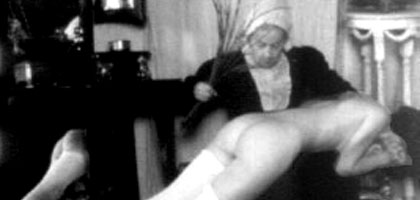 Reviewed by Jonathan Romney
Synopsis
Our synopses give away the plot in full, including surprise twists.
St Petersburg, the start of the 20th century. Widowed engineer Radlov lives with his daughter Liza and maid Grunia, whose brother Johan is a pornographer. Aided by his henchman Victor Ivanovich, Johan trades in flagellation scenes taken by photographer Putilov. Another customer is Daria, the maid of Dr Stasov, who lives with his blind wife Ekaterina Kirillovna and their adopted Siamese twins Kolia and Tolia. Johan proposes marriage to Liza, but is driven out by her father. Radlov tells Grunia he has changed his will in her favour; she shows him Liza's collection of spanking photos which induce a fatal heart attack.
Victor Ivanovich visits the Stasov apartment and forms an erotic bond with Ekaterina Kirillovna. Radlov's will stipulates that until Liza marries, Grunia will administer his estate. Johan moves into the Radlov apartment with his beloved old nanny, who plays the dominatrix in the pictures. Victor Ivanovich starts photographing the twins. The pornographers acquire a cinematograph and film Liza being spanked. Johan is visited by an angry Stasov and shoots him dead. He and Victor Ivanovich move the twins into the Radlov home and launch them on a singing career. Kolia becomes Liza's lover, while Tolia takes to drink. Ekaterina Kirillovna is spanked in the gang's next film. When his nanny dies, Johan has an epileptic fit and the twins shoot Victor Ivanovich dead. Tolia later dies of drink. Liza heads for the west, where Putilov is now a celebrated film-maker.
Review
St Petersburg-based director Aleksei Balabanov has had his most conspicuous success - both in Russia and on the festival circuit - with the gangster film Brother (reviewed on page 44), which was vociferously attacked by film-maker Nikita Mikhalkov (Burnt by the Sun) for its apparently amoral stance towards the new criminal economy. Balabanov is clearly a genuine troublemaker, but in ways the relatively realistic Brother doesn't begin to suggest. In Of Freaks and Men, he combines luridly perverse subject matter - pornography, madness, the sex life of Siamese twins - with a style that draws both on Russian literary fabulism and on early-cinema pastiche.
This coolly grim black comedy marks a return to Balabanov's musings on film history in his short Trofim in which a homicidal peasant accidentally stars in an early newsreel. While clearly an impassioned citizen of the celluloid republic, Balabanov has no illusions about film's civilising potential. Cinema's advocate here is the naive and doomed Radlov, who preaches to Putilov about the great new form's ability to "reveal truth to the common folk." But film here proves to be a medium entirely of artifice, as demonstrated by Sergei Astakhov's sepia photography, cloaking the world in a sulphurous aura of archaism. Nor is film anything but corrupting, a medium for spreading the moral and sexual malaise affecting most of the characters from the start: the medium's viral power is betokened by the proliferating armies of bowler-hatted men with chequered travelling bags, who finally prove to be porn-director Putilov's core audience.
The future of cinematography in Balabanov's vision of the 1900s lies in the hands of exploitative pimp-pornographers, and Putilov, the supposedly idealistic young poet of the new form, is a fop and a coward. The film's cruellest irony is its payoff: we first see Putilov in the west, a star director pursued by admiring young women, then realise he has achieved this auteur status purely on the strength of his spanking shorts.
Described in this way, Of Freaks and Men may seem a moralist's film. In fact, it's a conte moral, with all the ironic perversity that implies. Everyone is revealed as a 'freak' of some kind. The story's innocents, the two gentle Chekhovian families destroyed by Johan, are from the start weak and riddled with strange passions: the feckless Stasov is loathed by his wife, who immediately yields to the sound of Victor Ivanovich's lascivious rasp; Radlov is smitten with his maid, while his virginal daughter can't get enough of blackmarket flagellation photos. The true innocents are the Siamese twins Kolia and Tolia, but even they are easy prey to drink and their own naïveté. The demonic corrupters are fatally weak too. Victor Ivanovich harbours an ambivalent curiosity about the twins, while the apparently psychopathic Johan is brought low by his attachment to his half-senile nanny, who ludicrously stars as the no-nonsense dominatrix of his films.
Of Freaks and Men may seem morbidly negative, mistrustful of everyone: the feckless nobs, the treacherous underclass and the corrupting foreigners (a prologue shows Johan passing through emigration into St Petersburg). The dream of western freedom is undermined from the start. Liza's hopes are evoked by leitmotif shots of a train seen from her window, but her orgiastic train journey to the west is soon followed by depressive drifting through leaf-blown streets.
Balabanov is, in a sense, doing a service to the history of Russian cinema, rescuing it from its onerous reputation for ideological high-mindedness. He fairly exhaustively drags the high canon of Russian cultural values down to cinema's level, enlisting the music of Prokofiev and Musorgsky, and revealing Petersburg's most grandiose buildings as hiding murky subterranean secrets. Victor Ivanovich walks down a sweeping marble stairway that narrows from shot to shot, leading to the cellar where the gang produces its wares. The film is an outstanding essay on city architecture, especially in its exploration of Petersburg's waterways, with Johan's final journey more akin to a funeral trip.
Russian literature has a long tradition of the arcane and abject, and Balabanov's real precursors here are writers such as Gogol, Bulgakov (in the diabolical mode of The Master and Margarita) and Andrei Bely, in his modernist panorama Petersburg. Most of all, Of Freaks and Men is Dostoevskian, with Johan an archetypal wanderer from the west and an epileptic, albeit no holy fool.
Despite the sepia photography, the period dressing and the wry intertitles, the film only takes its early-cinema pastiche so far. Balabanov is more concerned to develop his own style of melancholy grotesque, which has its closest affinities with David Lynch (this film is to the Tsarist drawing room what Blue Velvet was to small-town suburbia) and Peter Greenaway, with its symmetries, doublings and highlighted artifice. Balabanov has a particular genius for faces, and the casting is flawless, from the maidenly blankness of Dinara Drukarova as Liza, to Sergei Makovetskii's glacially dour Johan. Balabanov's regular star Viktor Sukhorukov is especially memorable as Victor Ivanovich, his simian grin the true stuff of nightmares.
Even Lynch and Greenaway have rarely left an audience with such a bitterly ironic punchline. Liza, left drifting in the west, purges her melancholy with a spanking session at the hands of an androgynous, rather anachronistic leather boy: you can't escape either your conditioning or your libido. Nor can you get away from the fate of film: Johan, the would-be mogul, may have met his downfall, but celluloid sleaze is very much the coming thing. As Johan drifts down the Neva on his ice floe, half Frankenstein, half defeated Aguirre, we pretty much know what's in store: the rest is 20th-century cinema history.
Credits
Director

Aleksei Balabanov

Producers

Sergei Selianov
Oleg Botogov

Screenplay

Aleksei Balabanov

Director of Photography

Sergei Astakhov

Editor

Marina Lipartiia

Production Designer

Vera Zelinskaia

Production Companies

Produced by STV Film Company and Soiuzkino Producers' Group

Camera Operator

Valerii Revich

Costume Designer

Nadezhda Vasileva

Make-up Designer

Tamara Frid

Titles

Oleg Plaskin
Igor Plaskin

Soundtrack

"Leaf from an Album (Lyric Pieces, Opus 12)" by Edvard Grieg, arranged by Vladimir Radcenkov; "Din, Din, Din" by Evgenii Iur'ev, arranged by Vladimir Radcenkov, sung by Petia Ovchinnikov, Vitia Aliushin; "Kolokolchik" by Aleksandr Gurilev, arranged by Vladimir Radcenkov, sung by Petia Ovchinnikov, Vitia Aliushin

Music Extracts

Modest Musorgsky
Sergei Prokofiev
Pyotr Tchaikovsky
Michael Glinka

Sound

Maksim Belovolov

Sound Technician

Liliia Seliukova
Cast
Sergei Makovetskii
Johan

Dinara Drukarova

Liza

Lika Nevolina

Ekaterina Kirillovna

Viktor Sukhorukov

Victor Ivanovich

Alesha De

Kolia

Chingiz Tsydengambaev

Tolia

Vadim Prokhorov

Putilov

Aleksandr Mezentsev

Doctor Stasov

Igor Shibanov

Engineer Radlov

Daria Lesnikova

Grunia

Tatiana Polonskaia

Daria

Olga Straumit

nurse

Richard Bogutskii

notary

Valerii Krishtapenko

owner of photographic studio

Evgenii Erokhin

priest

Iurii Galtzev

impresario

Boris Smolkin

photographer at studio

Mikhail Triasorukov

administrator

Valerii Filonov

engine driver

Anvar Libabov

Aleksandr Shutov
floor attendants

Aleksei Zlobin

waiter

Irina Rakshina

Valentina Viushina
Tatiana Karetina
Liza's aunts

Klim Bakhilov

nephew

Iulia Pestretsova

Liza as a child

Kristina Skvarek

nurse

Valeriia Iakovleva

Elena Rumiantseva
Natalia Dupliakova
models at studio

Liudmila Arzhannikova

old prostitute

Elena Khrustaleva

young prostitute

Ilia Shakunov

man in shop window

Certificate

tbc

Distributor

Metro Tartan Distributors

tbc feet

tbc minutes

Black and White/Sepia

Subtitles