Sarajevo: changing trains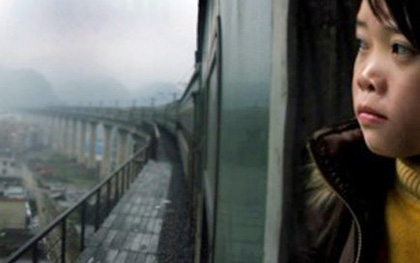 Lixin Fan's Last Train Home
---
Sarajevo, Bosnia
July 2010
Sender: Nick James
---
It's taken me a very long time to come to Sarajevo – I've been invited every year for a decade and for various reasons had never quite made it.
Now that I've made it I regret my long neglect, not simply because the festival is so enjoyable and passionate, but also because from the regulars I've spoken to it's clear that the festival is in transition. It's coming out of its romantic, intimate phase as a small-scale event that rallied international film-makers to celebrate the city's survival of the Balkan war and is assuming a more popular and powerful status as a calendar must. Its affable, energetic director Mirsad Purivatra says this is the only direction a festival like his can take.
The city remains a winningly charming and open-hearted location, hemmed by the hills from which it was shelled during the 1990s war; the hospitality is impressive and fulsome, both from sponsors and the festival itself, which is operating on a larger scale but with a smaller budget. Its partnership with the Berlinale, for which it acts as a regional talent hub through the Cinelink co-production market scheme, has been very fruitful – you could argue that Sarajevo has done a better job of integrating its arm of the Talent Campus into the main festival than Berlin itself.
Film-wise, the local region dominates the programme, with works from Hungary, Romania, Serbia and Turkey accompanying the new Bosnian films. I'd seen many of the best of these elsewhere (for instance, Florin Serban's If I Want to Whistle, I'll Whistle at Berlin, and Radu Muntean's Tuesday, After Christmas at Cannes) but was delighted catch up with the Russian film How I Ended This Summer by Alexej Popogrebski, an Arctic-set two-hander about a young man seconded to a weather station and his hardy loner of a superior who fall out when the youngster finds it impossible to pass on devastating news. [Jonathan Romney praised the film in our April 2010 issue.]
Lixin Fan's documentary Last Train Home, about the huge difficulty China's millions of migrant workers have trying to get back to their rural homes for the crucial New Year, was a truly engrossing work. His choice of family triangle of garrulous bossy mother, anguished silent father and enfant-terrible daughter brought the issues to vivid life, but the sheer scale of how the authorities deal with 600,000 people turning up at the same train station lingers just as long. I'll be reporting several more films in depth in the magazine, but for now, let's just say better to go to Sarajevo late than never.
See also
Cannes postcard: doom, chills and bewilderment: Nick James' first impressions of Radu Muntean's Tuesday, After Christmas (online, May 2010)
Berlinale postcard: We have the stars: Nick James Berlinale round-up (online, February 2010)
The Happiest Girl in the World (Muntean) reviewed by Michael Brooke (June 2010)
24 City reviewed by Tony Rayns (Film of the Month, May 2010)
I, a man of the image: Jean-Luc Godard interviewed by Michael Witt (June 2005)
À la Place du coeur reviewed by Elisabeth Merriman (October 1999)