Late Fellini: A clown with wrinkles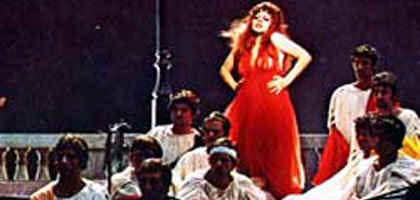 Even the most adoring Fellini fans are likely to discuss their hero's last two decades with a touch of unease. Critics have been less subtle. A few years ago an established film commentator proudly told me he'd fallen asleep during the projection of Fellini's last film La voce della luna (1990). I wasn't impressed - though polite (and cowardly), I refrained from arguing back. Now is the time to do so.
To dismiss Fellini's late work as self-indulgent and uninspired is simplistic. Granted, after La dolce vita (1960) and 8 1/2 (1963) his films seemed to lose the power to mesmerise critics, the public and other film-makers. The exception was Amarcord (1973), the surreal, oneiric tale of the director's youth in Rimini, on the Adriatic coast. A few Italian critics failed to appreciate his warm-hearted vision of his provincial town under fascism, but the fact that his characters loved women with big bosoms and leaders with megalomaniac egos was a perfect parody of Mussolini's Italy (and would work for Berlusconi's Italy too).
Amarcord is a film soaked in nostalgia. Fellini was feeling more and more detached from the rhythms and ethos of modern-day Italy, and this progressive sense of alienation is at the core of his late work. Casanova (1976) and E la nave va (And the Ship Sails On, 1983) were an adieu to an extinct world of aristocratic privileges, sensual pleasures and slow-rolling seasons. But Fellini was also taking leave of the brash, noisy world he was living in. And while doing so he left us with a gift and a warning.
The gift is fictional documentary. Mixing facts and fiction became his way of coping with the need to talk about himself in a world he no longer found inviting. The improvised project of Block-notes di un regista (1969) provided him with the perfect opportunity to develop a new technique. An interview of himself was turned into a sardonic tangle of documentary footage and personal day-dreaming. And if the rhythm of subsequent fictional documentaries such as I clowns (1970), Roma (1972) and Intervista (1988) is discontinuous and nightmarish, this is more a reflection of his disillusioned view of contemporary society than a sign of artistic failure. Anthologies of world cinema should find space for the baroque visionary power of such sequences as Roma's fashion show of ecclesiastical clothing or the discovery of an ancient villa seconds before it disappears to make way for a new metro line. Fictional documentary might not be an established genre, but both Michael Moore and Nanni Moretti have shown how a direct take on contemporaneity can provide an egocentric director with a launch pad.
Fellini has also bequeathed us an anxious plea to look after our world, to reject the dominance of the cacophony and spasms of modern life. Prova d'orchestra (1979) and La città delle donne (1980) presented his fears about the crumbling of old certainties - social hierarchies, male dominance - while Ginger e Fred (1985) was his manifesto against the artistic wasteland of commercial television. It's true that his creative style wasn't entirely suited to the representation of social concerns, and there's an almost schizoid separation between his oneiric imagination and the drab reality of post-industrial Italy. But we should make a leap of faith and watch again his last film La voce della luna.
Taken from an equally great novel by Ermanno Cavazzoni, Il poema dei lunatici, La voce della luna begs us to listen in silence to the voices of the dead coming out of derelict wells; it begs us to watch in silence, and respect, the moon of poets and musicians. A madman (played by Roberto Benigni) accompanies us on a surreal journey through a land of people who are losing touch with reality, submerged by the sounds and glaring colours of disco music, television commercials and flashing tourist cameras. We can trust Benigni as much as we can trust one of his best lines, delivered while rambling at night through a desolate countryside, with the moon on the horizon: "But then again I think that if we had more silence, if we were more silent, perhaps we might be able to understand something."
In late Fellini nostalgia walks hand in hand with poetry; the clown has washed off his make-up and the wrinkles show. It's great film-making, in a minor key.
---
Fellini (Part II) is at the National Film Theatre, London, in September 2004.