The path least chosen
Film of the Month: A Thousand Months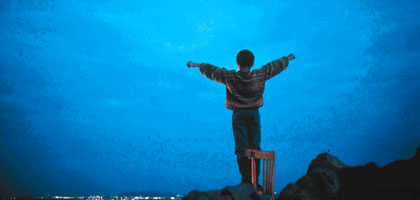 A multi-stranded portrait of a Moroccan village, A Thousand Months plays like a vivid North African Short Cuts. Philip Kemp approves.
A Thousand Months, the first full-length feature from Moroccan writer-director Faouzi Bensaïdi, sets out as if to offer us a winsome child's-eye view of life in an Atlas mountains village in the early 1980s, as seven-year-old Mehdi (Fouad Labied) wonderingly observes the new moon that marks the start of the holy month of Ramadan. But the film soon develops into something more complex - more like a vivid North African reworking of Robert Altman's Short Cuts. Of the various interlocking characters and events that make up the plot, several impinge only marginally on Mehdi. This tactic is a deliberate attempt to subvert our expectations. "I like to lure the audience along a path that seems to be marked out and reassuring," Bensaïdi says, "only to make them lose it instantly. The centre keeps shifting and what seems to be the margin becomes the magnet that attracts all the rest to it, only to disappear and be replaced by other peripheral elements."
So it's we the audience, rather than Mehdi, who provide the innocent eye. Bensaïdi doesn't over-explain, and a lot of the time we're left to work out for ourselves who various people are, how they connect and just what has been happening. For instance, the death of Malika, the daughter of the kaïd (mayor), occurs off screen, and it's not until after her funeral that we discover she died in a road accident - and was not, as we might have surmised, raped and killed by one of the prurient males we last saw her sharing a car with. Similarly when the schoolteacher's all-important chair vanishes overnight it's a while before we learn that Mehdi's grandfather Ahmed (Mohammed Majd) sold it to buy clothes for the boy to wear on Holy Night. And just why, come to that, the chair should have to be toted around by a favoured pupil rather than left in the classroom remains a mystery.
Still, these enigmatic elements, rather than distancing us, engage our curiosity and draw us into the action. For most of the film Bensaïdi's dispassionate, quizzical approach pays off, allowing brief incidental scenes to carry a wealth of social and personal detail - like the one where a wedding caterer, buying the chair from Ahmed, sketches in his whole backstory in a few self-satisfied phrases and gestures. Not that the film succumbs to starry-eyed nostalgia; we're left in no doubt that this is a narrow, censorious society, where religion serves largely as a source of fear and a means of coercion. Throughout the action Mehdi is eagerly looking forward to a key rite of passage: his first Ramadan fast on the penultimate night of the month (the 'Holy Night', said to be worth by itself a whole thousand months' fasting - hence the film's title). But on the crucial day he inadvertently breaks his fast, thereafter being so stricken with terror that he flees from the mosque, convinced a vengeful deity is about to strike him down. And when Malika dies no one expresses regret for the loss of a lively, intelligent young woman; her death is seen, with sour satisfaction, as Allah's punishment on her for not having fasted.
This punitive take on religion reflects the society that nurtures it. Justice is in short supply: Mehdi's father Abdelkrim, (Abdellah Chicha) it is implied, has been jailed for nearly a year without being charged, merely for holding the wrong political opinions, and on the strength of this his father Ahmed has had his land confiscated. When Abdelkrim's wife Amina (Nezha Rahil) protests that the first visit she has been granted to her husband is cancelled with no reason given, the prison governor has her dragged off and roughed up. This repressive attitude permeates almost all social relationships. The moqadam, the kaïd's assistant, enjoys flaunting his authority over the villagers, and schoolteacher Marzouk, when not writing fatuous poems to local beauty Saadia ("Among your sisters you are the white rose among the dandelions"), plays the petty tyrant with his pupils. His idea of showing favouritism to Mehdi, as the son of a fellow teacher, is to order him to administer beatings to his schoolfellows. Not surprisingly, they take the first chance to get their own back on the boy.
Bensaïdi observes this and other incidents with sympathetic but ironic detachment. Close-ups are rare and camera movement is largely kept to a minimum; interior scenes are mostly filmed in medium shot, often tracked through arches and doorways. Outside he likes to pull back even further, holding the harsh, unforgiving landscape in extreme long shot to let us pick out tiny figures in the stony vistas, as if inviting us to muse on the transience of their concerns. This distancing perspective is enhanced by Bensaïdi's choice of a widescreen format, its elegant horizontals suggesting a timeless frieze. At other times he uses long shots to tease us by withholding information. At one point we see two men ambush a motor-cyclist, beat him up and steal his bike, but the camera is so distantly placed it's hard to make out who the characters are. Only later, when the moqadam shows up with his arm in a sling, can we identify the victim.
The film's darkest strand concerns the farmer Houcine, shunned by his neighbours as a wife-killer and seen constantly struggling under a huge yoke to transport water for his precious field. When, in a stroke of cruel cosmic irony, his crop is beaten flat by a freak downpour, he spirals into dementia, first screaming and hurling stones at the heavens, then desperately trying to construct a mosque on his land with his bare hands. Finally he dies a sad, solitary death, drowning himself at night in the reservoir whose placid waters close over him as though he had never been.
But if the film's overall tone is sardonic and pessimistic, there are moments of quiet lyrical joy: Mehdi, fascinated by the synchronised streetlamps of the distant city, watches from a hilltop and cheers in delight as the far-off lights spring out like a shimmering necklace against the gathering dusk. His relationship with his grandfather Ahmed is warm and gentle, and - unlike the rest of the villagers - the old man offers him the example of a compassionate attitude, telling the boy that Malika died "because God wanted her at his side."
Mixing his professional cast with non-professionals - the inhabitants of the village where the film was shot - Bensaïdi creates a sense of unselfconscious authenticity, with no music to emphasise the emotions. Only towards the end of the film, as the pace heats up during the kaïd's catastrophic wedding party and farcical incident piles on incident, does the tone start to judder, as if the movie were hurtling over-eagerly towards closure and packing in too much. More effective are the understated moments, as when Amina, succumbing to despair as she returns home from selling her wedding ring, lets herself be pillaged of the proceeds by a group of beggars. The scene is shot without hysteria, making it all the more affecting. As the beggars disperse, gloating over their loot, Amina sinks passively to the ground, her poignant silence observed at a distance by Bensaïdi's camera, compassionate but matter-of-fact as ever.